Force Testing Systems
Easily Perform Tension, Compression, Flexural, Shear, Peel and COF Testing
Perform Basic Force Test Methods Quickly with Easy-to-Use Test Templates
Perform Complex Multi-stage Testing Using Advanced Test Builder Application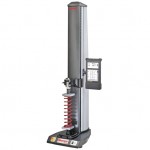 Model : FMS-5000-L2
Turnkey 5000N (1125lbf) Force Measurement System includes Testing Frame, L2 Controller with L2 Force Measurement Software
---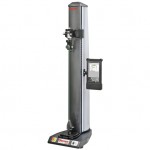 Model : FMS-2500-L2
Turnkey 2500N (560lbf) Force Measurement System includes Testing Frame, L2 Controller with L2 Force Measurement Software
---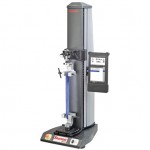 Model : FMS-1000-L2
Turnkey 1000N (225lbf) Force Measurement System includes Testing Frame, L2 Controller with L2 Force Measurement Software
---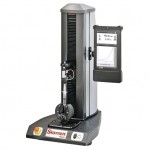 Model : FMS-500-L2
Turnkey 500N (112lbf) Force Measurement System includes Testing Frame, L2 Controller with L2 Force Measurement Software
---
L2 Systems are ideal for demanding force measurement testing.
Create complex testing methods or use our standard test templates for all types of force measurement applications.
L2 Systems operate using a Windows®-based tablet PC. Load, distance and time results are displayed in a large format for easy interpretation. Graphical representation and data tables display results with tolerance and statistical calculations. Standard reports are included, or export data for use with other applications.
Features:
Easily Perform Tension, Compression, Flexural, Shear, Peel and COF Testing
Perform Basic Force Test Methods Quickly with Easy-to-Use Test Templates
Perform Complex Multi-stage Testing Using Advanced Test Builder Application
Small, Compact Footprint (15"W x 20.25"D)
Conforms to All Relevant European Standards and Carries CE Mark
• Capacity: 110lbf, 500N, 50kg
• Frame Type: Single Column
• User Interface: Tablet PC
• Load Capacity: 5000N, 1124lbf, 500kgf
• Maximum Speed: 60"/min, 1525mm/min
• Minimum Speed: 0.001"/min, 0.02mm/min
• Maximum Load @ Full Speed: 5000N, 1124lbf, 500kgf
• Maximum Speed @ Full Load: 60"/min, 1525mm/min
• Return Speed: 60"/min, 1525mm/min
• Total Crosshead Travel: 40", 1016mm
• Total Vertical Test Space: 49.5", 1257mm
• Crosshead Throat Depth: 4.25", 108mm
• Height: 62", 1575mm
• Width: 15", 381mm
• Depth: 20.25", 514mm
• Weight: 195lbs, 89kg
• Accuracy - Speed (Zero to Constant Load): +/-0.2%
• Accuracy - Load Measurement: Load Cell Dependant
• Accuracy - Strain Measurement: N/A
• Load Cell Sensor Models: Models FLC Series, MLC Series, or ULC Series
• Extensometer I/O: I/O Not Available
• USB I/O: I/O Standard
• Power: Single Phase Voltage (Vac) +/-10% 100, 120, 200, or 240
• Operating Temperature: 50 to 100F, (10 to 38F)
• Humidity Range: 10 to 90% non-condensing
• CE Compliant: Yes
• Frame Type: Single Column
• User Interface: Tablet PC
• Load Capacity: 2500N, 560lbf, 250kgf
• Maximum Speed: 60"/min, 1525mm/min
• Minimum Speed: 0.001"/min, 0.02mm/min
• Maximum Load @ Full Speed: 2500N, 560lbf, 250kgf
• Maximum Speed @ Full Load: 60"/min, 1525mm/min
• Return Speed: 60"/min, 1525mm/min
• Total Crosshead Travel: 40", 1016mm
• Total Vertical Test Space: 49.5", 1257mm
• Crosshead Throat Depth: 4.25", 108mm
• Height: 62", 1575mm
• Width: 15", 381mm
• Depth: 20.25", 514mm
• Weight: 195lbs, 89kg
• Accuracy - Speed (Zero to Constant Load): +/-0.2%
• Accuracy - Load Measurement: Load Cell Dependant
• Accuracy - Strain Measurement: N/A
• Load Cell Sensor Models: Models FLC Series, MLC Series, or ULC Series
• Extensometer I/O: I/O Not Available
• USB I/O: I/O Standard
• Power: Single Phase Voltage (Vac) +/-10% 100, 120, 200, or 240
• Operating Temperature: 50 to 100F, (10 to 38F)
• Humidity Range: 10 to 90% non-condensing
• CE Compliant: Yes
• Frame Type: Single Column
• User Interface: Tablet PC
• Load Capacity: 1000N, 225lbf, 100kgf
• Maximum Speed: 60"/min, 1525mm/min
• Minimum Speed: 0.001"/min, 0.02mm/min
• Maximum Load @ Full Speed: 1000N, 225lbf, 100kgf
• Maximum Speed @ Full Load: 60"/min, 1525mm/min
• Return Speed: 60"/min, 1525mm/min
• Total Crosshead Travel: 30", 760mm • Total Vertical Test Space: 37.5", 953mm
• Crosshead Throat Depth: 4.25", 108mm
• Height: 50", 1270mm
• Width: 15", 381mm
• Depth: 20.25", 514mm
• Weight: 170lbs, 77kg
• Accuracy - Speed (Zero to Constant Load): +/-0.2%
• Accuracy - Load Measurement: Load Cell Dependant
• Accuracy - Strain Measurement: N/A
• Load Cell Sensor Models: Models FLC Series, MLC Series, or ULC Series
• Extensometer I/O: I/O Not Available
• USB I/O: I/O Standard
• Power: Single Phase Voltage (Vac) +/-10% 100, 120, 200, or 240
• Operating Temperature: 50 to 100F, (10 to 38F)
• Humidity Range: 10 to 90% non-condensing
• CE Compliant: Yes
• Frame Type: Single Column
• User Interface: Tablet PC
• Load Capacity: 500N, 112lbf, 50kgf
• Maximum Speed: 60"/min, 1525mm/min
• Minimum Speed: 0.001"/min, 0.02mm/min
• Maximum Load @ Full Speed: 500N, 112lbf, 50kgf
• Maximum Speed @ Full Load: 60"/min, 1525mm/min
• Return Speed: 60"/min, 1525mm/min
• Total Crosshead Travel: 15", 381mm
• Total Vertical Test Space: 22", 559mm
• Crosshead Throat Depth: 4.25", 108mm
• Height: 32", 813mm
• Width: 15", 381mm
• Depth: 20.25", 514mm
• Weight: 130lbs, 59kg
• Accuracy - Speed (Zero to Constant Load): +/-0.2%
• Accuracy - Load Measurement: Load Cell Dependant
• Accuracy - Strain Measurement: N/A
• Load Cell Sensor Models: Models FLC Series, MLC Series, or ULC Series
• Extensometer I/O: I/O Not Available
• USB I/O: I/O Standard
• Power: Single Phase Voltage (Vac) +/-10% 100, 120, 200, or 240
• Operating Temperature: 50 to 100F, (10 to 38F)
• Humidity Range: 10 to 90% non-condensing
• CE Compliant: Yes