Feature
No User Calibration Required
Long life LED Light source
+/- 0.5 PPM Accuracy
Digital Readout in PPM within 3 seconds
No User Training Required
Simplicity, just put the pad in the slide, put the slide in the box and read the number
Worldwide Support from an ISO 9001:2000 Cerified Precision Industrial Sensor Manufacturer
Who should use the Hydro light ?
Aicraft refuellers
Aircraft flight service
Aircraft maintenance
Aircraft manufacturers
Airlines & Airports
Aviation Management
Aviation fuel suppliers
Fuel Filter manufactures & suppliers
Flying services
General Warehousing and Storage
Petroleum Bulk Stations and Terminals
Port authorities
Specialised Freight (Shipping, Fuel transporter trucks)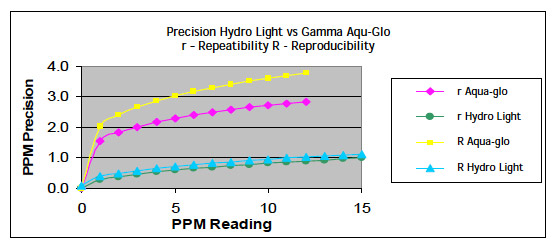 Specifications
Measurement Technology
LED source amplified photodiode receiver, microprocessor controlled
Readout LCD
Internal Test Messages, Status, and PPM Pad Reading
Time to Reading
10 seconds from shuttle input
Reading Update
3 seconds
Range
0-50 ppm
Precision
+/- 0.5% of reading
Resolution
0.1 ppm
Calibration
Annual - Factory
Warm-up
1 Minute from initial power-up
Power
100 - 240 VAC 50/60 Hz 0.6A
Pad Specifications
Pad Type
25 mm Pad with Flourescein Dye
Chemical Range
Limited by Test Pad (See ASTM RR-1156)
Calibration
Hydro-Light sensor should be calibrated annually by the factory. The instrument has no internal electrical adjusments that need to be maintained inside this period.
Spares & Accessories
Wall Charger
Mini USB Cable
Spare Pad Holder
Shuttle Sand
Padds to verify calibration (2 each)
Test Pads (Box of 50)
Carrying Case
Sampling Apparatus for Test Pads
Tweezers