Gel Documentation System and DNA Analysis
The ENDURO GDS Touch is an integrated system for DNA analysis and gel documentation. It is based on the GDS but incorporates an integrated tablet PC with a three position filter wheel with both EPI-Blue and EPI-White light sources standard. The market has shown a growing demand for being able to image DNA at higher wavelengths so as to prevent DNA nicking for downstream applications. The powerful EPI-Blue light can discriminate bands stained with SYBR SAFE up to 3 levels of magnitude greater than imagers using blue light conversion screens. Just like the ENDURO GDS, there is no need to touch the camera. Installation and operation is simple and acquisition of image can be achieved in 4 touches of the tablet. The Enduro GDS Touch is ideal for life science research labs who need a flexible system with a small footprint.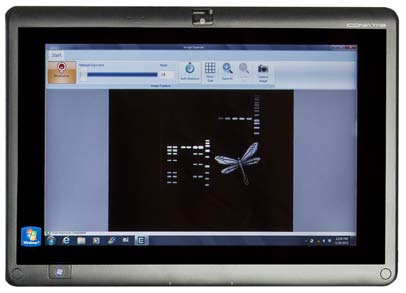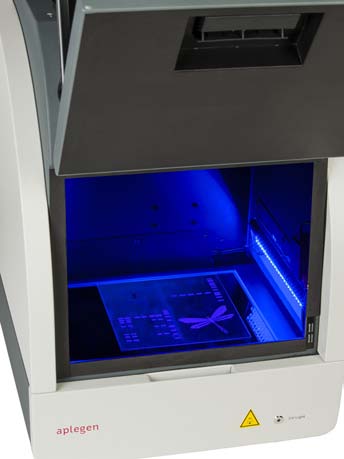 Specifications
Camera Resolution
5MP
Lens
Manual F 1.4 Lens (No Focus Required)
Field of View
20cm x 24cm
Standard Illumination
Epi blue and white light, 302 or 365nm UV transillumination
Pull out UV
For visualizing and cutting bands
System Controls
Integrated Touchscreen computer
Filter
Three position (EtBr included)
Image capture software
Annotation and email features
Yes
5 minute auto shut-off of UV
Yes
UV on/off in software
Yes
White light on/off in software
Yes
Blue light on/off in software
Yes
Desktop compatible
No
Touchscreen/tablet compatible
Yes
Communications
USB . Tablet has wireless and bluetooth options
Footprint
14" by 12.5" x 25"
Ordering information
Catalog No.
Description
GDST-1302
ENDURO GDS Touch Imaging System, 302 nm - Universal Voltage
GDST-1365
ENDURO GDS Touch Imaging System, 365 nm - Universal Voltage