OHEX2202E
Analytical and Precision Balances
Analytical, Precision, and High Capacity Balances
Intelligent. Intuitive. Ingeniously Practical.
The OHAUS Explorer Series has risen to the next level of ingenuity—expanding on its modern features and design to offer unmatched functionality in a line of high-performance balances unlike any other on the market.
Standard Features Include:
• Intelligent PERFORMANCE—All Explorers have newly optimized linearity and repeatability specifications and enhanced vibration filtering for better balance stability. All models also come standard with AutoCal™ automatic internal calibration. 3×3 filtering setup ensures fast and stable weighing results. The Explorer EX…/E models additionally offer traditional external calibration. These combined enhancements improve accuracy, efficiency, and throughput.
• Intuitive OPERATION—A large color touch-screen display, icon-driven application software that features 14 unique application modes, and a 3 level adjustable angle display make Explorer the easiest to use, most advanced balance in its class today.
• Ingenious DESIGN—The base and display separate for maximum flexibility in any work area. Draftshield models isolate the weighing chamber to enhance stability and speed results while offering maximum accessibility to the weighing chamber through top-mounted side doors or through the versatile top door that flips or slides open. Hands-free entry is available with optional automated side doors.
• Practical Features—Explorer has up to four user-programmable touchless sensors to minimize cross contamination and wear and tear normally associated with repeated touching of the balance. The OHAUS Explorer EX...N series of balances meet or exceed the Class I or II accuracy requirements in accordance with NIST Handbook 44 and Canada's Weights and Measures Regulations.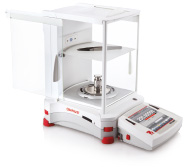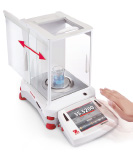 Intelligent PERFORMANCE
With stabilization times up to 50% faster and superior shock protection, Explorer delivers fast, accurate, and reliable results.
Fast stabilization time
- Improves operational efficiency
- Increases throughput
- Improves productivity
Optimized linearity and repeatability specifications
- Provides accurate and repeatable results
Optimized vibration filtering
- Provides balance stability in unstable environments
Superior Shock, Spill and Splash Resistance
- 2-D Protection guards balance against disruptions in service due to shock or sudden movements. IP54 base enclosure protects the weighing base from damage by debris, humidity and accidental spills and splashes.*
*High Capacity Models Only
Model

EX124

EX224

EX324

EX223

EX423

EX623

EX1103

EX2202

EX4202

EX6202

EX10202

EX6201

EX10201

Automatic Door

EX124/AD

EX224/AD

EX324/AD

—

—

—

—

—

—

—

—

—

—

External Calibration

—

—

—

EX223/E

EX423/E

—

—

EX2202/E

EX4202/E

EX6202/E

—

EX6201/E

—

Certified Models

EX124N/AD

EX224N EX224N/AD

EX324N EX324N/AD

—

EX423N

—

EX1103N

—

EX4202N

—

EX10202N

—

EX10201N

Capacity (g)

120

220

320

220

420

620

1100

2200

4200

6200

10200

6200

10200

Readability d (g)

0.0001

0.001

0.01

0.1

Verification Interval* e (g)

0.001

—

0.01

—

0.01

—

0.1

—

0.1

—

0.1

Class*

I

—

II

—

I

—

II

—

I

—

I

Repeatability std (g)

±0.0001

±0.001

±0.01

±0.1

Linearity (g)

±0.0002

±0.002

±0.02

±0.2

Stabilization Time (sec)

≤2

≤3

≤1.5

≤1

Sensitivity Drift (ppm/°C)

1.5

3

5

3

Typicial Operating Range (g) (USP u=0.10%, k=2)

0.16 g - 120 g

0.16 g - 220 g

0.16 g - 320 g

1.6 g -

220 g

1.6 g -

420 g

1.6 g -

620 g

1.6 g -

1100 g

16 g -

2200 g

16 g -

4200 g

16 g -

6200 g

16 g -

10200 g

160 g -

6200 g

160 g -

10200 g

Optimal Operating Range (g) (USP, u=0.10%, k=2)

0.082 g - 120 g

0.082 g - 220 g

0.082 g - 320 g

0.82 g -

220 g

0.82 g -

420 g

0.82 g -

620 g

0.82 g -

1100 g

8.2 g -

2200 g

8.2 g -

4200 g

8.2 g -

6200 g

8.2 g -

10200 g

82 g -

6200 g

82 g -

10200 g

Weighing Units

Gram, Milligram, Kilogram, Carat, Ounce, Ounce Troy, Pound, Pennyweight, Grain, Newton, Momme, Mesghal, Hong Kong Tael, Singapore Tael, Taiwan Tael, Tical, Tola, Baht, Custom Unit 1, Custom Unit 2, Custom Unit 3

Weighing Units, Certified Models

mg, g, oz, lb, ct, ozt, grain, dwt

—

mg, g, oz, lb, ct, ozt, grain, dwt

—

mg, g, oz, lb, ct, ozt, grain, dwt

—

g, kg, oz, lb, ct, ozt, grain, dwt

—

g, kg, oz, lb, ct, ozt, grain, dwt

—

g, kg, oz, lb, ct, ozt, grain, dwt

Weighing Applications

Weighing, Percent Weighing, Parts Counting, Check Weighing, Dynamic/Animal Weighing, Filling, Totalization, Formulation, Differential Weighing, Density Determination, Peak Hold, Ingredient Costing, Pipette Adjustment, SQC

Pan Size

Ø 3.54 in / 90 mm

Ø 5.12 in / 130 mm

7.48 × 7.87 in / 190 × 200 mm

Calibration

All models feature external calibration. Models feature AutoCal™ internal calibration, except for EX.../E models

Tare Range

To capacity by subtraction

Power Requirements

AC Adapter Input: 100-240 VAC, 0.6A, 50-60 Hz

Display Type

Full-color VGA graphic display, 4-wire resistive touch screen

Display Size

5.7 in / 145 mm (diagonal)

Display Housing (W×H×D)

7.68 × 3.54 × 6.06 in / 195 × 90 × 154 mm

Base Housing (W×H×D)
9.06 × 13.78 × 15.47 in / 230 × 350 × 393 mm
9.06 × 3.86 × 15.47 in / 230 × 98 × 393 mm
Communication
RS232, USB and optional ethernet or 2nd RS232
Temperature Range
50°F to 86°F / 10°C to 30°C
Humidity Range
80% max up to 86°F/30°C decreasing linearly to 50% at 104°F/40°C, non-condensing
Storage Conditions
140°F/60°C at 10% to 90% relative humidity, non-condensing
Net Weight
15 lbs / 6.9 kg
10 lbs / 4.3 kg
11 lbs / 5 kg
Shipping Weight
21 lbs / 9.6 kg
15 lbs / 6.8 kg
16 lbs / 7.4 kg
Shipping Dimensions
21.65 × 15.16 × 21.69 in / 55 × 38.5 × 55.1 cm
21.65 × 15.16 × 11.45 in / 55 × 38.5 × 29.1 cm
*Certified models only **High Capacity models only