Controlled Atmosphere Chamber
Features
Formed one piece clear acrylic top
Matched die molded thermoset white bottom
Two vacuum pressure pumps, one each for transfer chamber and drying-train
Drying-train includes polycarbonate canisters containing DesiSphereTM
All controls are illuminated
Bright fluorescent light system
White ambidextrous Hypalon gloves
All clamps are adjustable to compensate for wear
Self-Sealing quick disconnects enable the operator to change the drying train without disturbing the internal atmosphere
Adjustable vacuum gauge on transfer chamber
Four ground key cock valves for purging
Inner door on transfer chamber opens automatically when pressures are neutralized between main chamber and transfer chamber
Transfer chamber is 12" long and 11" diameter (I.D.)
Electrical outlet strip; U.L. & C.S.A. approved, hospital grade with four outlets
Power requirements 120 Volts 60 Hz
International 220 Volt.
Demonstration of the system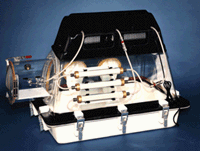 Arrows indicate atmosphere flow pattern
800-Heater, programmable catalyst heater functions
The 800-Heater has two primary functions. It reduces trace amounts of oxygen that happen to enter the main chamber and it maintains incubation temperature from ambient to 42° C. Picture includes 800-Heater and 800-PC, palladium canister. Both are included in the Anaerobic Chambers.
800-DT, drying train package with pump

Drying Train Package w/ Pump, removes unwanted moisture from internal atmosphere. Includes pump, hose, and three ploycarbonate canisters filled with molecular sieve, (800-DESI).
Specifications
Model

855-AC

855ACB

Interior Dimensions (WxDxH)

41 x 28 x 26 in.
104 x 71 x 66 cm

60 x 38 x 31 in.
152 x 96 x 79 cm

Overall* Dimensions (WxDxH)

55 x 35 x 38 in.
140 x 89 x 97 cm

76 x 47 x 42 in.
193 x 119 x 107 cm

Approx. Volume

17.9 cu.ft. (489 L)

40.8 cu.ft. (1157 L)

Approx. Shipping Weight

250 lbs (112.5kg)

300 lbs (135kg)

* Includes transfer chamber