Pipeteur
Pour pipette de verre ou plastique de 0.1 to 200mL
Pesant seulement 190g (6.7oz.)
Indicateur de piles faibles

The BRAND accu-jet pro pipette controller incorporates comfort and performance features that make it one of the most popular pipette controllers in the market.
Comfort: The accu-jet pro is contoured for better fit for small and large hands. Its light weight and well balanced for low-fatigue pipetting.
Control: Pressure-sensitive buttons control pipetting speed, plus a motor-speed-limiter control thumbwheel adds extra assurance with pipettes as small as 0.1mL.
Charge Indicator: Don't worry about your pipette controller failing on you in the middle of your work. An LED indicates when approximately 2 hours of charge time is left. Instrument can be operated while charging.
Advanced Electronics: The accu-jet pro features a long-life, environmentally-friendly Nickel-Metal hydride battery, with a special pulsed-mode charger to eliminate "lazy-battery effect." Instrument supplies approximately 8 hours of continuous pipetting (with a 10mL pipette) without recharging! LED indicates low battery.
Ergonomic Design: The accu-jet pro weighs only 190g (6.7oz.) and features a smoothly curved shape to eliminate pressure points for operator comfort.
Corrosion Protection: A built-in check valve protects against liquid penetration. The unique active vapor exhaust system vents externally to protect internal components.

User-accessible battery compartment
Easy-access battery compartment makes changes a snap! Two covers are included - one with ridges to allow inverted storage of the accu-jet pro on the bench.
Low battery indicator
Red LED lights up when there are two hours of pipetting left in the battery.
Mode switch
Select either powered delivery for tissue and cell culture applications, or gravity delivery for analytical applications.
Motor speed control thumbwheel
Adjust maximum pipetting speed for enhanced control with small volume pipettes.

Hydrophobic filter
Includes 0.2µm filter for tissue and cell culture applications. Optional 3µm filters are available for pipetting to Class A tolerances.
Silicone adapter (inside)
The silicone adapter with a built-in check valve provides a firm fit for glass and plastic pipettes from 0.1 to 200mL with a suction tube outer diameter of max. 9.2mm and reduces risk of over-aspiration. Adapter support, silicone adapter and integral membrane filter are autoclavable at 121ºC (250ºF).
Intuitive push-button control
Press gently for smooth, slow aspiration or dispensing, press more for increased speed. Use in conjunction with the motor-speed control thumbwheel for unsurpassed control for small and large volume pipettes.
Charging socket
The charging socket is conveniently located on the bottom of the grip, keeping the cord out of the way when charging and pipetting simultaneously.
Sculpted grip
Contoured grip eliminates pressure points for comfort in small and large hands.
Relaxed Operation
Mission: Control
The accu-jet pro adds a motor speed limiter to the pressure-sensitive buttons to provide accurate, intuitive control for the complete spectrum of pipettes from 0.1mL to 200mL. Two different modes — gravity and powered delivery — greatly expand the range of application.
Filling
Simply adjust the overall pipetting speed using the speed limiter thumbwheel, and use the upper button to bring liquid into the pipette; the powerful internal pump can draw 50mL in less than ten seconds. Aspiration speed is continuously variable by button pressure within the maximum limit set by the thumbwheel. Thumbwheel can be adjusted during use.
Gravity-delivery mode
Free descent of meniscus for volumetric accuracy — ideal for analytical applications.
Power-delivery mode
Continuously adjustable dispensing speed from powered stream to dropwise dispensing including soft blowout — ideal for tissue culture applications.


Recharging
Dual-mode charger provides a quick charging of the environmentally friendly NiMH battery in only four hours. After the full charge is complete, the charger switches automatically to a pulsed mode, to eliminate "lazy battery effect." The accu-jet pro is fully functional during recharging.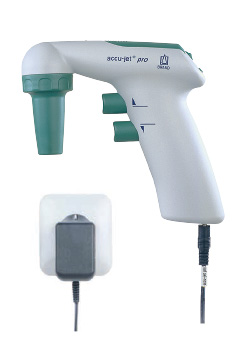 Storage
Ridged battery cover allows inverted storage of the instrument on the benchtop. To save bench space, an included wall support comes with snap tapes for easy cleaning.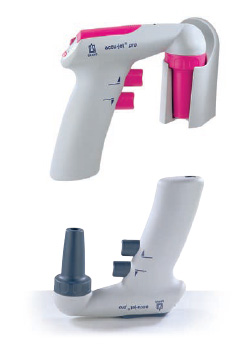 Speed limiter for extra assurance
For extra protection against over-aspiration or excessively powered discharge, set the speed limiter dial at low. For faster or larger volume, set at high. Pipette controller buttons still provide touch-sensitive speed control within the selected speed range.
Available in colors
The accu-jet pro comes in four different color accents for personal preference or color-coding by laboratory or application. Select from Dark Blue, Magenta, Green or Royal Blue.
Operating limits
Temperature of instrument and reagents must be between 10° and 40°C (50° and 104°F).
Items supplied
The accu-jet pro pipette controller is supplied with:
Wall support, gray
NiMH battery
Two battery covers; one smooth, one ridged
Two spare, sterile* 0.2μm membrane filters
Charger (120V/60Hz models listed, others available)
Operating manual
One-year warranty
| | |
| --- | --- |
| accu-jet pro | Cat. No. |
| Dark Blue | 26330 |
| Magenta | 26331 |
| Green | 26332 |
| Royal Blue | 26333 |
| | |
| accu-jet pro accessory | Cat. No. |
| Wall support, gray | 26540 |
| Silicone adapter with PTFE check valve | 26508 |
| Spare NiMH battery | 26630 |
| AC adapter, 100-240V, 50-60Hz, US plug | 26603 |
| Snap tapes, 12x65mm | 26542 |
| Membrane filter, 0.2µm, sterile*, each | 26530 |
| Membrane filter, 0.2µm, non-sterile, pack of 10 | 26535 |
| Membrane filter, 3µm, non-sterile, each | 26052 |
| Membrane filter, 3µm, non-sterile, pack of 10 | 26056 |
*sterilized with ethylene oxide (EO)