Personal PID monitor for VOC and TAC detection
The world's smallest, lightest, most sensitive personal PID monitor for hazardous and toxic compounds.
Best available photoionisation (PID) detection
PID independently verified as best performing on the market
Unrivalled sensitivity detects down to ppb levels
Widest range detects gases 1 ppb – 5,000 ppm
In-built humidity resistance with no need to compensate
Anti-contamination design for extended field operation
Measures 480 selectable compounds (10.6 eV lamp)
Safety
Fastest (<5 second) response to hazardous gases & vapours
Clear audio, visual and vibrating alarms
Large LCD display for clear readings
Longest battery life (16 hours)
Meets ATEX, IECEx (US & Canadian certification pending)
Ease of use
Smallest, lightest personal PID monitor available
Simple one button operation
Intuitive software and simple calibration routine
Easy to service
Easily upgrade your instrument
Low cost operation
Inexpensive consumables and parts
Free 2 year warranty when instrument registered online
Cub is the world's smallest, lightest personal PID monitor for the accurate detection of volatile organic and total aromatic compounds. With market leading parts-per-billion (ppb) sensitivity, Cub gives an early warning of hazardous gases, including benzene, before they reach levels which are harmful.

Cub is available in three distinct variants; ppm, ppb and TAC mode. Choose a ppb or ppm instrument with 10.6 eV lamp for accurately detecting a wide range of VOCs dependent on your sensitivity requirements. CubTAC with 10.0 eV lamp gives accurate detection of total aromatic compounds (TACs) down to ppb levels.

Small, compact and lightweight Cub is robust yet comfortable and unobtrusive to wear. Cub has a dynamic range of 1 ppb to 5000 ppm, the widest on the market measuring 480 selectable compounds.

When worker exposure exceeds pre-set limits the instrument's audible, vibrating and flashing LED alarms alert you to the gases present. Readings are displayed in ppb and ppm on its bright, back-lit LCD display with selectable data logging time.

Upgradeable ppb sensitivity can be purchased quickly and easily. CubDoc docking stations are available for USB communication, charging and calibrating your instrument, dependent on your requirements.

The instrument's PID sensor technology has been independently verified as best performing for speed, accuracy and humidity resistant operation. Its unique Anti-contamination and patented Fence Electrode Technology provide extended run time in the most challenging environments, giving you accurate results you can truly rely on.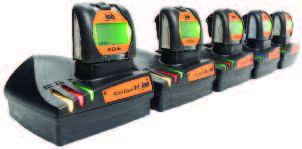 Cub's linked together within their docking stations.
Applications include
Industrial hygiene
Chemical and petrochemical plants
Oil & gas
Pharmaceuticals
Health & safety
Hazardous materials
First response
Specifications
SENSITIVITY
0.001 ppm (isobutylene equivalent)*
0.002 mg/m3 (isobutylene equivalent)*
ACCURACY
±5% display reading + one digit
RESPONSE TIME
<13 seconds (T90)
APPROVALS

Europe: ATEX: CE, Ex II 1G, Ex ia IIC T4; -20oC ≤ Ta ≤ 55 oC
IECEx: Ex ia IIC T4 -20oC ≤ Ta ≤ 55 oC
China: Ex ia IIC T4 -20oC ≤ Ta ≤ 55 oC
US and Canadian certification pending

BATTERY
Battery life up to 16 hours
Battery charge time 4 hours
PID LAMP OPTIONS
10.6 eV, 10.0 eV
DATA LOGGING
30,000 readings
COMMUNICATION
USB 2.0
ALARM
LEDs, audio and vibrate
Sounder 95 dB
Pre-programmed TWA & STEL. Work exposure alarm levels on all models.
TEMPERATURE

Operating: -20 to 55 oC, -4 to 131 oF
Humidity handling: Fence Electrode Technology

WEIGHT & DIMENSIONS

111g (3.91 oz)
61 x 66 x 33 mm (2.4 x 2.6 x 2.2")

RESOLUTION
0.001 ppm
RANGE

ppm 0.1 - 5,000 ppm
ppb 0.001 - 5,000 ppm
TAC 0.01 - 5,000 ppm

CALIBRATION
2 point calibration via docking station
UPGRADEABLE
Upgrade ppm to ppb
IP RATING
Designed to IP65 (heavy rain)
LCD DISPLAY
Back lit multi colour
FLOW RATE
N/A (no pump)
DOCKING STATION OPTIONS

Charge only
Charge and USB communication
Charge, USB communication and calibration