SEINSPECEX
Handheld Radiation Detector
PRODUCT ONLY FOR RENTAL
To purchase an equivalent product, see the Ranger from SE International. Learn More
The Inspector is a small, handheld, microprocessor-based instrument which offers excellent sensitivity to low levels of alpha, beta, gamma, and x-rays.
The digital readout is displayed with a red count light and a beeper sounds with each count detected. Other features include an adjustable timer, external calibration controls and adjustable alert.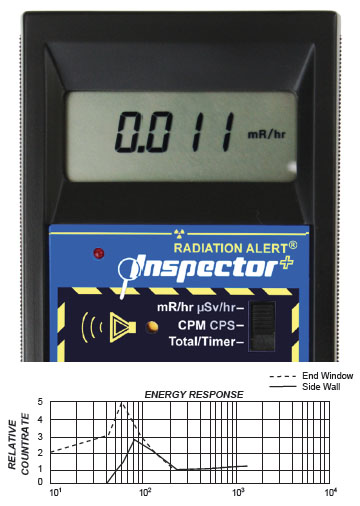 Display
4 digit liquid crystal display with indicators.
Alert Set Range
mR/hr .001 - 50 and CPM 1 - 160,000. 70db @ 1m.
Count Light
Red LED flashes with each radiation event.
Audio Indicator
Internally mounted beeper (can be switched off for silent operation)
Outputs
Dual miniature jack drives CMOS or TTL devices: count to computer or datalogger.
Submini jack input allows for electronic calibration
Anti-Saturation
Meter will hold at full scale in fields as high as 100 times the maximum reading.
Power Requirements
One 9-volt alkaline battery. Battery life is approx. 2160 hours at normal background.
Temperature Range
-10º to 50ºC (14º to 122ºF)
Weight
Inspector: 273 g (9.6 oz.) without battery.
Size
150 x 80 x 30 mm (5.9 x 3.1 x 1.2 in.).
Includes
Carrying Case, CE Certification
Limited Warranty
1 year limited, 90 day Warranty on GM Detector