LS51139-00
USB to SDI-12 Interface
Easily configure any SDI-12 sensor directly from a computer
No data logger needed
Easy-to-use Windows GUI
The Stevens SDI-12 Xplorer enables easy programming of any SDI-12 sensor simply by connected the sensor to a computer's USB port
Configuration of the sensor can be done using any terminal program or Stevens Xplorer GUI (pictured below).

One side of the SDI-12 Xplorer features a USB Type-B connection for plugging into a computer. The other side of the SDI-12 Xplorer has +12 V out, GND, and SDI-12 data channels for connection to any standard SDI-12 sensor.
Features
Easily configure any SDI-12 sensor directly from a computer
No data logger needed
Easy-to-use Windows GUI
Sensor power provided via USB connection - up to 150 mA
Applications
SDI-12 sensor configuration or programming
SDI-12 sensor troubleshooting
Field use
Research applications
Classroom labs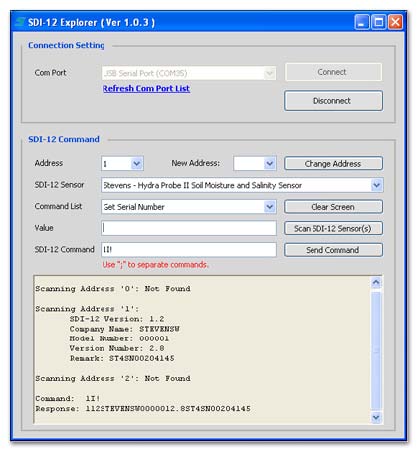 The SDI-12 Xplorer Windows GUI, being used to configure a Stevens Hydra Probe II soil sensor.