Regard d'égout en fibres de verre pour la mesure du débit
Packaged Metering Manholes Solve Maintenance & Installation Problems
New construction of flow measurement systems in wastewater channels can be a hassle and a strain on resources. Correcting and replacing them is even worse. We understand this and have developed the Accura-Flo™ metering manhole system to combat just such problems. Designed and manufactured at the factory specifically for your application, the Accura-Flo™ metering manhole systems combines an Accura-Flo™ flume with a fiberglass manhole ( Parshall, Trapezoïdal, Palmer Bowlus, etc.). It offers superior chemical resistance, access, and ease of installation while costing less than traditional concrete vaults for your flume and flow measurement devices.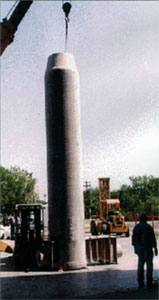 Metering Manhole
for Wastewater
Line at 22' Depth
1 : Chemical Resistance
Chemical grade isopthalic resins are used in the fabrication of standard manholes and flumes. Vinylester or other premium resin systems are also available to meet special design criteria. To ensure long term resistance to chemical corrosion and sunlight, a final application of gel-coat containing ultraviolet inhibitors is applied. A 100-mil corrosion barrier with Nexus veil protects the inside surface of the station from corrosive liquids or atmospheres, which might be encountered.
2 : Safe, Clean Access
The smooth interior of an Accura-Flo™ metering manhole system provides a clean, leak-free access to critical equipment. Composite Structures offers a large variety of access options for metering equipment and personnel including dome covers, flat covers, integral valve vaults, ladders, landings, and grating.
Fiberglass dome covers and flat covers with hinged hatchways are available. Aluminum or steel hatchways are also available.
Dome and flat covers are available with either hinged or bolted design. Bolted covers allow limited access for the replacement of equipment in large diameter stations. A secondary, special access manway is available on bolted covers to provide ready access for personnel. Hinged station covers include a cushion gasket with an overlapping drip edge. Aluminum or steel hatchways are available in gas-tight or vented designs.
Traffic top sections are available on structures up to 5 feet in diameter. Top sections are designed for H-20 traffic loading and will accommodate a heavy-duty traffic cover. When H-20 loading is specified, additional structural reinforcement is provided in the barrel and base sections of the manhole.
3 : Installation
Complete with installation manuals, Accura-Flo™ metering manhole systems come ready to install and require no special equipment. In many cases, two people can lower a manhole into place without any equipment. Installation takes just a few hours to install and is perfect every time.
Accessories
Accura-Flo™ metering manholes are available with a variety of standard and pre-engineered custom accessories such as FRP ladders, landings, grating, and equipment mounting brackets. Contact us for special requirements.
The best way to protect your investment and keep it simple
for the guys in the field - Accura-Flo™ metering manhole system.
We offers a complete line of standard and custom products:
• Flumes
• Metering Manholes
• Staff Gauges
• Equipment Housings
• OEM Design and Development Services Also Available
• Tiger Door™ FRP Doors
The best way to solve a problem is to prevent it.
That's especially true in the metering industry. That's why Accura-Flo™is the first choice in water measurement systems. Accura-Flo™ delivers accuracy and dependability for the life of the plant. Any flume will work 'in theory.' Only Accura-Flo™ works right every time without need for rework or special concrete forms. Save time, money, and make the engineer or plant manager happy all at the same time. Accura-FloTM flumes have been selected by leading consulting engineers, public agencies, and industrial plants for use in:
• Wastewater Treatment Plants
• Industrial Waste Systems
• Irrigation Measurements
• Municipal Waterworks
• Metering Stations
• Site Run-off Applications
• Stream Gaging
• Water Resources