Metal Locator
Detects magnetic fields emitted by ferrous underground objects
Rugged and waterproof detect objects in the rain or snow
Asset for any ferromagnetic localization work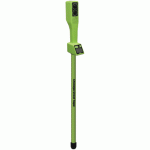 Model : Magna-Trak® 102 Magnetic Locator
Feature-Packed for Versatility! The Magna-Trak 102 magnetic locator provides the same basic performance features as the Magna-Trak 100. However, with the addition of our push-button "erase" feature, greater flexibility is achieved and performance is enhanced.
When a magnetic disturbance, such as a metal fence, is confronted, simply press the "erase" button and the disturbance is erased for continued searching without interference. No need to reduce the sensitivity; the Magna-Trak 102 always returns to perfect magnetic balance when the "erase" button is pressed.
The Magna-Trak 102 locator also includes a power line indicator feature. The LCD panel visually indicates that a power line is present. CAUTION: This feature is an aid only and is not intended for locating buried power lines.
---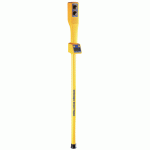 Model : Magna-Trak® 100 Magnetic Locator
The original! The Magna-Trak 100's LCD display provides a digital bar graph display, in addition to a standard audio tone, to specifically identify the target object, especially in congested and noisy areas. An additional feature is a visual reminder when the batteries are low.
Lightweight, the Magna-Trak 100 features a touch-sensitive push-button membrane that is both ergonomic and waterproof. The Magna-Trak 100 offers easy access to the battery, exceptional battery life and a five-year warranty.
---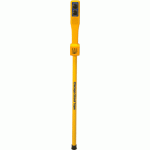 Model : Magna-Trak® 101 Magnetic Locator
The Value-Priced Standard! Our low-cost Magna-Trak 101 magnetic locator provides excellent field performance at a budget price! It features quick-action, control knob operation to adjust sensitivity and volume.
The Magna-Trak 101 magnetic locator is a streamlined version of the Magna-Trak 100. Features all the same components as the Magna-Trak 100, minus the LCD meter display and membrane switch. The operation of this locator is dependent upon only two rotary control knobs: sensitivity and volume.
---
Improved water resistance and mechanical life are provided by our new direct contact switching with the PC board.
Enjoy enhanced functioning, reliability, and maintenance for all CST locators.
Our Magna-Trak® magnetic locators include a multitude of convenience features you won't find anywhere else; features like an LCD visual display and/or audio tone, a lightweight, easy-grip design, and water resistant cases. Magna-Trak® locators also feature easy battery access and outstanding battery life, and they're backed by a 5-year warranty! Plus, our patented* electronic balancing procedure allows balancing to be done quickly and efficiently and all of our manufacturing is done right here at CST to ensure quality control.

| | |
| --- | --- |
| Cat. No. | Description |
| 19-550 | Magna-Trak 100, soft case |
| 19-555 | Magna-Trak 101, soft case |
| 19-557 | Magna-Trak 102, soft case |