Localisateur de Conduits sousterrains
DIGISYSTEM™ in general
Default Power mode selection when turned on, for safety
Fully automatic sensitivity setting, no adjustments needed
Audio and visual display of signal reception
Digital signal processing – robust and error free location in the construction environment
Easy to use – requires only minimal training
Large push button operation – speed of use in field condition
Robust and waterproof – designed for tough working conditions
DIGICATTM 100, DIGICATTM 200 and DIGITEXTM 8/33 initial self check – user has audible and visual indication as to fitness for use
Highly competitive price
DIGICATTM 100< & DIGICATTM 200
Always starts in power mode at maximum senstivity – ensures safest operating conditions
8 and 33 kHz tracing modes – maximum flexibility
Compact and lightweight
Highly visible digital LED display – swift service location
DIGICAT™ 200
One stop depth estimation in cooperation with DIGITEX™ or DIGIMOUSE™
DIGITEX™ 8/33
Compact design with large accessory compartment
8 and 33 kHz modes – maximum traceability
Battery and output level indicators – piece of mind
High impact structural polypropylene case – maximum protection
DIGITRACE™ (30/50/80 metres)
Light and easy to handle
The only cost effective way to trace the full length of a non-metallic conduit
Trace line highly resistant to harsh conditions
The DIGISYSTEM™– fast, easy, accurate and value for your money
The DIGISYSTEM™ is the DIGICAT™ 100 or DIGICATTM 200 underground service locator, DIGITEX™ 8/33 signal generator and DIGITRACE™ 30, 50 or 80 service tracer.

Now locating underground cables and pipes becomes a simple and speedy task. The system increases your onsite safety and saves effort and money.
How to locate
Via receiving reradiated radio frequencies through internal aerials, detecting the strength and direction of the received signals the operator is given the location and direction of the underground service.

Mark the location of the service on the surface of the ground, giving the excavation team clear indications of where not to dig.
System components
The DIGICAT™ can be used to find live (energised) power cables, trace buried metal services which reradiate signals, and with the DIGITEX™ 8/33 signal generator via specific tracing frequencies give highly accurate results. The DIGITRACE™ service tracer allows tracing of plastic ducts, clay drains and other non-metallic conduits.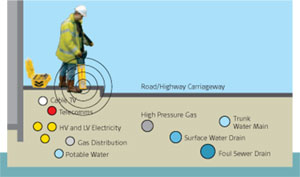 DIGICAT™ 100 / DIGICAT™ 200 Service Locator
Three selectable operating modes
Power mode
Locates power signals radiated by energised cables.

Radio mode
Traces signals originating from distant radio transmitters.
These radio signals penetrate the ground and are reradiated by buried metallic cables and pipes.

Generator mode (8 and 33kHz)
Locates a distinctive signal applied by the DIGITEXTM 8/33 dual frequency signal generator to a metallic underground conductor.
DIGITEX™ 8/33 Signal Generator
How to apply a tracing signal
Direct Connection
Use a Signal Clamp
Induction
Connecting the DIGITEX™ 8/33 to a valve, junction box, domestic power distribution network, or other access point of the conductor is the most effective methodology and is preferable to induction whenever possible.
A Signal Clamp is used to apply the DIGITEX™ 8/33 signal to a pipe or live electricity cable. Supply is not interrupted by the applied signal and the operator is not exposed to any live services.
The DIGITEX™ 8/33 induces a tracing signal into the underground pipe or cable. This is a quick and convenient method when direct connection or signal clamping is not possible.
DIGITRACE™ 30/50/80 Service Tracer
The DIGITRACE™ enables a complete length of drain, duct or pipe (non-metallic) to be traced when used in conjunction with the DIGICAT™ and the DIGITEX™ 8/33 or other signal generator. The DIGITRACE™'s coiled fibre-glass rod, which protects the central copper tracing conductor, is available in lengths of 30 metres, 50 metres, or 80 metres.

The fibre-glass rod is inserted and pushed along in the service under investigation. The DIGITEX™ 8/33 is connected, and the tracing signal is located on the surface by the DIGICAT™.
Excellent customer support, service and training
Technical Support
Users of the DIGI range products always have easy access to technical support, should it be required.

Front line technical support for all tools is provided from experienced professionals at your local dealer or your nearest Leica Geosystems representative.

However, the user friendly operation of the system and clear, easily understood directions on the product may make this support unnecessary!
Service and Repair
Leica Geosystems strongly recommend that the tools are regularly (every 12 months) serviced and calibrated by fully trained service technicians, either in an authorised Leica dealer workshop or a Leica Geosystems service centre. The repair costs for DIGI equipment are very competitive and turn around is usually within 5 days.
Training
Training for operators of the DIGI underground service location system is available from qualified instructors infield or at the dealers location.
Technical Specifications
DIGICAT™ 100
Art. No 731047
Frequency
Power mode 50/60 Hz, Radio mode 15–30 Hz
Generator mode 8 and 33 KHz
Depth
Power to 3m, Radio to 2m, Generator to 3m
Protection
Conforms to IP54
Batteries
6 x AA alkaline (IEC LR6) (supplied)
Battery life
40 hours intermittent use
Weight
2.83 kg including batteries
DIGICAT™ 200
Art. No 731048
Frequency
Power mode 50/60 Hz, Radio mode 15-30 Hz
Generator mode 8 and 33 KHz
Depth
Power to 3m, Radio to 2m, Generator to 3m
Depth Estimation
Depth estimation with DIGITEX™ (33KHz mode) or
DIGIMOUSET™. To 3m within 10% accuracy (typical).
Protection
Conforms to IP54
Batteries
6 x AA alkaline (IEC LR6) (supplied)
Battery life
40 hours intermittent use
Weight
2.83 kg including batteries
DIGITEX™ 8/33
Art. No 731049
Frequency
8 or 33 KHz
Constant dual frequency available in connection mode
Tracing Range
Induction typically 150m, Connection typically 250m
Protection
Conforms to IP57 (with the lid shut)
Included Accessories
Crocodile equipped connection cable set with earth spike
Batteries
4 x C alkaline (IEC LR14) (supplied)
Battery Life
40 hours continous use
Weight
2.95 kg including standard accessories and batteries
DIGITRACE™ 30/50/80
Art. No 731050/731051/731052
(30/50/80 metre coil of copper conductor sheathed by fibre glass)
Protection
Conforms to IP57
Included Accessories
Connections to DIGITEX 8/33 cable set
Weight
3.0/3.25/3.5 kg
The DIGISYSTEM™ Your Key to safer Digging
Safe
Quick
Easy
Full Range
Increased safety
Every year, site workers are injured due to inadvertently striking buried electricity cables or gas pipelines. With the DIGISYSTEM™ operators can locate, trace and mark underground services precisely and reliably prior to excavation.
Cost of Damage
Harm to people and underground services can result in pain, suffering, and high costs apart from the personal issues. If you are not fully aware of your local legislation, and are not using a location system to day, look what it could cost you:

Repair of damaged underground service (cables, pipes, valves, connectors, ducting, …)
Cost for disruption of damaged services (electricity, telecom services, water, gas, …)
Insurance claims for serious or fatal injuries
Consequential loss claims
Defending a claim for negligence
Downtime on your site
You know the list could go on…
Typical users of the DIGISYSTEM™
Excavation contractors
Utility installation and repair contractors
General Contractors
Builders
Gas and electricity companies
Cable TV companies
Pipelaying Contractors
Estate Agents
Accessories
Signal Clamp

For use with the DIGITEX ™ 8/33 for connection of signal to long cylindrical metallic services (e.g. pipes, insulated electricity cables).

Property Connection Set

For use with the DIGICAT™ 100/200 and DIGITEX™ 8/33 for connection of a tracing signal to any internal power distribution system outlet and locating the electricity supply cable outside the building.
Whenever you need to locate underground services, the Leica Digisystem is the right solution. The system ensures fast and accurate location of buried cables and pipes and it increases your onsite safety. The Digisystem is designed on a safety-first philosophy, so we remove the ability for the user to «tune out» signals or to accidentally search in the wrong mode. The Digisystem tools are rugged and efficient, meeting all the needs of your tracing operations.