Drying and Heating Chambers
Temperature range: room temperature plus 5 °C to 300 °C
APT.line preheating chamber technology
Natural convection
---
Can we help you?
Model : ED 23
Interior volume: 20 L
Housing dimensions: 435 x 495 x 520 mm
---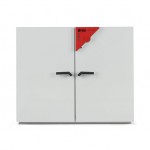 Model : ED 400
Interior volume: 400 L
Housing dimensions: 1235 x 1025 x 765 mm

---
Drying and heating chambers with natural convection
Important characteristics
Temperature range: room temperature plus 5 °C to 300 °C
APT.line™ preheating chamber technology
Natural convection
Adjustable exhaust air flap
Controller with timer functions
2 chrome-plated racks
Class 2 independent adjustable temperature safety device (DIN 12880) with visual alarm
Heating chambers with natural convection from BINDER
BINDER offers a range of heating chambers for drying, heating, and sterilization. Heating chambers are also available with natural convection – these units meet high quality standards and ensure a high degree of process reliability. The heating chambers are versatile in their functionality, making them an ideal solution to suit various requirements, such as those within science and research, quality assurance, and industry applications.
Steady drying conditions are one highlight among the benefits afforded by BINDER heating chambers, with the patented APT.line™ preheating chamber technology providing homogeneous temperature control with natural convection. The result is consistent test conditions across the entire usable space, regardless of the amount or size of the sample. BINDER's ED series heating chambers operate within a temperature range of between 5 °C and 300 °C, allowing them to cover a wide range of applications with high power reserves and short heating up times.
High quality standards
Effective thermal insulation ensures that the operating costs associated with BINDER heating chambers with natural convection are low. In addition to this, the chambers are user-friendly and can be loaded and unloaded with ease owing to their racks. Cleaning is incredibly straightforward too thanks to the stainless steel finish.
Every aspect of BINDER heating chambers is in line with high quality standards. Alongside an environmentally friendly design and wide range of applications, these units never fail to impress with their high temperature accuracy, efficiency, and usability.
Model
Housing dimensions not incl. fittings and connections -
Internal dimension
Net weight
Interior volume
W x H x D [mm]
W x H x D [mm]
ED 23
435 x 495 x 520
222 x 330 x 300
27
20
ED 400
1235 X 1025 X 765
1000 X 800 X 520
125
400