Laboratory oven with forced convection
Description
The Despatch LBB oven features a combination of horizontal and vertical airflow that offers excellent temperature uniformity at a moderate price.

It is recommended for a variety of laboratory and production applications including drying, curing, annealing and materials testing.

A top-mounted fan draws air through the heater coils and propels it back to the chamber through plenums in the side walls, resulting in consistent, uniform temperatures. Powerful open coil heating elements and a forward curved fan deliver faster heat-up rates and short processing times. Digital controls regulate temperatures within tight tolerances.

The LBB is designed and manufactured to provide years of dependable service. The fan and heater are top-mounted to prevent damage from spills. When spills do occur, the corrosion-resistant stainless steel interior and nickel plated shelves clean up easily. The motor is permanently lubricated and virtually maintenance free. And Despatch warrants the heater performance for a full five years – the best warranty in the industry.
KEY FEATURES
Forced convection from top-mounted fan and plenums on sides of chamber
Temperatures up to 204° C (400° F)
304 Stainless steel interior
Digital control with 3/4" (1.9cm) LED display
Nickel plated shelves - by model rated from 50 to 200lbs (23 to 91kg)
High-limit control
Five year heater warranty
UL and C-UL listed
Options
Reinforced shelves rated to 200 lbs. (91 kg) (standard shelves rated to 50 lbs.) (23kg)
Controls and fan on bottom of oven
Protocol PlusTM microprocessor with realtime clock and optional PC interface
Door with window and interior light
Oven stacking hardware
Process timer
CE Conformance
Chart recorder
Access ports

Oven stand
Warning: Not for use with flammable or combustible materials. If your process has flammable solvents, contact Geneq Inc.
Specifications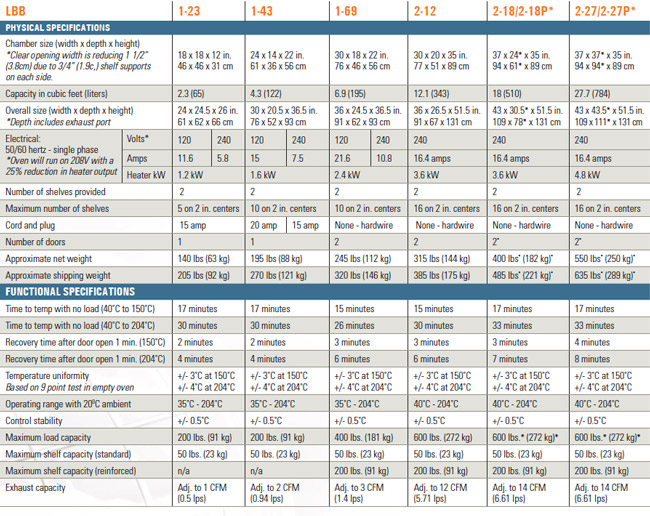 *The LBB2-18P and LBB2-27P are available in pass through door operation. Chamber depth increases by 2 1/2" (6.4cm) plus overall depth increases by 1 1/2" (3.8cm) Please contact

Despatch for exact specifications and more information.

Notes: Uniformity figures are based on a nine-point test conducted in an empty oven after stabilization period. Uniformity can vary slightly depending on unit and operating conditions. Time to temperature, recovery time, and temperature uniformity are based on 240V/60hz operation, with control panel on top. Actual results may vary slightly depending on unit configuration and operating conditions. Minimum operating temperature is based on 20ºC ambient temperature measured at the fresh air inlet with the exhaust air damper fully open. Maximum load capacity figures are only for standard configurations with controls on top. Specifications are subject to change without notice.