EL311CFB-0
Automotive Paint Meter
Fast reading rate
Switches instantly to steel & aluminium
Ergonomic design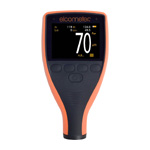 Model : A311CFNFBI
Model B
FNF - Steel & Aluminium
---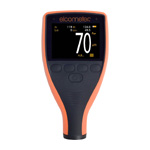 ---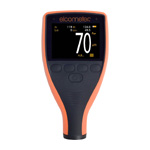 Model : A311CFNFTI
Model T
FNF - Steel & Aluminium
---
The new Elcometer 311 Automotive Paint Meter is the fastest automotive paint gauge on the market today, used to instantly measure paint thickness and provide an indication of the overall condition of paint work.
With instant material recognition, the Elcometer 311 FNF Paint Meter switches between steel and aluminium panels and is ideal for use in all weather conditions.
The Elcometer 311 Automotive Paint Meter allows the user to quickly identify vehicle's damage not reported in public or commercial condition reports including:
hidden rework
vehicle impact damage
vehicle respray
filled body panels​
Compatible with ElcoMaster® software and ElcoMaster® Mobile App, individual paint thickness readings can be transferred via USB or Bluetooth® to PC or a mobile device for analysis and instant report generation.


Key features and benefits of the Elcometer 311 paint gauge include:

Fast reading rate of 60+ readings per minute significantly reduces inspection times
Switches instantly to measure coatings on steel & aluminium
Ergonomic design gives you maximum comfort when measuring vehicles all day
Automatic temperature compensation accurately measures in desert or alpine conditions alike
Wirelessly connect the Elcometer 311 via Bluetooth® to your own inspection app or ElcoMaster® for seamless reporting
Automatic rotating display allows you to read the thickness value on horizontal & vertical surfaces
Ambient light sensor automatically adjusts the screen brightness to your lighting condition
Dust & waterproof rugged design equivalent to IP64, ideal for measuring in wet or dry conditions
Large easy to read values in mils & microns
Scratch, solvent & water surfaces resistant colour display for protection against accidental damage​
Statistics
"The new Elcometer 311 doesn't just take a thickness measurement"
In addition to the paint thickness, the new Elcometer 311 Paint Meter displays the key statistical values used to assess the overall condition of the paint work; number of readings (n), average coating thickness (x), the lowest paint thickness (Lo) and the Elcometer Index Value (EIV).


Elcometer Index Value - EIV
"The higher the EIV the more severe the PPW"
As each measurement is taken, the new Elcometer 311 Automotive Paint Meter can transmit the thickness value via Bluetooth® either straight into your inspection application or into ElcoMaster®, Elcometer's mobile app, for instant report generation.


Wireless Connectivity
"Seamlessly connect to any PC, Android™ or iOS mobile device"
A chaque mesure prise, le nouveau mesureur de peinture automobile Elcometer 311 permet de transférer via Bluetooth® les valeurs d'épaisseur relevées directement sur votre propre application d'inspection ou vers ElcoMaster®, l'appli mobile d'Elcometer, pour la création immédiate de rapports.
Model B
Model B
Model T
Part Number
A311CFBI
A311CFNFBI
A311CFNFTI
Calibration Test Certificate
•
•
•
Built in Probe Type
Steel
(F)
Steel & Aluminium
(FNF)
Steel & Aluminium
(FNF)

Fast accurate reading rate;

60+ readings per minute

■
■
■

On screen statistics

Number of readings, n
Average (mean), x
Lowest reading, Lo
Elcometer Index Value (EIV)

■

Wireless Data output

via Bluetooth® or USB

■
Accuracy
±5% or ±20μm (1.0mil)
Resolution
10μm (0.5mil)
Minimum Substrate Thickness
Steel: 800μm (30mils)
Aluminum: 300μm (12mils) - FNF gauges only
Measurement Range
0-500μm (0-20mils)
Operating Temperature

-10 to 50°C (14 to 122°F)

Relative Humidity (RH)

0 to 95%

Power Supply
2 x AA Batteries or via USB
(rechargeable batteries can also be used)
Battery Life
Alkaline: Approximately 16 hours
Lithium: Approximately 24 hours
Gauge Dimensions
14.1 x 7.30 x 3.70cm (5.55 x 2.87 x 1.46")
Gauge Weight
(including batteries)
156g (5.5oz)
Packing List

Elcometer 311 gauge, 2 x AA batteries, steel & aluminium check pieces*, calibration check foil, wrist strap, impact resistant carry case, calibration test certificate, operating instructions, 2 year warranty extension card.