Concrete cylinders mold 6" x 12''
printed Geneq ( box of 20)
A.S.T.M. specifications C39,C192 and C470
High domed lids are available
Lids and stripping tools are available
These rugged molds have an unlimited shelf life and are weather-resistant for dependable field performance.
They are recyclable and biodegradable and contain a unique additive that allows microbes present in landfills and composting facilities to break down plastic. Molds are non-absorptive and are unaffected by heat, light, or cement paste.
Built-in lip helps retain round specimen shape for easy lid attachment and provides a stable plane for quick specimen strike-off.
A writable surface allows the recording of data.
Cylinder Mold Domed and Flat Lids. Cylinder Stripping Tool and Cylinder Carriers are available as optional.
Features
Available in boxes of 20 for 6 "cylinders
Writable surface to record data
Bio-degradable
Recyclable
Test cylinders 6" meet A.S.T.M. specifications C39, C192 and C470
Molded single unit for consistent dimensional uniformity
Smooth molded plastic allows quick, easy stripping
Non-absorptive, Strong, durable is weather resistant
Eliminating job-site storage problems
High domed lids are available
Lids and stripping tools are available
Accessories
HU3041L-HD: 6" high domed lids

HU3041S-00: Stripping Tool, 15" L W/T Handle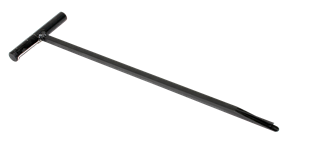 HU3041SMA : Stripping Tool W/ Screw Driver Style Handle