Colorimeter for preform inspection
P1 Colorimeter for preform inspection -
For accurate desktop preform transmission measurement.
The P1 preform inspection system is an accurate and stable industrial instrument that has been designedexclusively for measuring preform transmission values.
Due to its robust housing it can be placed directly next to the Injection Molding System to measure preforms periodically to detect changes quickly.
It has been designed to keep operating errors to a minimum. It has only 2 buttons and the reflection chamber has guides so it will be positioned in the same way.
The instrument measures the amount of light passing though a preform from fully transparent to almost opaque. The instrument is designed so it gets more accurate the more opaque a preform is.
Small changes in transmission values are detected in an early stage minimizing waste and valuable production time.
Alternatively the instrument can be used to detect variations in transmission values due to preform position in the mold.
Application
This easy to use, robust desktop instrument is designed to measuring preform transmission for quality control.
Almost complete opaque preforms can be measured, up to 0,1% transmission.
Benefits
Guarantee your customers constant transmission quality
Reduce visual inspection errorsdue to eye fatigue and operator changes
Easy to use
Speed up production change (from one transparent preform to the next)
Easy measurement
( image 1-3 )
The instrument is easy to operate :
Place the preform in the middle
Lower the reflection chamber over the preform
Press the Measure button and read the transmission value from the LCD
By the use of Smart LED technology, the instrument has a large dynamic range and can measure from extreme dark preforms up to 99.9% transparent preforms.
image 1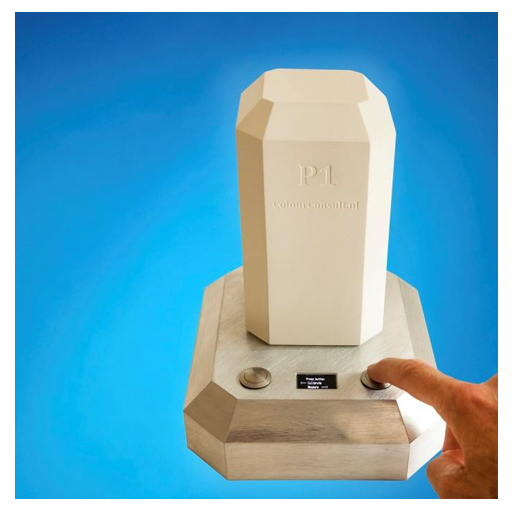 image 2
Easy calibration
( image 4 )
The instrument is easy to calibrate. Lower the reflection chamber without a preform present and press the Calibration button. The instrument will calibrate itself to 100% and it will do a lighting diagnostic. Results are displayed at the display.
You can easily verify if the instrument works correctly by measuring without a preform. The transmission value must be 100%.
image 3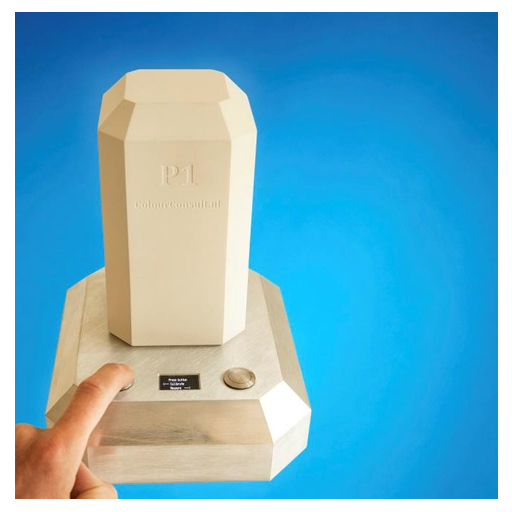 image 4
Optional windows software
The instrument has an ethernet port which can be connected to a network or PC to transmit measured data for logging. Preform Quality data can that way be logged to a company database to make customer reports or lookup past problems.
There is an optional SDK (software development kit) available with a technical description of the protocol used and example source code of a simple c# windows software.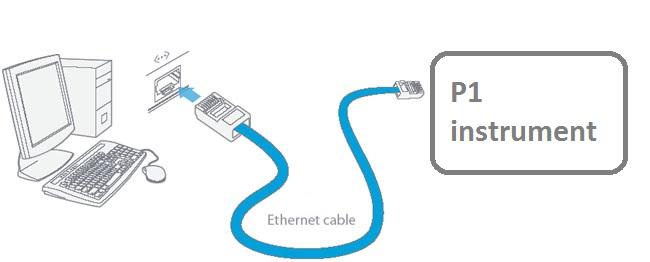 Specifications
Measurement functions
Transmission (0% to 100% of light though preform)
Preform openings
From 16,5mm up to 40mm
Preform length
Up to 150mm
Preform max width
Up to 55 mm
Calibration
Push button procedure
Measurement accuracy
See table below
Data communication
1 Ethernet port
Warm up time
5 minutes
Measurement time
Less than 1 sec.
Light source
LED (Average lifetime > 5 years²)
Illumination type
Ring lighting
Physical dimensions
180mm x210mm x 235mm (Width x Length x Height)
Weight
Approximately 3Kg (instrument 2,250Kg + Reflection dome 0,75Kg)
Reflection dome
Included
Power
5VDC (< 2Amp) 10,8VA
Power adapter
Included 110V/220V, with universal plug
Power cable length
1m, included
Housing & protection
IP50
Operating temperature
0°-45°Celsius
Measurement accuracy
| | |
| --- | --- |
| Transmission | Accuracy |
| less than 1% | Better than 0.025% |
| Between 1% and 5% | Better than 0.05% |
| Between 5% and 10% | Better than 0.1% |
| Between 10% and 50% | Better than 0.35% |
| Between 50% and 80% | Better than 0.5% |
| Between 80% and 100% | Better than 1% |