Ultrasonic Pulse Velocity and Pulse Echo Tomography
Assessment of structural integrity and localization of defects and voids in concrete and rock through ultrasonic testing
Structural defects cause serious damages and collapses. Ultrasonic testing provides information on the strength and uniformity of concrete, rock, composites, ceramics, wood, epoxy, refractory materials and can be used to detect and localize voids, pipes, cracks and defects. The ultrasonic pulse echo (UPE) technology extends ultrasonic pulse velocity (UPV) applications to objects where access is restricted to a single side. Proceq Pundit offers the most versatile range of ultrasonic testing instruments.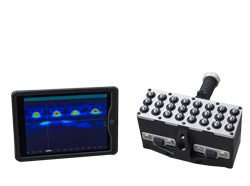 Pundit Live Array Pro
The wireless Pundit Live Array Pro tomography scanner is connected with an iOS app to an Apple® iPad. It comes with Artificial Intelligence (A.I.) user support and 3D imaging capabilities.
Real-time tomography
Smart A.I. user support and positioning
Increased productivity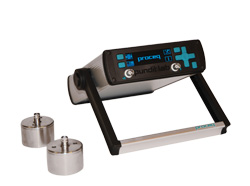 Pundit Lab(+)
The Pundit Lab is a flexible UPV test instrument designed primarily for operation in laboratories. It supports all traditional UPV test modes. The Pundit Lab+ comes with an extended feature set.
Automated combination of the transmitter voltage and the receiver gain for accurate and stable measurements
Open interface, can be integrated into LabView
Pundit Lab+ removes the need for external amplification when used with exponential transducers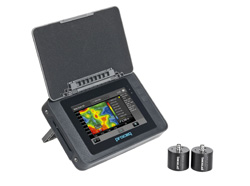 Pundit 200
The Pundit 200 is a best-in-class UPV test instrument with an extended range of measurement modes. Rugged touchscreen with intuitive user interface for best possible measuring and analysis of the measured data.
Various measurement modes including Line Scan, Area Scan, Data Logging, compressive strength correlations and E-modulus measurement
Automatic surface velocity calculation according to standards
Same instrument can be used with pulse echo transducers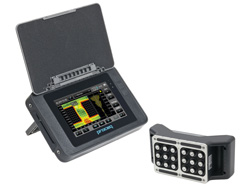 Pundit 200 Pulse Echo
The Pundit 200 Pulse Echo extends the ultrasonic application to objects where access is restricted to a single side. Major applications are slab thickness measurments and the location of voids and delaminations. Rugged touchscreen with intuitive user interface.
New: Pundit® Dry-Point Shear Wave Transducer
B-Scan is constructed directly on the instrument as the scan is carried out
Can be upgraded to Multi Channel
Same instrument can be used with classic pulse velocity transducers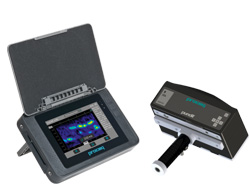 Pundit 250 Array
The Pundit 250 Array is a modular phased array pulse echo instrument incorporating dry-point contact transducers. It features unique real time B-Scans as well as on-site C-scans, P-scans and Volume scans.
Full modular system allows to increase the number of channels by simply attaching additional probes
Unique real-time B-scan and panorama B-scan
Same instrument can be used with classic pulse velocity transducers
Applications
Pundit Live Array Pro

Pundit Lab(+)

Pundit 200
Pundit 200 Pulse Echo
Pundit 250 Array
Pulse velocity determination
•
•
•
•
Quality assessment and uniformity
•
•
•
•
•
Compressive strength estimation
Pundit Lab+ only
•
SONREB
Pundit Lab+ only
•
Modulus of elasticity measurement
•
•
Curing status evaluation
•
•
Thickness measurement from a single side
•
•
•
Crack depth estimation
•
•
Location of delaminations, voids and honeycoming
•
•
•
Location of hollow pipes
•
•
•
Location of pipes and tendon ducts beyond the rebar layer
•
•
•
Assessment of fibre reinforced concrete
•
•
•
•
•
Additional Applications

Chocolate molds
Mass rapid transportation
Crack depth

Asphalt healing process
Large pillar
Cultural relics
Underwater structures
Refractory material
Epoxy in wind industry
SONREB - combining Pundit and RockSchmidt
Underwater bridge pier
NDT of rock reference list

Prefabricated walls
Refractory
Ignoring small bar reinforcement
Wall cavity insulation beads
Concrete slab thickness
Post tensioning cables
Delamination spotting
Voids
Minimum ground floor thickness
SONREB - combining Pundit and RockSchmidt
Pre-casted subway station elements

Ultrasonic concrete thickness measurement
Honeycomb detection
Pundit Live Array Pro

Pundit Lab(+)

Pundit 200
Pundit 200 Pulse Echo
Pundit 250 Array
Measuring Range

>1 m depending on concrete quality

Up to 15 m depending on concrete quality

Up to 15 m depending on concrete quality

Up to 1 m depending on concrete quality

Ca. 1m depending on concrete quality

Bandwidth

15 to 100 kHz

20 to 500 kHz

20 to 500 kHz

20 to 500 kHz

20 to 500 kHz

Technology

Phased array ultrasonic pulse echo

Ultrasonic pulse velocity

Ultrasonic pulse velocity

Single channel ultrasonic pulse echo

Phased array ultrasonic pulse echo

Measuring Resolution

1 μs

0.1 us

0.1 us

0.1 us

0.1 us

Pulse Voltage UPV

-

125 to 500 V

100 to 450 Vpp

–

–

Pulse Voltage UPE

±150 V

–

–

± 50 to ± 200 V

+/- 150 V

Receiver Gain

1 to 10'000x (0 to 80 dB)

1x, 10x, 100x, AUTO, Pundit Lab+ up to 1000x

1 to 10'000x (0 to 80 dB)

1 to 10'000x (0 to 80 dB)

1 to 10'000x (0 to 80 dB)

Nominal transducer frequency

50 kHz shear wave

24 – 500 kHz

24 – 500 kHz

24 – 500 kHz

50 kHz shear wave

Pulse Shape

Square wave

Square Wave

Square Wave

Square Wave

Square wave

Pulse Delay

8 ms – 200 ms

–

–

–

8 ms – 200 ms

Number Of Channels

8 (with upgrade option to 16)

1

1

1

8 (with upgrade option to 16)

Instrument Firmware

High resolution imaging of thickness variations, delaminations, voids and tendon ducts
Cursors for depth and horizontal displacement information
Settings directly accessible on measuring screen
AI positioning system
Automatic back wall detection
Automatic pulse velocity estimation

Open interface
Integrated amplifier gain stage (Pundit Lab+ only)
Real time stamp (Pundit Lab+ only)

Zoom and scroll for precise A-Scan inspection
On board storage and review of waveforms
Settings directly accessible on measuring screen
Dual cursor for manual A-Scan evaluation
Separate cursor to measure signal amplitude
Automatic and manual triggering and user adjustable trigger threshold
A-Scan update rate up to 25 Hz

Gate function
Raw data export
Settings directly accessible on measuring screen
Advanced echo tracking technology helps identifying the main echo
Automatic estimation of the Pulse Velocity

Raw data export
Settings directly accessible on measuring screen

PC Software

Browser-based live.proceq.com webtool

Pundit Link unlocks the full Pundit Lab+ capabilities

PL-Link for analysis and export data to third party applications

PL-Link for analysis and export data to third party applications

PL-Link for analysis and export of data to third party applications

Display

Any compatible Apple® iPad (iOS 9.0 and higher)

79 x 21 mm passive matrix OLED

7" color rugged touchscreen unit (800 x 480 pixels) with dual core processor

7" color rugged touchscreen unit (800 x 480 pixels) with dual core processor

7" color rugged touchscreen unit (800 x 480 pixels) with dual core processor

Memory

Up to 512 GB (depending on the Apple® iPad model)

> 500 measured values

Internal 8 GB flash memory

Internal 8 GB flash memory

Internal 8 GB flash memory

Connections

Wi-Fi connection to Apple® iOS tablet, USB port for Wi-Fi module

USB connection to PC

USB host / device and Ethernet

USB host / device and Ethernet

USB host / device and Ethernet

Measurement Modes

Pulse velocity
Surface velocity
Data logging
E-modulus
Compressive strength correlation (Pundit Lab+ only)
Crack depth

Pulse velocity
Surface velocity
Data logging
E-modulus
Compressive strength correlation
Crack depth
Line Scan
Area Scan

Pulse velocity
Area Scan
A-Scan
B-Scan
Distance

Real time B-Scan
Panorama B-Scan

Transducers

Rugged, compact and lightweight Pundit Array Transducer. Standard: Single handed transducer. Dual handle upgrade for increased control (buttons on both handles, optimize gain settings and trigger a measurement). Upgrade to 16 channels for double the scan width

Available Proceq transducers: 54 kHz, 150 kHz, 250 kHz, 54 kHz Exponential, 500 kHz and 250 kHz Shear Wave
Connect third party transducers up to 500 kHz with BNC connector

Available Proceq transducers: 54 kHz, 150 kHz, 250 kHz, 54 kHz Exponential, 500 kHz and 250 kHz Shear Wave
Connect third party transducers up to 500 kHz with BNC connector

Dry-contact Pundit Pulse Echo transducer with control buttons, optical feedback, center marker and rulers for easy B-Scan measurements
Avaiable Proceq transducers: 54 kHz, 150 kHz, 250 kHz, 54 kHz Exponential, 500 kHz and 250 kHz Shear Wave
Connect third party transducers up to 500 kHz with BNC connector

Dry-contact Pundit Array transducer with auxiliary LCD display and control buttons on handles

Standards

EN 12504-4
ASTM C 597-02
ISO 1920-7:2004
IS 13311
CECS 21
ГОСТ 17624

EN 12504-4
ASTM C 597-02
ISO 1920-7:2004
IS 13311
CECS 21

Guidelines

RI-ZFP-TU
FCC Part 15: 2010
Class A Digital Device

RI-ZFP-TU
FCC Part 15: 2010
Class A Digital Device