Laboratory Reduction Cone Crushers
FEATURES
Inner cylinder and lower main frame are cast iron with coincidental axis held in a fixed relationship
Upper main frame includes a threaded cap which houses the precision manganese steel concave and provides accuracy in adjusting the crusher setting
A pan-shaped precision manganese steel mantle is bolted to the cast metal machine head
A forged steel eccentric shaft rotates on heavy-duty anti-friction bearings
The metal feed chute assembly handles large feed samples automatically
APPLICATIONS
Marcy Gyratory Reduction Cone Crushers reduce 1/2 in. feed as fine as minus ten mesh (nominal) in a single pass. The finished product is ideal feed to ball or rod mills, laboratory such as; tables, sink/float or spiral concentration sizing analysis and sampling.
Extracting and rigorous demands of a pilot plant operation call for equipment that is though, yet easily adjusted. Small scale continuous production runs can be handled with confidence.
SPECIFICATIONS
 

3149

4100

Drive Description

V-Belt drive 1/2HP TEFC motor

V-Belt drive 2HP TEFC motor

Dimensions

21"x20"x15"

31"x27"x19"

Shipping Weight

220lbs

460lbs

The table below is composed of data obtained from actual crushing tests with a 6 in. unit. Capacity of the 10 in. unit is twice that of the 6 in. crusher; while power consumption is slightly less than twice as much.
PERFORMANCE DATA

SCREEN ANALYSIS OF CRUSHED PRODUCT (WEIGHT %)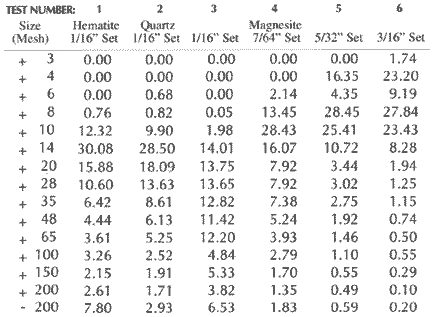 ACCESSORIES AND OPTIONS
Custom fabricated steel crusher base assembly
Variety of drive motors available
| | |
| --- | --- |
| CAT. NO. | DESCRIPTION |
| 3149 | Marcy 6" Cone Crusher |
| 3399 | Marcy 10" Cone Cusher |
| 3411 | Cone Cusher Base Assembly |