Mini Hotplates & Stirrers
Ideal for Educational Labs
Capacity: 1000 mL
Ceramic Plate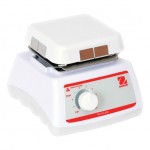 Model : HSMNHP4CAL
Heating
Temperature Range: to 500 °C

---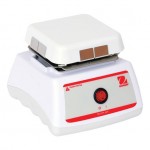 Model : HSMNHP4CFT
Heating
Temperature Range: 500 °C

---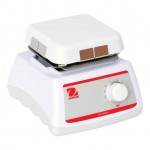 Model : HSMNST4CAL
Stirring
Speed Range: 100 to 1200 rpm

---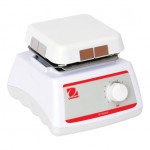 Model : HSMNAS4CAL
Stirring, Auto Start/Stop
Speed Range: 100 to 1200 rpm

---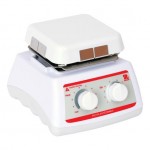 Model : HSMNHS4CAL
Heating and Stirring
Speed Range: 100 to 1200 rpm
Temperature Range: to 500 °C

---
Ideal for Educational Labs
OHAUS Mini Hotplate Stirrers are rugged, compact units that can heat and stir up to 1000 ml of water. These stirrers are ideal for educational and other lab environments that require consistent stirring. Models include Hotplates, Stirrers, Hotplate-Stirrers, Fixed Temperature Hotplates and Auto Stirrers. All models feature a 4x4 inch (10.2x10.2 cm), easy-to-clean ceramic top plate and cool-touch housing.
Applications
Boiling Water, Dissolving Buffers and Reagents, Preparing Media, Concentrating Samples
Operation
Detachable 3-wire cord and plug (included)
Construction
Valox housing, basic control knobs, 1.5 inch (3.8 cm) stir bar (included with Stirring models), On/Off toggle switch (Fixed Temperature models)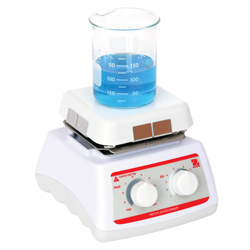 Designed with ease of use in mind, all of our mini-hotplate stirrer models feature an easy-to-clean, chemical-resistant ceramic top plate with a reflective white surface.
Our mini hotplate stirrer housing is constructed of a heat-resistant polymer that's not only cool to the touch, but also chemical-resistant.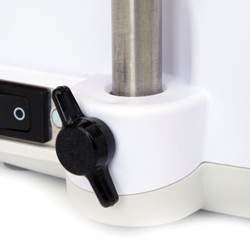 All units are equipped with a built-in support rod holder with a locking knob, which accepts the optional support rod kit.
Model No.
HSMNHP4CAL
HSMNHP4CFT
HSMNST4CAL
HSMNAS4CAL
HSMNHS4CAL
Function
Heating
Stirring
Stirring, Auto Start/Stop
Heating and Stirring
Speed Range
—
100 to 1200 rpm
Temperature Range
to 500 °C
500 °C
—
—
to 500 °C
Capacity
1000 mL
Plate Size (L × W)
4 in. × 4 in. / 10.2 cm × 10.2 cm
Control
Analog
Plate Construction
Ceramic
Dimensions (H × L × W)
5 in. × 7.9 in. × 6 in. / 12.7 cm × 20.1 cm × 15.2 cm
Net Weight
4 lb / 1.8 kg
Power
120V, 1.8A, 50/60Hz
120V, 0.5A, 50/60Hz
120V, 2.6A, 50/60Hz
Power Consumption
200 W
20 W
200 W
Working Environment
41 °F–104 °F, 80% RH, non-condensing / 5 °C–40 °C, 20% to 85% RH, non-condensing