Polishing System
Magnetic Polishing System
Description
Pace Technologie magnetic polishing systems offer the metallographer an easy to use, rapid changing and convenient way to reuse and store polishing pads. This system consists of a magnetized MAGNETONTM PSA backed base. The MAGNETONTM base is a flexible magnet which is permanently attached to the working wheel via an adhesive or PSA backing.

Either standard polishing pads can attached to a teflon coated MAGNEPADTM magnetic plate or be purchased with an flexible magnet backing .

Ease-of-use Once the MAGNETON base plate has been attached to the working plate and the polishing cloth is attached to the Teflon coated plate (black side), all that remains is to place the MAGNEPADTM onto the MAGNETONTM disk.

After completion of the polishing operation the MAGNEPADTM magnetic plate can be easily removed by lifting off the MAGNEPADTM plate. Likewise with magnetic backed polishing clots, simply place the polishing cloth on the MAGNETONTM base plate and polish.
PSA Adhesive Backed Polshing Pads
Metal Mesh Abrasive Cloth (w/PSA)

Description

Diameter (inches)

Quantity

Magnet backed polishing pads

CERMESHTM Cloth
8
5/pkg
CMESH-2008
CERMESHTM Cloth
10
5/pkg
CMESH-2010
CERMESHTM Cloth
12
5/pkg
CMESH-2012
Low Napped (Rough Polishing) Cloth (w/PSA)

CAT. NO.

Description

Diameter (inches)

Quantity

PTTP-5008
TEXPANTM Pad
8
10/pkg
PTTP-5010
TEXPANTM Pad
10
10/pkg
PTTP-5008
TEXPANTM Pad
12
10/pkg
PTPP-6008
POLYPADTM Pad
8
10/pkg
PTPP-6010
POLYPADTM Pad
10
10/pkg
PTPP-6012
POLYPADTM Pad
12
10/pkg
PTBC-8008
Black CHEMTM Pad
8
10/pkg
PTBC-8010
Black CHEMTM Pad
10
10/pkg
PTBC-8012
Black CHEMTM Pad
12
10/pkg
PTDC-3008
DACRON® Pad
8
10/pkg
PTDC-3010
DACRON® Pad
10
10/pkg
PTDC-3012
DACRON® Pad
12
10/pkg
High Napped (Final Polishing) Cloth (w/PSA)

CAT. NO.

Description

Diameter (inches)

Quantity

PTNP-7008
NAPPADTM Pad
8
10/pkg
PTNP-7010
NAPPADTM Pad
10
10/pkg
PTNP-7012
NAPPADTM Pad
12
10/pkg
PTMP-9008
MICROPADTM Pad
8
10/pkg
PTMP-9010
MICROPADTM Pad
10
10/pkg
PTMP-9012
MICROPADTM Pad
12
10/pkg
PTMPE-9008
MICROPADTM Extra
8
10/pkg
PTMPE-9010
MICROPADTM Extra
10
10/pkg
PTMPE-9012
MICROPADTM Extra
12
10/pkg
PTTRI-4008
TRICOT® Pad
8
10/pkg
PTTRI-4010
TRICOT® Pad
10
10/pkg
PTTRI-4012
TRICOT® Pad
12
10/pkg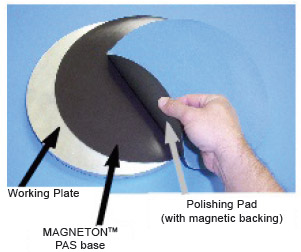 Magnetic Backed Polishing Pads
Metal Mesh Abrasive Cloth (w/magnet)

Description

Diameter (inches)

Quantity

Magnet backed polishing pads

Magnetic CERMESHTM
8
5/pkg
CMESH-2008-MAG
Magnetic CERMESHTM
10
5/pkg
CMESH-2010-MAG
Magnetic CERMESHTM
12
5/pkg
CMESH-2012-MAG
Low Napped (Rough Polishing) Cloth (w/PSA)

CAT. NO.

Description

Diameter (inches)

Quantity

PTTP-5008-MAG
Magnetic TEXPANTM
8
5/pkg
PTTP-5010-MAG
Magnetic TEXPANTM
10
5/pkg
PTTP-5008-MAG
Magnetic TEXPANTM
12
5/pkg
PTPP-6008-MAG
Magnetic POLYPADTM
8
5/pkg
PTPP-6010-MAG
Magnetic POLYPADTM
10
5/pkg
PTPP-6012-MAG
Magnetic POLYPADTM
12
5/pkg
PTBC-8008-MAG
Magnetic Black
CHEMTM Pad
8
5/pkg
PTBC-8010-MAG
Magnetic Black
CHEMTM Pad
10
5/pkg
PTBC-8012-MAG
Magnetic Black
CHEMTM Pad
12
5/pkg
PTDC-3008-MAG
Magnetic DACRONTM
8
5/pkg
PTDC-3010-MAG
Magnetic DACRONTM
10
5/pkg
PTDC-3012-MAG
Magnetic DACRONTM
12
5/pkg
High Napped (Final Polishing) Cloth (w/PSA)

CAT. NO.

Description

Diameter (inches)

Quantity

PTNP-7008-MAG
Magnetic NAPPADTM
8
5/pkg
PTNP-7010-MAG
Magnetic NAPPADTM
10
5/pkg
PTNP-7012-MAG
Magnetic NAPPADTM
12
5/pkg
PTMP-9008-MAG
Magnetic MICROPADTM
8
5/pkg
PTMP-9010-MAG
Magnetic MICROPADTM
10
5/pkg
PTMP-9012-MAG
Magnetic MICROPADTM
12
5/pkg
PTMPE-9008-MAG
Magnetic MICROPADTM
Extra
8
5/pkg
PTMPE-9010-MAG
Magnetic MICROPADTM
Extra
10
5/pkg
PTMPE-9012-MAG
Magnetic MICROPADTM
Extra
12
5/pkg
PTTRI-4008-MAG
Magnetic TRICOT®
8
5/pkg
PTTRI-4010-MAG
Magnetic TRICOT®
10
5/pkg
PTTRI-4012-MAG
Magnetic TRICOT®
12
5/pkg
Magnetic Base Plate and Support Plate for PSA papers
Diameter (inches)

Magneton base plate (w/PSA)

MAGNEPAD teflon coated

8
MAG-B08
MAG-B08
10
MAG-B10
MAG-B10
12
MAG-B12
MAG-B12