Laboratory High Intensity Induced Roll Magnetic Separator
All components connecting material are of polished stainless steel including the two way drain free product hopper.
A DC motor drive permits continuously variable roll speeds from 5 to 300 RPM.

The separating lift roll os 127 mm (5 in.) in diameter by 50 mm (2 in.) wide and of groved construction.

The Model MIH(13)111-5 is a TOP FED laboratory or pilot plant dry high intensity magnetic separator, is designed to separate moderately or weakly magnetic (para- magnetic) materials
Results obtained from this small separator are scalable to predict performance from large production size high intensity magnetic separators. The feed particle size to be separated in this separator should range from 1 mm (18 mesh) to 0.034 mm (400 mesh). The capacity of this separator is 100 kg/hour (220 lbs/hour) on material having a bulk density of 1600 Kg/M3 (100 lbs/Ft3). Batch samples of 10 gm or more may also be precessed.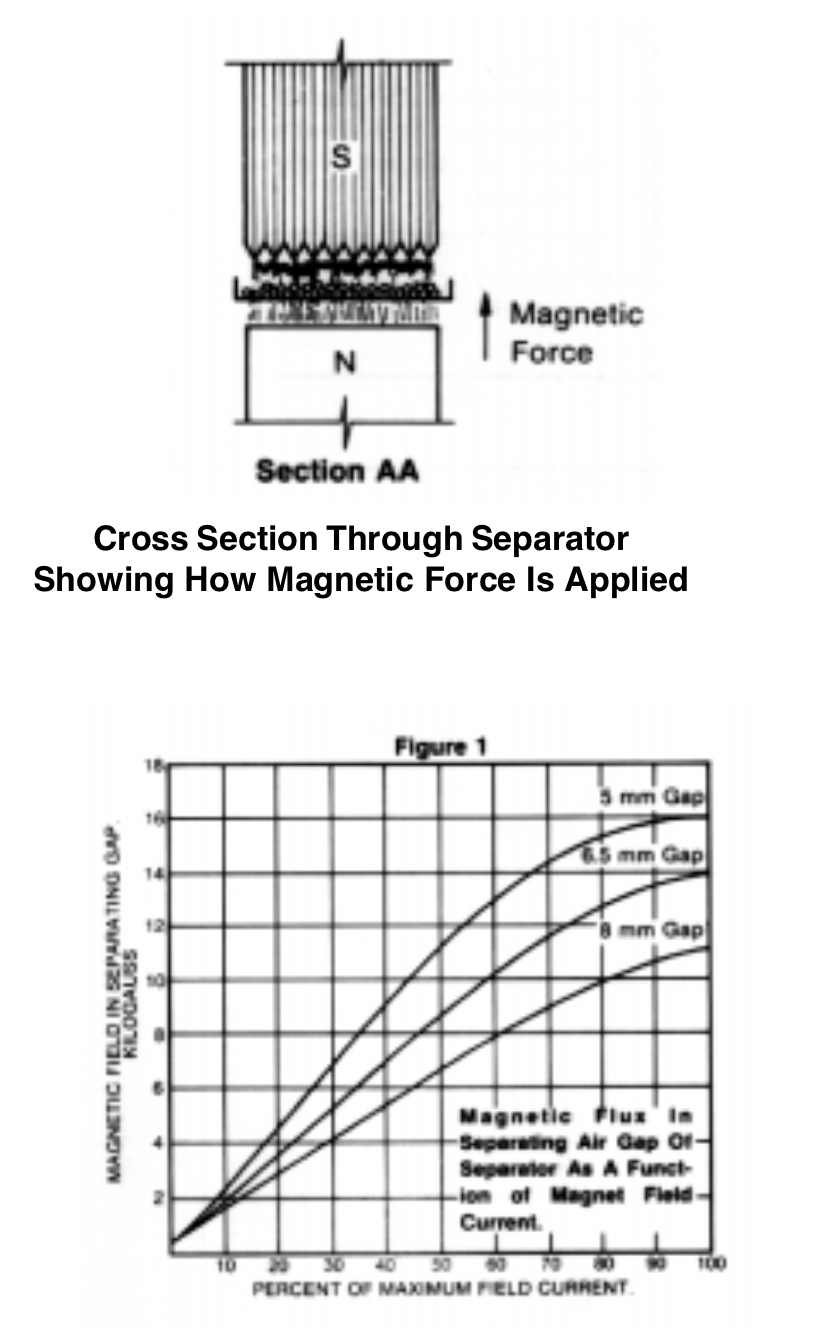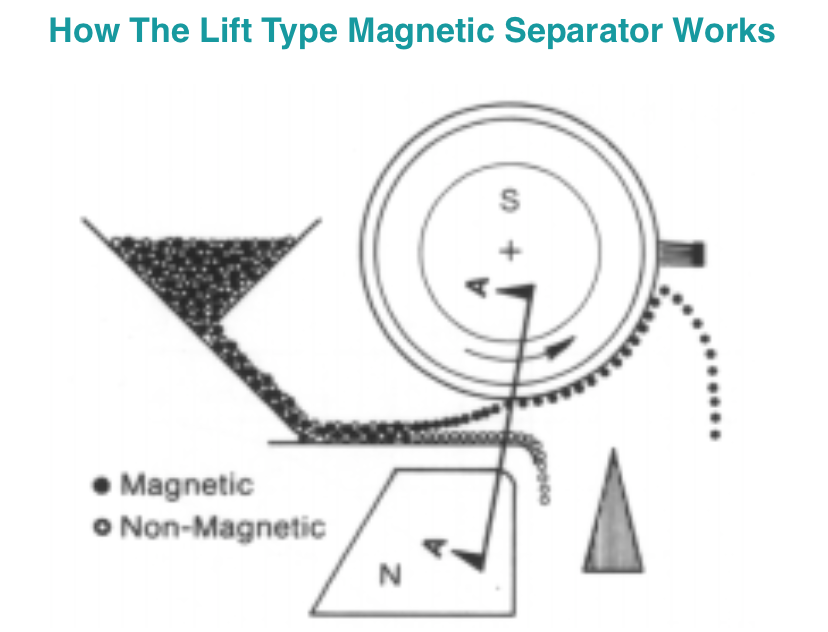 MAGNETIC FIELD CONTROL
A specially designed circuit, utilizing a current to energize the field of the magnet. This field is continuously variable from 0 up to 16,000 gauss, with a 5 mm gap. A digital ammeter is used to provide precise current to the coil, and corresponding magnetic field strength.

DESIGN
Built in design features and controls of this separator are well suited for mineralogical assay and research work on small samples and may also be used for production control and development. The complete separator unit is housed in an epoxy coated orange steel cabinet. The magnetic field pattern desired has been carefully maintained by the use of aluminum, stainless steel, brass, and special steel alloy components where they are required. A vibratory feeder is provided to introduce material to the separator at a constant feed rate. The standard feed hopper is 62 CI volume, but an optional 276 CI feed hopper is available.
OPERATION
The top fed induced roll separator places all materials in contact with the highest magnetic field at the zones of steepest magnetic gradient and utilizes magnetic force and gravity to capture weakly magnetic particles. A turning induced magnetic roll used to transport materials through the active area provides an opposing centrifugal force for separation of magnetic and nonmagnetic materials. This technique is capable of efficiently removing weakly magnetic materials as contaminants in nonmagnetic products. This unit can withstand material feed temperatures up to 150 degrees C.

APPLICATIONS
Glass Sands

Calcite
Monazite, Rare Earths
Wollastonite
Mica
Zircon
Barite
Garnet
Tantalite, Columbite
Feldspar
Rutile, Ilmenite
Cassiterite
Wolframite From Scheelite
The separator operates from a 110-120 volt, 50/60 cycle, single phase alternating current power supply, drawing a maximum of 7 amperes. The direct current power required for operation of the separator is obtained from silicon rectifiers that are an integral part of this equipment. The separator is also available for operation on 230 volt single phase alternating current 50/60 cycle.

SHIPPING SPECIFICATIONS
Net Weight: 410 lbs.

Gross Weight: 540 lbs.
Shipping Volume: 18 Ft3
Dimensions: 34 "(L) x 19" (W) x 21″(H)
Rotor Drive
The rotor is driven by a direct current, flex-mounted one quarter horsepower TEFC motor. Rotor speed is continuously variable from 0 to 300 RPM. The rotor has totally enclosed, self lubricated ball bearings.

Gap Adjustment
The separating gap can be easily adjusted by movement of the free nose piece toward or away from the separating rotor.
Lift Type Separation
The separation of minerals in the magnetic field by the lift type action (which is employed in magnetic separators of the cross belt, ring and disc type) is performed by the induced roll machine. Lift type separation is sometimes preferred where minerals have small degrees of difference in their magnetic susceptibilities. In some cases, it has been found that the lift type induced roll separator allows coarser materials to be handles than on a standard bottom fed lift type magnet.



Application Experience
For general research work and mineral analysis, the separator has proven very useful. Many minerals may be identified by their magnetic behavior. Mineral samples may be split into magnetic and non-magnetic components prior to chemical analysis. In this manner, the chemical values may be attributed to particular components, magnetic or non-magnetic. By predetermining the chemical analysis of the magnetic fraction, an analysis of extracting and processing the magnetic or non-magnetic components may be more easily made. This method of production control many times yields more information as to identify and cause of impurity than can be gained by chemical analysis alone. The high intensity magnetic separator is also very useful in the preparation of a flowsheet design, since it is capable of processing up to 220 lbs./hour, and results obtained are scalable to larger production machines.
For mineral separation studies, materials may be removed by experimenting with various magnetic force intensities, starting with 0 and increasing the magnetic field strength. The magnetic fractions , when graded in accordance with their respective magnetic susceptibility, can be very useful in determining the quantities of various minerals present an ore. And, the laboratory separator can be used to train operators of the plant size production separators, since the results obtained from varying the operating conditions will produce similar results on the plant size induced roll magnetic separators.

Catalog Number
Description
Dimensions
(L x W x H)
Ship Weight
(lbs)
Ship Volume
(CF)
060E-001
MIH13 (111-5),115 V/1 Ph/60Hz
34″ x 19″ x 21″
495
19
060E-002
MIH13 (111-5),230 V/1 Ph/50Hz
34″ x 19″ x 21″
495
19
Catalog Number
Description
Dimensions
(L x W x H)
Ship Weight
(lbs)
Ship Volume
(CF)
060E-001
MIH13 (111-5),115 V/1 Ph/60Hz
34″ x 19″ x 21″
495
19
060E-002
MIH13 (111-5),230 V/1 Ph/50Hz
34″ x 19″ x 21″
495
19