Force Testing Systems
Digital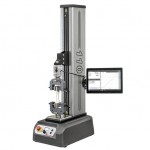 Model : L1-110
Turnkey 110 lbf force testing system, includes testing frame, L1 controller, and L1 software
---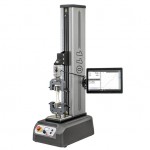 Model : L1-110X
Turnkey 110 lbf force testing system, includes testing frame, L1 controller, and L1 software
---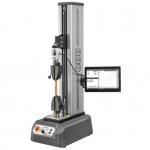 Model : L1-330
Turnkey 330 lbf force testing system, includes testing frame, L1 controller, and L1 software
---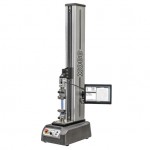 Model : L1-330X
Turnkey 330 lbf force testing system, includes testing frame, L1 controller, and L1 software
---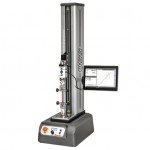 Model : L1-550
Turnkey 550 lbf force testing system, includes testing frame, L1 controller, and L1 software
---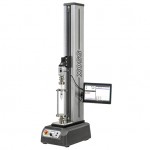 Model : L1-550X
Turnkey 550 lbf force testing system, includes testing frame, L1 controller, and L1 software
---
FMM testers are available in three capacities: 110lbf (500N), 330lbf (1500N) and 550lbf (2500N).
Two travel lengths are available for all capacities: standard travel at 20" (508mm) and extended travel at 30" (762mm). Crosshead speeds are controlled locally and can be set from 0.002 to 40 inch/min (0.05 to 1016mm/min). A high resolution OLED display shows distance measurements with accuracy better than 20µm (0.0008 inch). Travel limits help prevent load sensor overloading. Ideal for tension, compression, flexural, cyclic, shear, and friction applications.
The Starrett L1 represents our most-basic, computer-based force testing solution.
Optimized for production and quality control testing, they are designed to be easy to setup, operate and maintain. L1 Systems can be used to create your test methods quickly using test templates that guide you through the test setup process. Perform a wide variety of testing methods including; load limit, distance, beaking limit, cyclic count, cyclic duration, constant load and constant distance.
Capacity: 110lbf, 500N, 50kg
• Crosshead Travel: 20in, 508mm
• Vertical Test Space: 22in, 559mm
• Travel - Position Accuracy: Better than 0.0008in, 0.02mm
• Travel - Resolution: .001in, .025mm
• Speed - Maximum: .002in/min, .05mm/min
• Speed - Maximum @ Full Capacity: 40in/min, 1016mm/min
• Speed - Accuarcy: Better than 0.1% of test speed
• Cycling - Maximum Number: Counts 99,999
• Cycling - Maximum Duration: 27 hours
• Load Hold - Maximum Duration: 27 hours
• Test Frame Communications: USB 2.0, RS-232
• Input/Output Channels: 0 - 24Vdc (independent, configurable)
• Power: +10% 110, 120, 220, 230, 240, 50/60 Hz
• Electrical Phase: Single Phase Voltage (Vac)
• Operating Temperature: +40 to +110°F, +5 to +43°C
• Humidity: 10 to 90%, non-condensing
• Height: 37in, 940mm
• Depth: 16.5in, 419mm
• Width: 11.5in, 292mm
• Throat Distance: 3.9in, 100mm
• CE Compliant: Meets all relevant CE standards for saftey, immunity, noise
• Capacity: 330lbf, 1500N, 150kg
• Crosshead Travel: 20in, 508mm
• Vertical Test Space: 22in, 559mm
• Travel - Position Accuracy: Better than 0.0008in, 0.02mm
• Travel - Resolution: .001in, .025mm
• Speed - Maximum: .002in/min, .05mm/min
• Speed - Maximum @ Full Capacity: 40in/min, 1016mm/min
• Speed - Accuarcy: Better than 0.1% of test speed
• Cycling - Maximum Number: Counts 99,999
• Cycling - Maximum Duration: 27 hours
• Load Hold - Maximum Duration: 27 hours
• Test Frame Communications: USB 2.0, RS-232
• Input/Output Channels: 0 - 24Vdc (independent, configurable)
• Power: +10% 110, 120, 220, 230, 240, 50/60 Hz
• Electrical Phase: Single Phase Voltage (Vac)
• Operating Temperature: +40 to +110°F, +5 to +43°C
• Humidity: 10 to 90%, non-condensing
• Height: 37in, 940mm
• Depth: 16.5in, 419mm
• Width: 11.5in, 292mm
• Throat Distance: 3.9in, 100mm
• CE Compliant: Meets all relevant CE standards for saftey, immunity, noise
• Capacity: 550lbf, 2500N, 250kg
• Crosshead Travel: 20in, 508mm
• Vertical Test Space: 22in, 559mm
• Travel - Position Accuracy: Better than 0.0008in, 0.02mm
• Travel - Resolution: .001in, .025mm
• Speed - Maximum: .002in/min, .05mm/min
• Speed - Maximum @ Full Capacity: 40in/min, 1016mm/min
• Speed - Accuarcy: Better than 0.1% of test speed
• Cycling - Maximum Number: Counts 99,999
• Cycling - Maximum Duration: 27 hours
• Load Hold - Maximum Duration: 27 hours
• Test Frame Communications: USB 2.0, RS-232
• Input/Output Channels: 0 - 24Vdc (independent, configurable)
• Power: +10% 110, 120, 220, 230, 240, 50/60 Hz
• Electrical Phase: Single Phase Voltage (Vac)
• Operating Temperature: +40 to +110°F, +5 to +43°C
• Humidity: 10 to 90%, non-condensing
• Height: 37in, 940mm
• Depth: 16.5in, 419mm
• Width: 11.5in, 292mm
• Throat Distance: 3.9in, 100mm
• CE Compliant: Meets all relevant CE standards for saftey, immunity, noise
• Capacity: 110lbf, 500N, 50kg
• Crosshead Travel: 20in, 508mm
• Vertical Test Space: 22in, 559mm
• Travel - Position Accuracy: Better than 0.0008in, 0.02mm
• Travel - Resolution: .001in, .025mm
• Speed - Maximum: .002in/min, .05mm/min
• Speed - Maximum @ Full Capacity: 40in/min, 1016mm/min
• Speed - Accuarcy: Better than 0.1% of test speed
• Cycling - Maximum Number: Counts 99,999
• Cycling - Maximum Duration: 27 hours
• Load Hold - Maximum Duration: 27 hours
• Test Frame Communications: USB 2.0, RS-232
• Input/Output Channels: 0 - 24Vdc (independent, configurable)
• Power: +10% 110, 120, 220, 230, 240, 50/60 Hz
• Electrical Phase: Single Phase Voltage (Vac)
• Operating Temperature: +40 to +110°F, +5 to +43°C
• Humidity: 10 to 90%, non-condensing
• Height: 47in, 1194mm
• Depth: 16.5in, 419mm
• Width: 11.5in, 292mm
• hroat Distance: 3.9in, 100mm
• CE Compliant: Meets all relevant CE standards for saftey, immunity, noise
• Capacity: 330lbf, 1500N, 150kg
• Crosshead Travel: 20in, 508mm
• Vertical Test Space: 22in, 559mm
• Travel - Position Accuracy: Better than 0.0008in, 0.02mm
• Travel - Resolution: .001in, .025mm
• Speed - Maximum: .002in/min, .05mm/min
• Speed - Maximum @ Full Capacity: 40in/min, 1016mm/min
• Speed - Accuarcy: Better than 0.1% of test speed
• Cycling - Maximum Number: Counts 99,999
• Cycling - Maximum Duration: 27 hours
• Load Hold - Maximum Duration: 27 hours
• Test Frame Communications: USB 2.0, RS-232
• Input/Output Channels: 0 - 24Vdc (independent, configurable)
• Power: +10% 110, 120, 220, 230, 240, 50/60 Hz
• Electrical Phase: Single Phase Voltage (Vac)
• Operating Temperature: +40 to +110°F, +5 to +43°C
• Humidity: 10 to 90%, non-condensing
• Height: 47in, 1194mm
• Depth: 16.5in, 419mm
• Width: 11.5in, 292mm
• Throat Distance: 3.9in, 100mm
• CE Compliant: Meets all relevant CE standards for saftey, immunity, noise
• Capacity: 550lbf, 2500N, 250kg
• Crosshead Travel: 20in, 508mm
• Vertical Test Space: 22in, 559mm
• Travel - Position Accuracy: Better than 0.0008in, 0.02mm
• Travel - Resolution: .001in, .025mm
• Speed - Maximum: .002in/min, .05mm/min
• Speed - Maximum @ Full Capacity: 40in/min, 1016mm/min
• Speed - Accuarcy: Better than 0.1% of test speed
• Cycling - Maximum Number: Counts 99,999
• Cycling - Maximum Duration: 27 hours
• Load Hold - Maximum Duration: 27 hours
• Test Frame Communications: USB 2.0, RS-232
• Input/Output Channels: 0 - 24Vdc (independent, configurable)
• Power: +10% 110, 120, 220, 230, 240, 50/60 Hz
• Electrical Phase: Single Phase Voltage (Vac)
• Operating Temperature: +40 to +110°F, +5 to +43°C
• Humidity: 10 to 90%, non-condensing
• Height: 47in, 1194mm
• Depth: 16.5in, 419mm
• Width: 11.5in, 292mm
• Throat Distance: 3.9in, 100mm
• CE Compliant: Meets all relevant CE standards for saftey, immunity, noise