Wireless Base Station
With Direct USB Connection to PC
Can be used as a Repeater

Used with all RTR-500 Data Loggers
This wireless base station can be connected to your PC via USB and with the supplied software you can easily collect and transfer recorded data from loggers as well and monitor for current readings and warnings.
It can also be used as a repeater for our RTR-500 Series.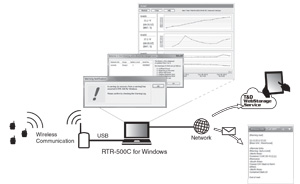 Auto-Download Recorded Data
This allows you to automatically collect recorded data from loggers to a PC.
Monitoring for Current Readings and Warnings
It is possible to view current readings from and get warnings to your PC, send warning e-mails as well as send recorded data and current readings to an FTP server, including our free T&D WebStorage Server.
Easily Manage Up to 20 Groups x 32 Loggers
In each group it is possible to manage up to 32 separate data loggers (remote units),and up to 30 repeaters can be added to each group.
* For RTR-574 and RTR-576, registration of one unit will be counted as two units.
Use a Repeater to Expand Communication Range
The communication range between logger and base is about 150 meters (500 ft),but for RTR-500 Series this can be easily extended by adding RTR-500 units as repeaters.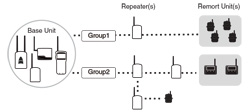 | | |
| --- | --- |
| Functionality | Wireless Base Station / Repeater |
| Comm Interfaces | USB, Serial, Optical, Short Range Wireless |
| Warning Notifications | E-mail, Software/Browser |
| Power | AA Alkaline Battery x 2, AC Adaptor, External Power |
| Operating Environment | Temperature: -10 to 60°C (-30 to 60°C with external power connected) Humidity: 90%RH or less (no condensation) |
| Dimensions | H:96mm × W:65mm × D:25mm |
| Waterproof Capacity | None |
| Accessories | Antenna, USB Mini-B Cable, etc. |