These rugged pumps combine long wear life with high sustainable hydraulic efficiency for the lowest total cost of ownership. Wear components are available in a wide range of proprietary hard iron alloys along with rubber and urethane linings to meet any application.

The V-Belt drive system accepts high horsepower motors and the structural parts can be ordered in corrosion resistant alloys.

Performance and efficiency, plus easy maintenance provide the best value with a GIW Vertical Slurry Pump. ISO 9001 registered for superior quality in design, production, and service, GIW uses state of the art computer programs with CAD design and analysis to develop new products.

These are tested in the largest and most sophisticated slurry test facility in the world to produce the best pump for any application.
 
Typical Applications
The LCV series is ideal for industrial processpumping, tailings disposal in mining, and pit use for dredge and other operations.
Size Range
Discharge sizes 50 to 300 mm (2" to 12")
Flow rates to 1360 m3/h (6000 gpm)
Total Head up to 38 m (125 ft)
Shaft sizes from 90 mm to 200 mm
Cantilevers from 900 mm to 1800 mm
Major Advantages
 Long wear life
 High efficiency
 Multiple materials
 Ease of adjustment
 Low Life Cycle cost
 Mechanical Reliability
 Large sphere passage
Construction
The proven design features of the GIW LCC Slurry Pump have been incorporated into this heavy duty vertical unit, including interchangeable wet end parts in metal alloys and elastomer liners and a very durable mechanical end. The resulting LCV is a vertical cantilever sump pump with bottom suction and no  submerged bearings for the most severe applications.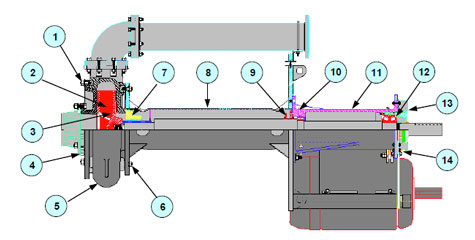 Wet end parts available in all GIW alloys, rubber and urethane will interchange with standard LCC pumps to reduce spare parts inventory.
Open and closed shroud impeller designs for best efficiency and maximum sphere passage.
Impeller pump out vanes minimize wear and improve performance.
Easily replaceable suction plate with flange for standard strainer or suction extension.
Metal and rubber lined casings are computer designed to optimize wear life and efficiency.
Wet end attachment designed for ease of installation and maintenance.
Seal plate or optional throttle bushing design eliminates packing.
Rigid column with integral pit cover plate, motor mount, and concentric fits to align pump wet end with bearing assembly.
Lip seals or optional Inpro isolators protect grease lubricated bearings.
Radial end bearing is high capacity, self aligning, double spherical roller.
Cartridge bearing housing design indexes on plate for easy maintenance without shims.
Drive end bearing is double tapered roller for high thrust load capacity.
Top mounted adjuster screw simplifies setting correct impeller to suction gap.
Hinged motor mount with single adjuster for quick belt drive maintenance.