Enregistreur de données à 10 canaux avec écran couleur
Data Logger with 10 channels and Color Display
Wireless LAN capability | remote monitoring & datalogging
Flexible input system for wide array of applications
Ability to access additional (GL100) sensors & adapters
Extended memory capacity using SD memory card
Max sampling interval up to 10ms
Smartphone access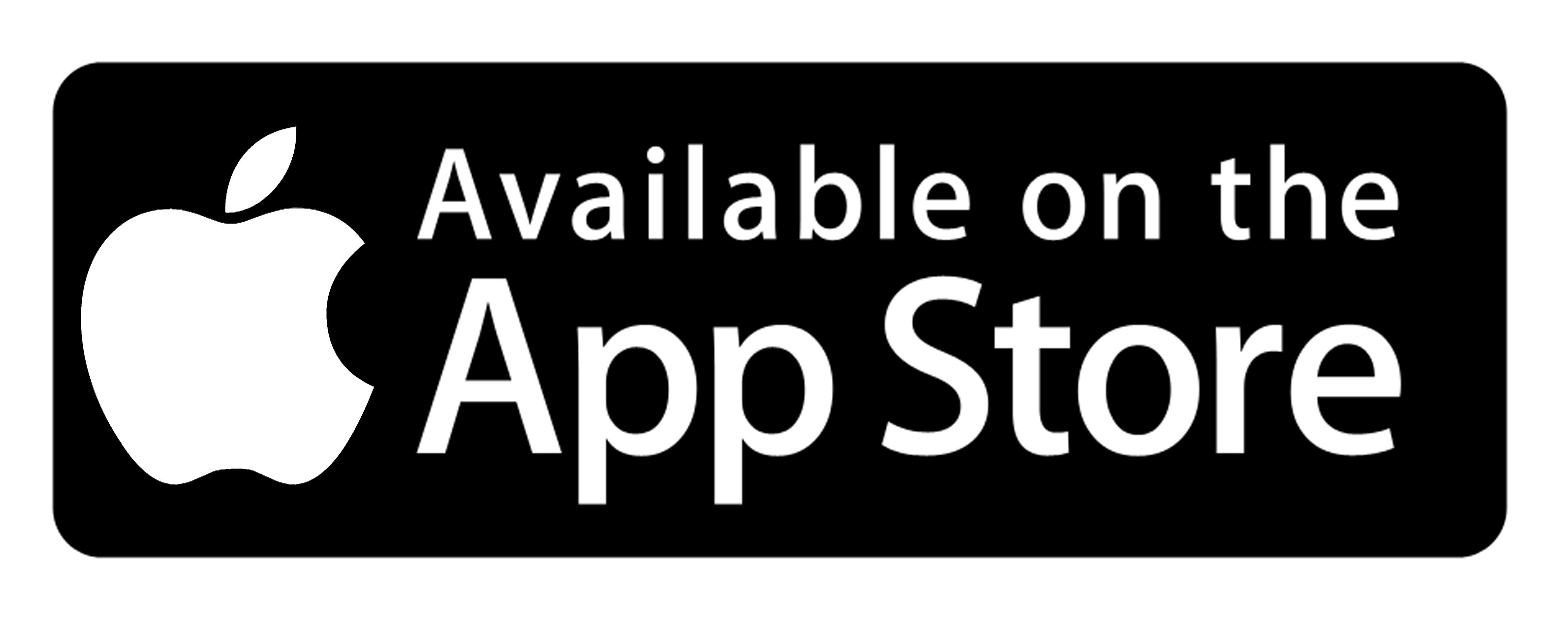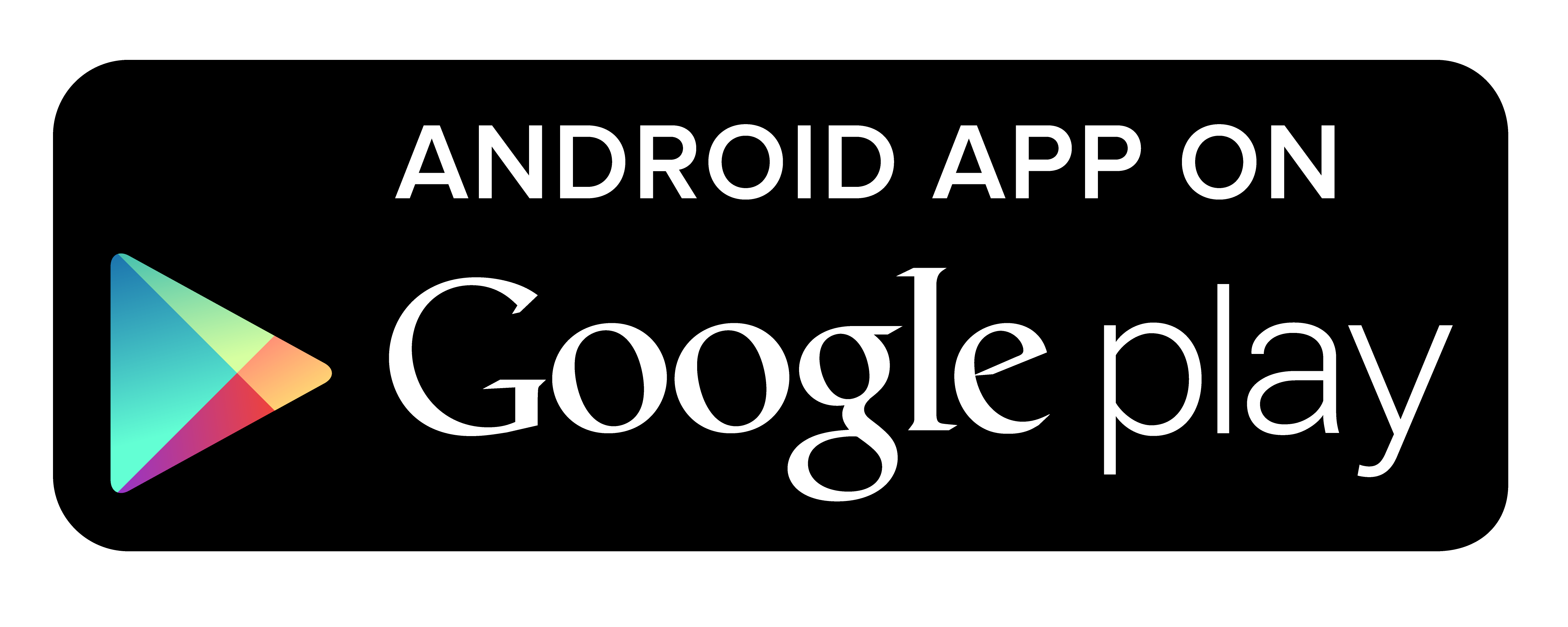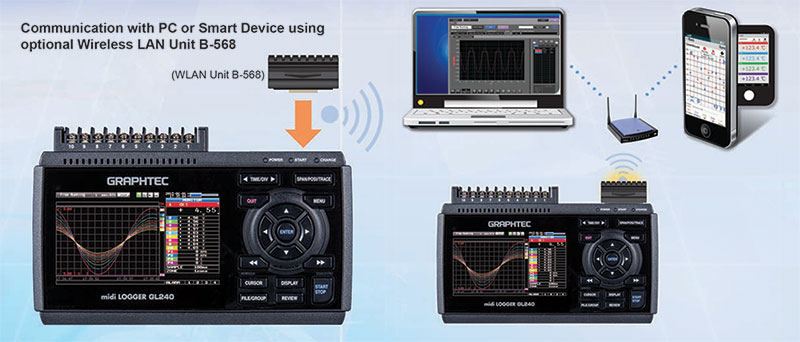 Accommodates a wide variety of measurements
Multifunction analog input ports
Contains a highly isolated input mechanism which ensures that signals are not corrupted by noise from other channels. The GL240 inputs are suitable for combined measurements from voltage, temperature, humidity, logic, and pulse
signals.
4 channels of Logic/Pulse inputs
Supports 4-channel logic or pulse signal inputs. Pulse mode allows cumulative, instant, or rotational values for industrial measurement capability with speed and flow.

4.3-inch color LCD
GL240 has a 4.3-inch wide LCD screen (WQVG A: 48O x 272 dots) for
monitoring data. Data can be displayed in waveform or digital form
opt¡on. Parameter settings can be displayed on the screen.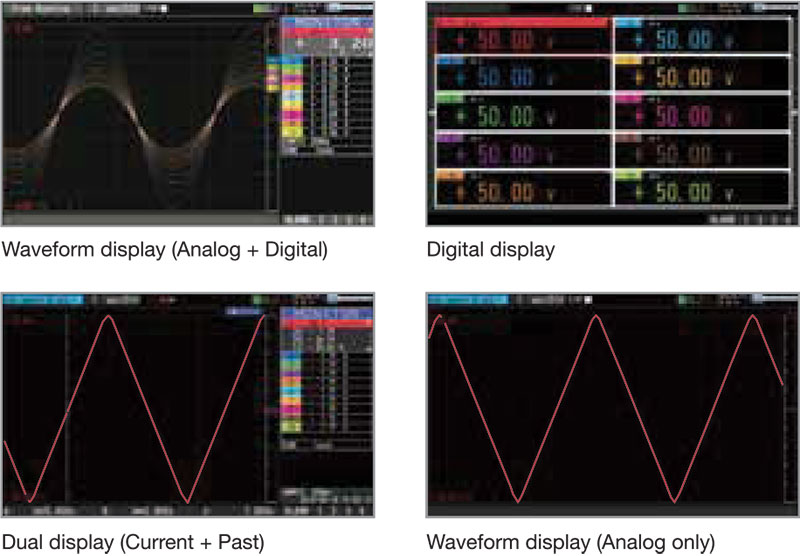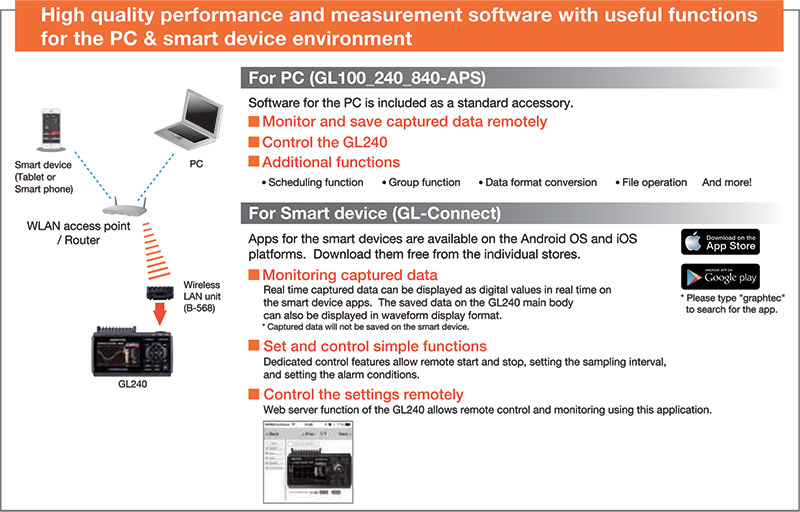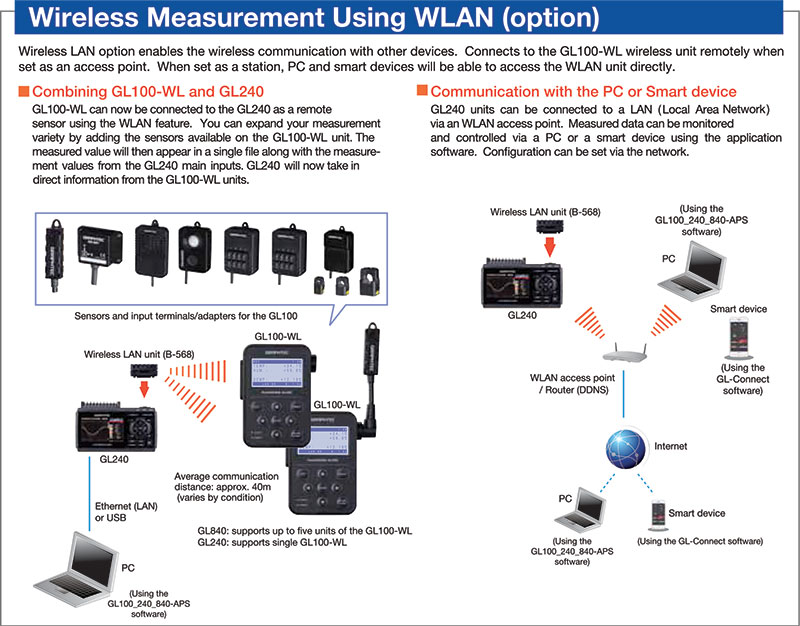 GL240 Main unit specifications
Number of analog input channels
10 channels
External input/output
lnput
Trigger or Sampling (1channel), Logic/Pulse (4 channels)
Output
Alarm (4 channels)
Sampling interval
10 ms to 1 hour (10 ms to 50 ms: voltage only), External signal
Time scale of waveform display
1 sec. to 24 hour /division
Trigger,
Alarm function
Trigger action
Start or stop capturing data by the trigger
Repeat action
Off, On (auto rearmed)
Trigger source
Start: Off, Measured signal, Alarm, External, Clock, Week or Time
Stop: Off, Measured signal, Alarm, External, Clock, Week or Time
Condition Setting
Combination: OR or AND
Analog signal: Rising (High), Falling (Low), Window-in, Window-out
Logic signal: Pattern (combination of each input signal in high or low)
Pulse (number of count): Rising (High), Falling (Low), Window-in, Window-out
Alarm output
Output a signal when alarm condition occurs in the input
Pulse input function
Rotation count
(RPM)
Counts the number of pulses per sampling interval and converts to rpm
(rotations per minute), Number of pulses for one rotation may be set to
50, 500, 5000, 50k, 500k, 5M, 50M, 500M rpm/F.S. (rpm./Full Scale)
Accumulating
count
Accumulates the number of pulses from the start of measurement
50, 500, 5000, 50k, 500k, 5M, 50M, 500M C/F.S. (Counts/Full Scale)
lnstant count
Counts the number of pulses per sampling interval
50, 500,5000, 50k, 500k, 5M,50M, 500M C/F.S. (Counts/Full Scale)
Calculation
function
Between channels
Addition, Subtraction, Multiplication, and Division for analog input
Statistical
Select two calculations from Average, Peak, Maximum, Minimum, RMS
Search function
Search for analog signal levels, values of logic or pulse or alarm point
in captured data
lnterface to PC
USB (Hi-speed), WLAN (using 8-568 option)
Storage
device
Media
SD memory card (Support SDHC, up to 32 GB), supports 2 slots
Saved contents
Captured data, Setting conditions, Screen copy
Capturing mode
Mode: Normal, Ring, Relay
Ring: Saves most recent data (Number of captured data: 1000 to 2000000 points)
Relay: Saves data to multiple files without losing data until data capturing is stopped
Replay Data
Replays captured data that was saved in the GL240 (in BGD or CSV format)
Scaling (Engineering unit) function
Measured value can be converted to the specified engineering unit
. Analog voltage: Converts using four reference points (gain, offset)
. Temperature: Converts using two reference points (offset)
. Pulse count: Converts using two reference points (gain)
Action during data capture
. Displaying parst data (using dual display mode (Current + Past data))
. Hot-swapping the SD memory card
. Saving data in between cursors
Display
Size
4.3-inch TFT color LCD (WQVGA: 480 x 272 dots)
Language
English, French, German, Chinese, Korean, Russian, Spanish, Japanese
lnformation
Waveform in Y-T with digital values, Waveform only, Digital value, Digital values
and statistics values
Operating environment
0 to 45°C, 5 to 85 % RH (non condensed)
(When operating with battery pack 0 to 40°C, charging battery 15 to 35°C)
Power source
AC adapter
100 to 240 V AC, 50/60 Hz pc of adapter is attached as standard accessory)
DC power
8.5 to 24 V DC (DC drive cable (option B-514) is required
Battery pack
Mountable battery pack (battery pack (option B-569): 7.2V DC, 2900mAH)
Power consumption
Max.36 VA
External dimensions (W x D x H)
Approx, 188 x 1 17 x 42 mm (Excluding projections)
Weight
500 g
GL240 Options & Accessories
| | | |
| --- | --- | --- |
| Wireless LAN unit | B-568 | WLAN adapter, IEEE802.1 1b/g/n |
| Battery Pack | B-569 | Rechargeable lithium-ion battery {7,2 V, 2900mAh} |
| lnpu/Output Cable for GL Series | B-513 | 2 m long (no clip on end of cable) |
| DC Drive Cable | B-514 | 2 m long (no clip on end of cable) |
| Humidity Sensor | B-530 | Comes with 3 m long signal cable (w/ power plug) |
| Shunt Resistor | B-551-10 | 250 ohms (converts the signal to "1-5V" from the "4-20mA") |
| AC Power Adapter | ACADP-20 | lnput: 100 to 240 V AC; Output: 24 V DC |