OHD51P10QR
Balances de plancher à profil bas
Standard Features Include
Painted steel base with ABS indicator
Quick display of results using large LCD with high-contrast white backlight
Temporary display of 10x readability in weighing mode using quick key press
Easy to operate with 4-key membrane keypad with raised tactile keys
Weighs in one or more units: kg, g, lb, oz, lb:oz (decimal), tonnes and user-definable custom unit
Multiple weighing modes including Counting, Percent Weighing, Dynamic/Animal Weighing, Checkweighing, and Display Hold
Internal power supply with universal line cord or 6 "C" batteries (80 hour battery life) – optional NiMH internal rechargeable power pack available
Includes RS232 interface with GMP/GLP data output including date and time
Base and indicator connected using quick connect plug
Optional interfaces include DC relay control kit, AC relay control kit, 2nd RS232 and RS485/422
The Defender 5000 Offers Multiple Features and Easy Configuration:
To meet different operational needs, the Defender 5000 includes a suite of configurable software:
Counting mode for packaging and inventory control, enabling counting into a container or out of a container for bulk operations. Supports a maximum counting resolution to 1:300,000 (minimum APW equal to 0.1d), selectable auto-optimization of average piece weight (APW). APW data can be displayed at any time using a quick key press.
Percent Weighing mode for formulation and mixing applications, with display of reference weight with quick key press.
Dynamic/Animal Weighing with selectable weigh times from 0-60 seconds.
Checkweighing function for packaging and weight checking, with display of results using LCD display and red/yellow/green LEDs. Audible beeper can be configured to prompt when weight is within range, under, over, or under or over range. Target weight values can be displayed at any time using a quick key press.
Display Hold mode for weighing large packages holds last stable weight on display until cleared
The Defender 5000 weighs in one or more user-selectable units: kg, g, lb, oz, lb:oz (decimal), tonnes and user-definable custom unit
Supports GMP/GLP data output with date, time user ID, project ID and scale ID. The Defender 5000 features selectable print options for data and print format
To limit operator access to functions, the Defender 5000 offers both software lockouts for menu items as well as individual key functions. Outline Dimensions
Standard Features: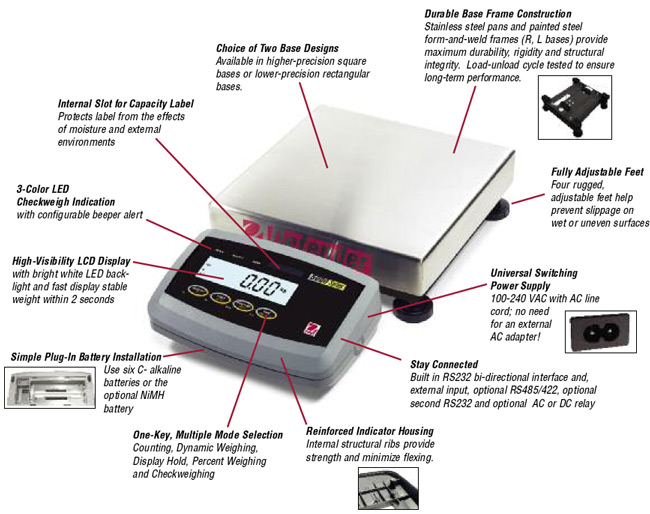 Smart Functionality, Durability, Ohaus Quality & VaLue
The OHAUS Defender™ 5000 Low-Profile Series is a feature-rich line of bench scales, combining an ABS plastic T51P indicator with painted steel bases. Ideal for shipping and receiving, production, packaging and general commercial and industrial weighing applications, the Defender 5000 Low-Profile offers a multifunctional indicator with multiple weighing units and software modes to meet the requirements of industrial and lab applications. With rugged construction, comprehensive yet intuitive software and multiple connectivity options, the Defender 5000 Low-Profile can meet the needs of demanding industrial operations.
Standard Features Include:
Painted steel base with ABS indicator
Quick display of results using large LCD with high-contrast white backlight
Temporary display of 10x readability in weighing mode using quick key press
Easy to operate with 4-key membrane keypad with raised tactile keys
Weighs in one or more units: kg, g, lb, oz, lb:oz (decimal), tonnes and user-definable custom unit
Multiple weighing modes including Counting, Percent Weighing, Dynamic/Animal Weighing, Checkweighing, and Display Hold
Internal power supply with universal line cord or 6 "C" batteries (80 hour battery life) – optional NiMH internal rechargeable power pack available
Includes RS232 interface with GMP/GLP data output including date and time
Base and indicator connected using quick connect plug
Optional interfaces include DC relay control kit, AC relay control kit, 2nd RS232 and RS485/422
The Defender 5000 Offers Multiple Features and Easy Configuration:
To meet different operational needs, the Defender 5000 includes a suite of configurable software:
Counting mode for packaging and inventory control, enabling counting into a container or out of a container for bulk operations. Supports a maximum counting resolution to 1:300,000 (minimum APW equal to 0.1d), selectable auto-optimization of average piece weight (APW). APW data can be displayed at any time using a quick key press.
Percent Weighing mode for formulation and mixing applications, with display of reference weight with quick key press.
Dynamic/Animal Weighing with selectable weigh times from 0-60 seconds.
Checkweighing function for packaging and weight checking, with display of results using LCD display and red/yellow/green LEDs. Audible beeper can be configured to prompt when weight is within range, under, over, or under or over range. Target weight values can be displayed at any time using a quick key press.
Display Hold mode for weighing large packages holds last stable weight on display until cleared
The Defender 5000 weighs in one or more user-selectable units: kg, g, lb, oz, lb:oz (decimal), tonnes and user-definable custom unit
Supports GMP/GLP data output with date, time user ID, project ID and scale ID. The Defender 5000 features selectable print options for data and print format
To limit operator access to functions, the Defender 5000 offers both software lockouts for menu items as well as individual key functions. Outline Dimensions
Standard Features: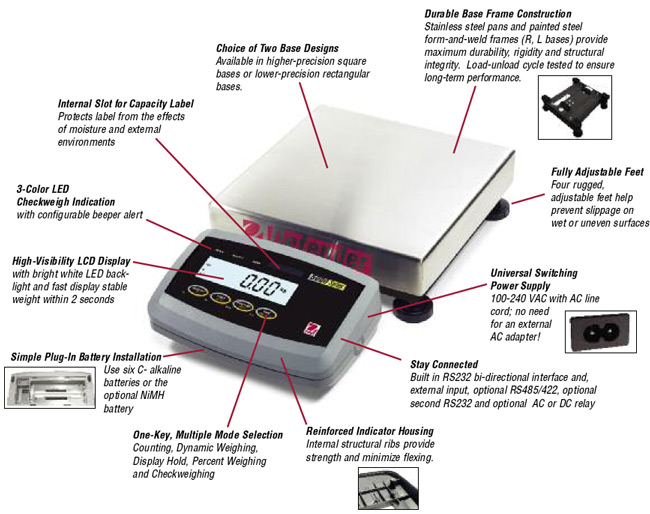 Model
Capacity
Readability
Certified Readability
Platform Size
D51P10QR5
25 lb / 10 kg
0.002 lb / 1 g
0.005 lb / 2 g
12 in x 12 in / 305 mm x 305 mm
D51P15HR5
30 lb / 15 kg
0.01 lb / 5 g
14 in x 12 in / 355 mm x 305 mm
D51P25QR5
50 lb / 25 kg
0.005 lb / 2 g
12 in x 12 in / 305 mm x 305 mm
D51P30HR5
60 lb / 30 kg
0.02 lb / 10 g
14 in x 12 in / 355 mm x 305 mm
D51P50QL5
100 lb / 50 kg
0.01 lb / 5 g
18 in x 18 in / 457 mm x 457 mm
D51P60HR5
150 lb / 60 kg
0.05 lb / 20 g
14 in x 12 in / 355 mm x 305 mm
D51P60HL5
19.7 in x 15.7 in / 500 mm x 400 mm
D51P100QL5
200 lb / 100 kg
0.02 lb / 10 g
18 in x 18 in / 457 mm x 457 mm
D51P100HL5
0.1 lb / 50 g
19.7 in x 15.7 in / 500 mm x 400 mm
D51P150HX5
300 lb / 150 kg
21.7 in x 16.5 in / 550 mm x 420 mm
D51P250QX5
500 lb / 250 kg
0.05 lb / 20 g
24 in x 24 in / 610 mm x 610 mm
D51P300HX5
600 lb / 300 kg
0.2 lb / 100 g
21.7 in x 16.5 in / 550 mm x 420 mm