GNSS / RTK Receiver
Multi Constellation with L-Band and SBAS

---
Can we help you?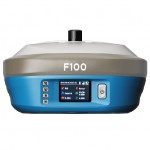 ---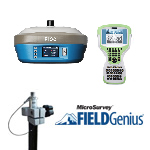 Model : F100 Kit
Kit including: F100 Receiver, Telescopic Carbon Fiber GPS Pole, SXPad 1500 Data Collector, and FieldGenius Software.
---
A new generation of intelligent IMU tilt measurement system, only needs two steps for calibration
Compared with the traditional tilt measurement method, F100 is easier to operate, has reliable accuracy, greatly improve work efficiency, and unlimited environment.
Tilt survey: Accurately, Efficiently, Conveniently
1. Tilting does not require tedious initialization. After getting fixed, circling and shaking can directly make the receiver become "Ready".
2. Support for the pole calibration, and any of the pole can be used. Higher precision and more reliable data can be obtained after calibration.
3. The maximum tilt angle can be up to 60°, accuracy ranges from 2cm to 5cm depending on the tilt angle.
4. Dynamic accurately measured, from now on you can do the surveying while moving, measuring points without centering.
Color LCD Display, multi-touch
1. Industrial level dustproof and waterproof grade
2. high brightness, full liquid crystal, full color
3. support touch screen and full-screen gestures,
4. 1.45 "color display capacitive screen,
Longer battery life, shorter charging time
1. Built-in battery(13600mAh) for longer-lasting operation
2. USB-PD quick charge +Type C interface
Built-in radio(5W),support effective working distance 10KM
Performance
F100 can quickly search available satellites and soon get a Fixed solution. F100 with its advanced technology ensures it works well even in harsh environments such as under heavy foliage.
Highly integrated internal components
The innovative technology made F100 has an excellent combination with GNSS, 4G, Bluetooth, and Wi-Fi antenna. F100 is also inserted with highly integrated Bluetooth, Wi-Fi, and 4G network modules, which reduces the internal signals crosstalk. The powerful 360-degree Omni-direction signal receiving in F100 enables full omnidirectional communications.
Third generation tilt surveying technology
Inserted with a high-sensitive E-bubble and brand-new tilt survey algorithm, F100 is calibration-free. Immune to magnetic disturbance and free from limitation of tilt angles. F100 can measure points where a vertical placement of the pole is not possible such as house corners.
All protocol compatible internal radio
Initially adopt our independent R & D TRM series internal radio, F100 enables frequency band change ranges from 410-470MHZ. Enables communication with protocols like SATEL, PCC-GMSK, TrimTalk 450s, South, Trimark III (19200) and GeoTalk, GeoMark. F100 is able to work distance of 5 km with only 1 Watt radio.
4G Network
F100 with its advanced 4G module, guarantee 4G network can transmit world-widely. This results in a more convenient and stable network communication.
Multi-Connectivity and WEB UI Control
Distinguished from former GNSS, F100 provides two connecting methods for receiver and controller---Bluetooth connection and Wi-Fi connection. Data transmission proves to be more stable with these new connecting ways.
The second-generation WEB UI on F100 is full compatible with all devices and all browsers. It's more convenient with WEB UI control.
Long Life Battery
F100 can work a maximum of 10 hours without stopping. Battery level can be viewed at the press of one button. With new excellent design, more than 20% of power consumption can be reduced.
Weight & Dimension
Without affecting accuracy and efficiency, this innovative GNSS Receiver—F100 is made extremely light and small. Even till equipped with magnesium alloy enclosure, F100 weighs only 1 kg and measures only 140mm x 157mm x 76mm.
Port protection
Port covers prevent ports from water and dust. Inserted port manufactured lower than outer shell avoids damage when dropping. Marks that clearly demonstrate different port uses make sure they are plug correctly.
Cloud Service
Cloud service in SurPad software enables simultaneous work in field and office, enables data promptly upload and backup, which greatly improve surveying efficiency.
Alarm system
In the UHF model, when the base is moved or with low power or no satellites, the rover will alarm immediately.
Never forget to use the online HTML beautifier when it comes to composing or converting articles for the web.
GPS Board
BD990
Channel
336
SATELLITES
GPS: L1CA, L2C, L2E, L5


GLONASS:

L1 CA,

L2 CA, L3CDMA




BeiDou: B1, B2, B3

Galileo: E1, E5A, E5B, E5 AltBOC, E6

NAVIC L5

QZSS:

L1CA,

L1CAIF, L1C, L2C, L5




SBAS: L1CA, L5

Update rate
Up to 50 Hz
Static Accuracy
Horizontal ± (2.5 mm + 0.1 x x D) mm

Vertical ±

(5.0 mm + 0.4 x

x D) mm



RTK Accuracy
Horizontal ± (8.0 mm + 1 x x D) mm


Vertical ±

(15 mm + 1 x

x D) mm



Battery
Dual Batteries, 7.2V/3400mAh*2 *(Can work at least 10 hours)
Input
9~28V DC
OS
Linux
Memory
Internal 8G; TF Extended, Max≥32G
Bluetooth
V2.1+EDR / V4.1 Dual Mode, Class 2
WI-FI
802.11b/g/n
4G
All areas without North America: EC25-E, 4G
North America: EC25-A,4G

FDD LTE: B1/B3/B5/B7/B8/B20

FDD LTE: B2/B4/B12

TDD LTE: B38/B40/B41

WCDMA: B2/B4/B5

WCDMA: B1/B5/B8

GSM: B3/B8

Internal UHF
TRM101 Power 1W, Frequency 410-470MHz, Work Distance: 5km in a good environment
Data Format
CMR, CMR+, RTCM 2,3, RTCM3.x, RTCA
Protocol
Trim Talk 450S, PCC, Satel, TrimMark III, Hi-Target (19200),TrimTalk (4800),HZSZ, South (9600),South (19200)
Electric Bubble
Support, Support tilt survey
TNC
For UHF Antenna
5 pins
External radio and external power
7 pins
NMEA output + USB Port
Others
Micro SIM Slot and TF slot
Buttons
Power button with indicators
Indicator
4 indicators, Satellites, Datalink, Bluetooth, WIFI Status
Language
Supports TTS Multi language voice
L x W x H
154 mm x 154 mm x 76 mm
Weight
1.55 kg
Work Temperature
-30°C ~ + 65°C
Stock Temperature
-40°C ~ + 80°C
Protection
IP67 Standard
Shock
Withstand 2 meters pole drop, 1.2m drop without pole
Humidity
100% Condensing