Automatic O-Ring Hardness And Thickness Tester
DIN ISO 48, ASTM D 1415, NFT 46-003, M Shore A = TD00002001
Automatic evaluation
Time-saving
Descending speed of 3.2 mm/s according to the standard
The BAREISS BaRotation is ideal for hardness testing a number of O'rings at a time.
BaRotation has successfully improved the testing capacity of the instrument through the automatic turntable and positioning by measuring the time and procedures required for a single product.
It is equipped with a high-performance laser module to accurately locate the highest point or middle point of the O-ring, and then The O-ring is automatically taken to the hardness test area for testing by laser positioning. All procedures are suitable for small batch and multi-style testing needs.
Range of application : Hardness determination on soft rubber, highly elastic materials, soft deformable materials e.g. thin-wall O-Rings.

Measuring principle
IRHD Mikro | M Shore A
The indenter of the instrument penetrates the specimen from the surface. This indentation depth provides the hardness information of the test specimen.
Size and Weight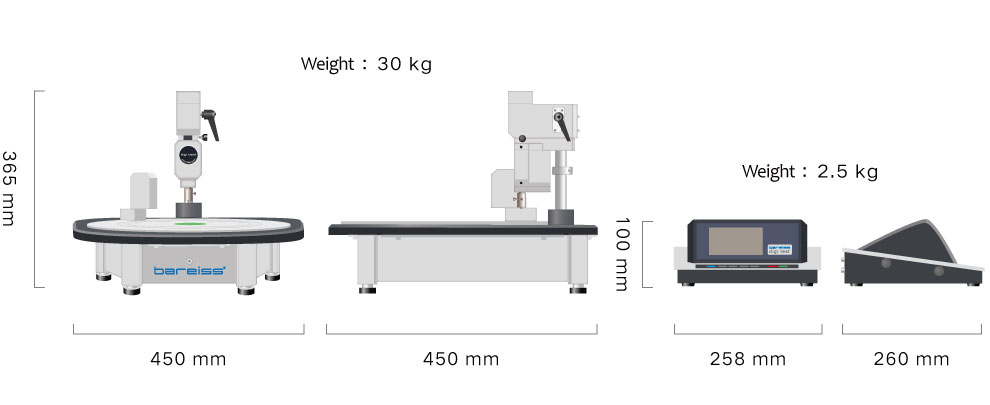 | | |
| --- | --- |
| Memory | 300 measured values |
| Plug-in power supply | 100-240V; 50-60 Hz |
| Data output | RS 232 |
| Dimensions: LxWxH | 40 x 60 x 38 cm |
| Weight | 24 kg |