Low Temperature Freezers
Geneq - ScienTemp 34 - 45 - 85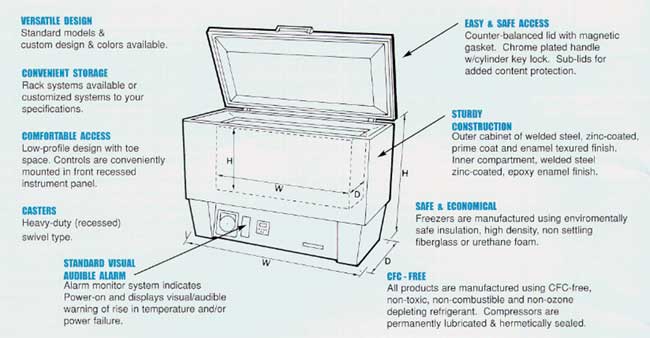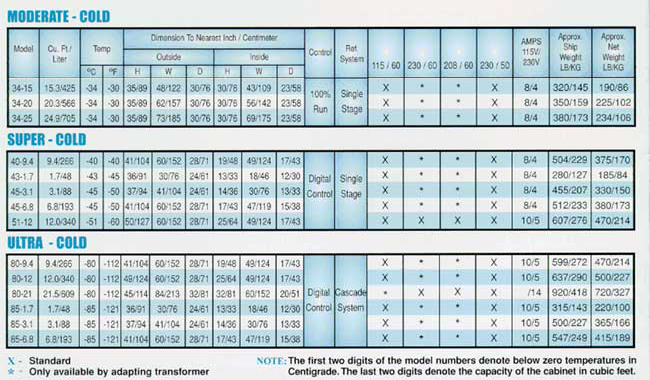 Moderate Cold
80-21
43-1.7 and 85-1.7
 
Models 43-1.7 and 85-1.7
Space Saver Cabinets are compact low temperature storage units. They are available for a wide variety of applications in laboratory, hospital or industry and offer convenient counter top height. Temperatures range from -20ºC to -85ºC (-121ºF).
Moderate Cold Cabinets
These large capacity cabinets are specifically engineered to meet commercial and institutional needs-economically. Best used for applications where extremely low temperatures are not required. This series not available with stainless steel interiors.

• These models must order casters separately : 20-15, 20-20, 20-25, 34-15, 34-20 and 34-25.
Protect Your Investment
OPTIONAL ACCESSORIES
CO2 or Liquid Nitrogen Back-Up System
• Operated by a rechargeable gel cell battery
• Automatically activated by temperature rise
• Built-in, ready to attach to your CO2 or LN2 cylinder
• No electrical hook-up needed
• No interference with normal use of freezer
• Additional security     • Safety engineered
• Adjustable control      • Fast freezing
Sonalarm Signal System and Temperature Controller
• Programmable digital temperature control
• Tamper resistant with lock out feature
• Remote alarm contacts
• Accuracy within 2ºC
• Audible and visual signals
6" Temperature Recorder
• RTD input
• Available in 7-day chart
• 24-hour battery back-up
• Recorder mounts in recessed instrument panel of Scientemp Super-Cold and Ultra-Cold cabinets
• 6" charts are easily read within 5ºF over the full range of 32º to - 150ºF, or 2ºC over the full range of 0º to 100ºC
Automatic Voice / Pager Dialer AD-2000
In the event of power failure or temperature rise, the AD 2000 offers an advancement in telecommunications reporting. Activated by almost any type of sensor or alarm voltage, the AD-2000 will instantly deliver your voice or pager message in any language, locally or to any number in the world. Interfaces with Alarm Panel or Stand Alone Operation.

• Call up to 8 telephones, cellular phones, or pagers.
• 4 outgoing messages
• Built in line seizure relay
• Listen In Verification, allows 2-way voice communication
• Automatically redials busy and/or unanswered numbers
• EEPROM memory retains programming phone numbers and voice messages in the event of power failure
• Remote Turn Off feature allows termination of activated channel
• Universal Dial Tone (UDT) works with any phone system
Moderate - Cold  -20ºC to -34ºC Freezers
Super - Cold  -40ºC to -51ºC Freezers
Ultra - Cold  -85ºC Freezers
Blood Plasma Freezers
Research Freezers
Manufacturing Freezers
Explosion - Proof Freezers
Customize to Meet Your Specifications
Ramp/Soak control  
Interior dividers
Heater 
Observation windows
Access Ports
Internal Fan
Stainless steel interior compartments
Close-tolerance temperature control
CO2 and LN2 Stand-by System
Temperature Monitors and Recorders
Racks, Boxes ans Cell Dividers
Cryo-Gloves