TEDB404-00
Pump for Solvent
Description
This pump is designed for online use.
Consisite the pump of a cast aluminum housing, aluminum plate seal, nylon wheel and volutée, stainless steel plate and Viton gasket.
The pump uses a double seal design.
The radial seals are double-lip.
A seal is installed in the aluminum frame of the pump, the other seal is in the aluminum plate.
The shaft of the presentation engine, is stainless steel.
The discharge is threaded is threaded (1/4 "MNPT),the contribution is threaded (3/8" FNPT).
An adapter is included for taking 1/2 "inner diameter.
The poem is designed for weak acids, mild chemicals, cleaning solvents, antifreeze and drinking fluids compatible with the materials of the pump.
The pump can be used when submerged pumping water or oil for machines, and will be on-line (non-submerged) when this pump weak acids.
This pump is not self priming: it must be installed so that the pump head (volute) is flooded when the pump is started.
The pump inlet must be below the level of the surface of the liquid (Figure # 1)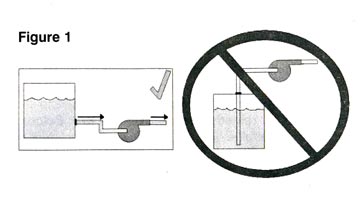 Information
Cat.
Description

TEDB404-00

Pump solvent (trichlorethylene)