KOK501G25
HandHeld Gasoline Core Drill
---
Can we help you?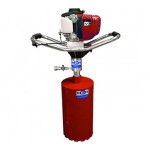 Model : KOK501G25-
Hand Held Gasoline Core Drill w/o Vacuum

---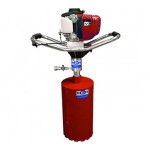 Model : KOK501G25V
Hand Held Gasoline Core Drill w/ Vacuum

---
HandHeld Gasoline Core Drill is a great drill for geotechnical engineers who need to take a few core samples in the field.
The K-501 is also a great choice for contractors who need to punch a hole in precast sewer pipes. Landscape contractors and general contractors use this gasoline core drill as well for various jobs. With the K-501 Gasoline Core Drill in your equipment fleet you'll find many uses for this handy tool. The K-501 comes with a safety clutch built in so the drill operator won't suffer an injury if the core bit binds. We exclusively use aHonda 4-cycle gasoline engine. Honda carries a 3 year manufacturer's warranty directly.
Light Weight (power head is only 22 lbs)
One person, handled, core drill machine
Designed to accomplish core drilling into concrete/asphalt surfaces.
4-cycle gasoline powered engine, 31cc drill faster.
7-inch bit diameter capacity
Drill vertical, horizontal, inverted or at any angle in between.
Heavy-duty, quad precision ball bearing gear box
Optimum gear ratio for fast, economical drilling
Minimize time required for each job Drill faster with gasoline power.
Easy to use and quick to set up