10-Inch (250mm) Manual Metallographic Abrasive Saw
The MEGA-M250 manual wheel feed abrasive saw (part no. MEGA-M250) has been designed for cutting and sectioning moderate sized metallographic materials ranging from soft aluminum metals to hardened tool steels. It is ideal for the metallographic laboratory, as well as for small industrial or production applications.
MEGA-M250 10-inch blade abrasive cutter with cast aluminum alloy and stainless steel construction. Featuring a corrosion-free stainless steel t-slot table, fabricated powder coated protective hood with impact resistant plastic window, a powerful 3 hp (2.2 KW) 3-phase 3500 rpm motor, utilizes either 9 or 10-inch diameter abrasive blades, 1.25-inch (32 mm) arbor, 16 gallon recirculation tank (included) and easy to use clamping vises (quoted separately) . Standard voltage 208Y – 3-phase (optional 380V or 480V 3-phase), 50-60 Hz (part no. MEGA-M250).
Features
Highly reproducible
Easy to use
User freindly
Robust and durable design
Low cost
Easy to service
Benefits
Wheel feed controlled cutting
Cutting capacity up to 3 inches (75 mm) solid stock sample using 10-inch (250 mm) blade
High leverage handle for better control
Powerful 3.5 hp motor
Twin t-slotted stainless steel table
Electronic braking system
Applications
Ferrous metals
Non-ferrous metals
Foundry castings
Power metallurgy
Heat treated parts
Specialty alloys
Wrought metals
Clamping Systems for MEGA-M250 Cut-off Machines
Fast Cam Locking Vise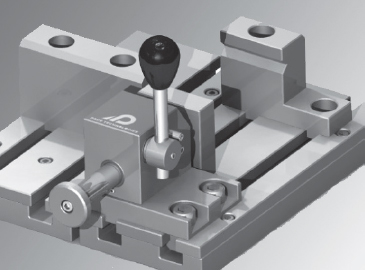 Vertical Clamping Vise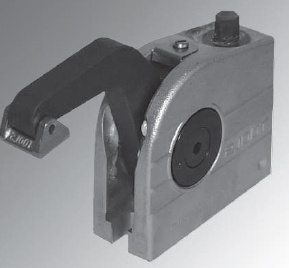 Clamping Devices
Proper clamping or fixturing is required to prevent blade breakage and to optimize the cut. Vises range from a vertical clamping vise to fast cam locking devices.
Fast cam locking vise, right - QCR-1000
Fast cam locking vise, left - QCL-1000
Vertical lamping vise - MG15-01
Adjustable mechanical stop - MG-0150
Abrasive Cutting Fluids
| | | |
| --- | --- | --- |
| Pace Product Name | Catalog Number | Packaging |
| MAXCUT Abrasive Cutting Fluid | MAXCUT-1000-32 | 32 oz |
| MAXCUT Abrasive Cutting Fluid | MAXCUT-1000-128 | 1 gallon |
| MAXCUT 2 Abrasive Cutting Fluid | MAXCUT2-1000-32 | 32 oz |
| MAXCUT 2 Abrasive Cutting Fluid | MAXCUT2-1000-128 | 1 gallon |
10-inch MAXCUT Abrasive Blades (32 mm) 1.25" Arbor
| | | |
| --- | --- | --- |
| Pace Product Name | Catalog Number | Packaging |
| Soft non-ferrous metals (aluminum, tin, copper, zinc, etc.) | MAX-E250 | 10 |
| Hard non-ferrous metals | MAX-C250 | 10 |
| Soft steels | MAX-E250 | 10 |
| Case hardened steels | MAX-D250 | 10 |
| Nickel, steel, titanium | MAX-D250-RT | 10 |
| Hard Steels | MAX-D250 | 10 |
| Universl Thin Blade | MAX-A250 | 10 |
| General Purpose Blade | MAX-I250 | 10 |
| | |
| --- | --- |
| Cut-off size | Max diameter 10" (250 mm) |
| Cutting capacity | Max diameter 3" (75 mm) |
| Wheel feed | Yes |
| Table feed | No |
| Table Dimensions | 8.3" x 8.9" (210 mm x 230 mm) |
| Operation | Manual |
| Cooling Unit | 16 gallons (60 liters) |
| Motor power | 3.5 hp |
| Electrical Specification | 220 V or 380V 50/60 Hz (3 phase) -standard |