Applications
We offer a 4" diameter, electrically heated, fluidized reactor for pilot plant or small commercial installations in the mineral, chemical, and industrial fields. Typical applications include the calcination of ores and concentrates, incineration of carbonaceous fuels and waste (liquid or solid) and chemical conversions or decompositions.

Standard construction is of stainless steel 316. Temperature range for this material is 950° C for most gas compositions except chlorine. Other materials of construction are available to suit special applications. This design and size of reactor is ideal for the development of temperature, atmosphere, and retention time and fluidization velocity parameters for scale-up to commercial installations. Minus 20-mesh, dry and granular material is fed with the fine feeder arrangement into the fluidization gas flow stream. A coarse feeder arrangement is available for other materials.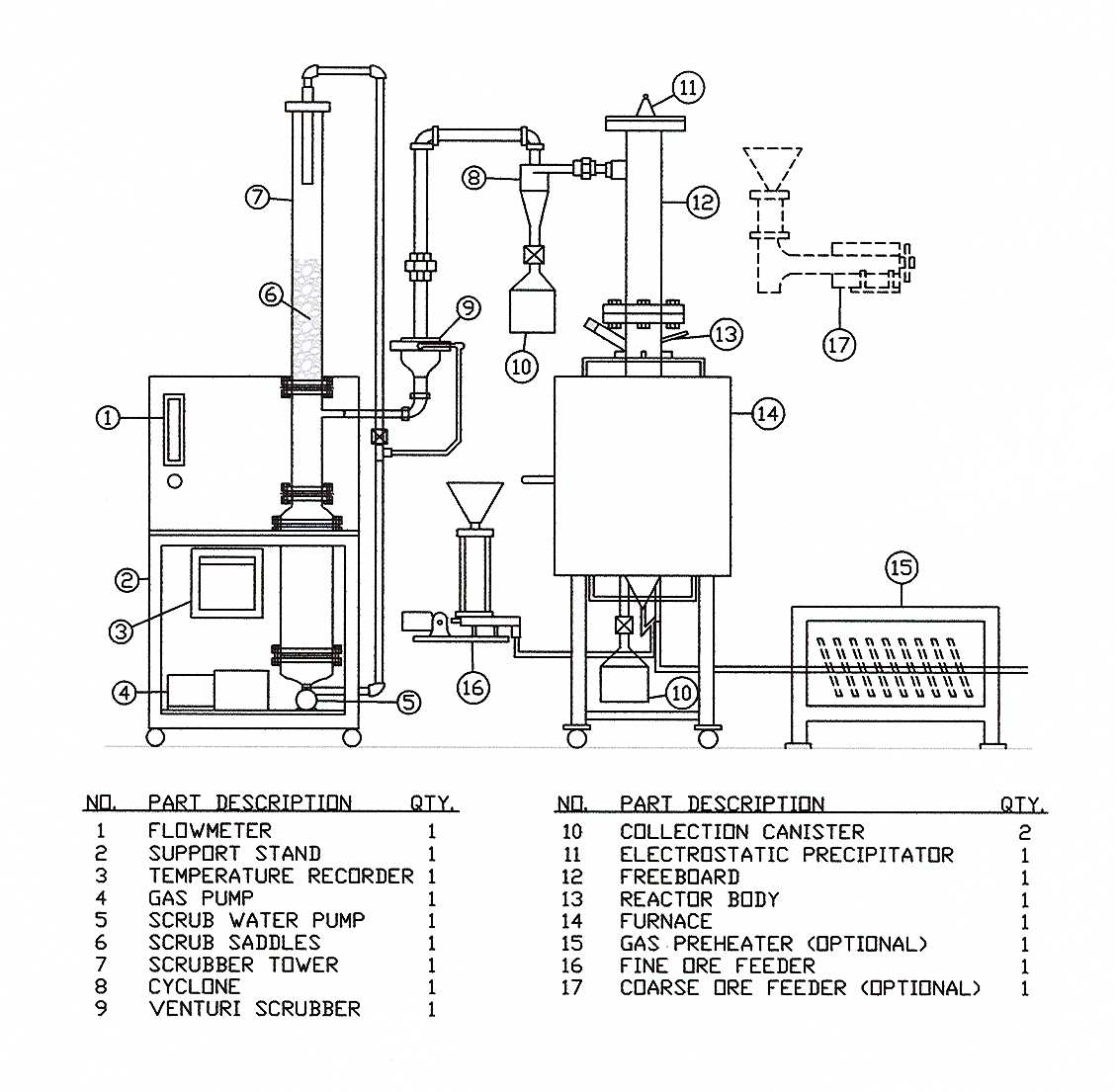 Specifications
Standard 4" diameter fluidized-bed reactor and accessories.
Reactor body
4" diameter of stainless steel 316 with bed overflows pipe and collection canister and auxiliary gas inlet. Enclosed by electrical resistance heaters and mounted in a heavily insulated steel chamber. Chamber mounted on support legs with casters for portability,
Resistance heaters
Of silicon carbide. Temperature manually controlled from one 100 amp, 230 volt powerstat or from two 50 amp, 115 volt powerstats if fine temperature tuning control is required. Includes indicator and controller.
Solids feed system
Includes funnel, air lock valve, glass chamber and SS 316 screw feeder with D.C. vari-speed drive.
Optional coarse feeder also available,
Electrostatic dust collector
Fabricated of SS 316 and clamped to reactor body. Energized from 15 kv AC power supply.
Dust cyclone
Fabricated of SS 316 and provided with our lock valve and collection canister.
Bed temperature recorder
Single point L and N (or equal) continuous temperature recorder. (Multi-point also available if additional monitoring is required.)
Miscellaneous
Tubing and fittings for installation, two gas flowmeters, four thermocouples, and two monometers.