Sub-aeration Flotation Cells
Applications
We offer a complete line of pilot plant and small commercial size flotation cells. The units are used in the mineral, chemical, environmental, and industrial applications requiring the efficient dispersion of fine air or gas bubbles in slurries or liquids. The units are designed for continuous trouble-free, 24-hour operation and to handle find and coarse-abrasive slurries.
Advantges
Mechanism: "Sub-aeration" mechanism induces and disperses air or gas in sufficient quantities for virtually all applications. External blower air can also be added, if desired. Gate valve assures positive control of air input to each cell. Lightweight, suspended type unit assembly. Enclosed ball bearing aluminum housing with dust cap. Machined standpipe assures accurate alignment. Impeller-diffuser clearance set at factory. Molded urethane impeller and diffuser assure long-wearing life and permit close clearance setting for high aeration efficiency. They are easily replaceable whereas metal castings are virtually impossible to remove. Variable speed, dual and/or single cell V-belt drives are standard on No. 5, 7 and 8 cells. Froth paddle assembly all cells.
Cells: Three sizes of either "cell-to-cell" or "open-flow" design available. One to 16 cells available in bank. "Leakproof" adjustable weirs assure level control. Replaceable variable size sand reliefs. Adjustable slurry recycle ports in each feed plate assure proper flow through feed pipes regardless of new feed rate. Replaceable cell liners provided No. 8 and larger sizes. Front recycle ports with replaceable feed pipes.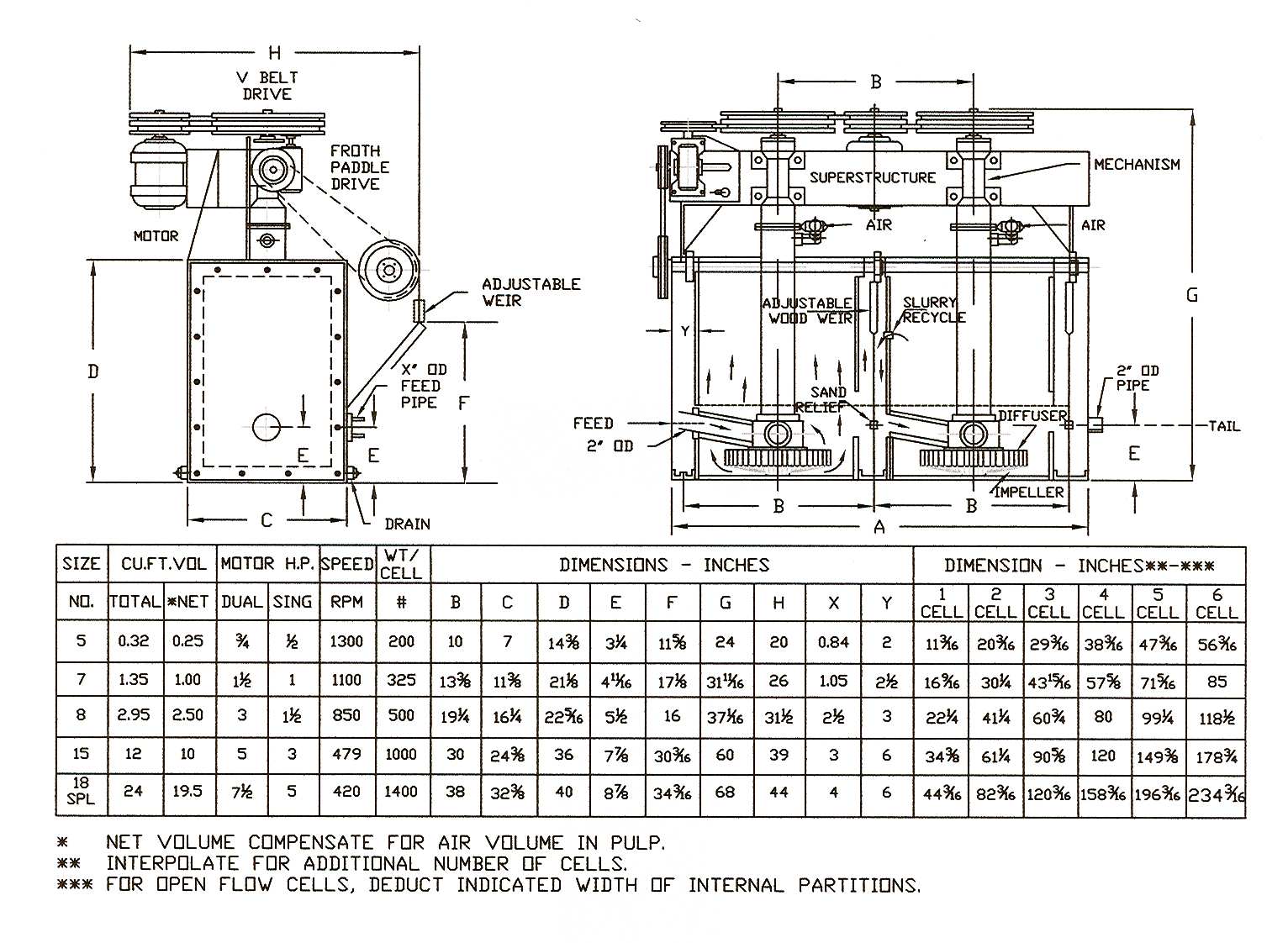 Specifications
Sizes
Refer to drawing.
Cells
Fabricated steel "cell to cell" construction with partitions, cell liners (No. 8 and larger sizes),adjustable weirs, sand relief opening, recycle parts, replaceable front recycle feed pipe connections standard on No. 5 and No. 7 cells. "Open flow" cells with baffle plates between cells and weir partition only on end cell are also available.
Superstructure
Fabricated steel with dual or single drive adjustable motor brackets and available all larger cells.
Mechanisms
Enclosed aluminum spindle bearing housings, ball bearings, grease seal, and dust cap. Machined standpipe with gate-type air valve.
Replaceable molded urethane impellers and diffusers.
Replaceable rubber shaft sleeve (No. 8 and larger).
Drive
Variable speed dual or single cell V-belt drive standard on No. 5, 7, and 8 cells.
Froth Paddle Assembly
Shaft, bearings, neoprene paddles and V-belt drive through reducer from impeller sheave. No. 15 froth paddles direct driven with fractional hp Quinn gear motor.
Motor
Size as per table. 3, 60, 230/460 Volt.
Assembly
Units completely assembled, painted green, and packed for shipment.
Optional
Units also available with wetted parts of stainless steel and/or urethane spray lined for corrosive applications.
Optional
Froth launders and support stands available.