77962
Portable Floor Scale
Installation Options
Depending on your application, the RoughDeck BDP works as a stationary or portable scale. Both options weigh barrels, drums and pallets with ease. For mobility, the caster engaging mechanism in the portability frame allows the BDP to move effortlessly from one location to another.
Protability Fit Advantages
Easily field retrofit stationary BDPs to convert them into mobile units by purchasing the optional portability kit. The portability kit is compact and sits below the live siderails. When ramps are attached to the portability frame, the hinges allow operator to simply rest the ramps on the scale platform while in-motion. When the BDP is paired with an indicator, the indicator is conveniently attached to the portability kit's frame, which is separate from the live weighing platform. This eliminates interference when zeroing the scale.
The Toughest, Most Accurate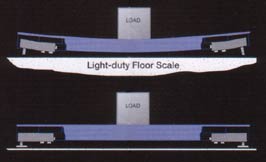 The exaggerated figure above illustrates the problems of deck and load cell deflection.
The RoughDeck desgn minimizes deflection of the deck and feet.
The RoughDeck Series has five low-profile stationary and two portable versions available and offers component interchangeability and alternative construction materials to meet specific industrial requirements, from basic shipping and receiving to highly corrosive or washdown environments.
Applications
Barrel, drums and pallet weighing
Features
Live siderails
Top access foot adjustment holes (holes are 1/2 to 13 threaded for fitting scale)
Four adjustable stainless steel SUREFOOT™ support feet
30 x 31in. or 36 x 37in. weighing surface (not including side rails)
Top access J-Box
Options / Accessories
Portability kit includes frame, two swivel and two fixed zinc plated steel NSF approved wheeld (75lbs max. capacity) and indicator stand
Access ramps (for stationary scale or portable scale)
Digital weight indicatorsL IQ plus® 355, IQ plus®390-DC, IQ plus® 590-DC
Specifications
Load Capacity
1000lb: 100% full scale; 2500lb: 80% full scale
Cable Length
10' (3m)
Height
1.625 in. without portability frame; 1.94 in. with portability frame
(distance from floor to top of center weighing surface)
Approvals
NTEP CC#03-060
Warranty
3-year limited warranty
Cat. No.
Description
Size (WxL)
Capacity
Shipping Weight
77962
30 x 31in.
1000lb (500kg)
205 lbs
77963
30 x 31in.
2500lb (1250kg)
205 lbs
77964
36 x 37in.
1000lb (500kg)
265 lbs
77965
36 x 37in.
2500lb (1250kg)
265 lbs
Stainless Steel
77967
30 x 31in.
1000lb (500kg)
205 lbs
77968
30 x 31in.
2500lb (1250kg)
205l lbs
77969
36 x 37in.
1000lb (500kg)
265 lbs
77970
36 x 37in.
2500lb (1250kg)
265lbs
Stainless Steel with Stainless Steel Welded-seal (IP67 Load Cells
77971
30 x 31in.
1000lb (500kg)
205lbs
77972
30 x 31in.
2500lb (1250kg)
205lb
77973
36 x 37in.
1000lb (500kg)
265lb
77974
36 x 37in.
2500lb (1250kg)
265lb