Laboratory Pressure Filters
Applications
Ideal for removing the liquid phase from metallurgical, chemical and industrial pulps. Developed initially for dewatering metallurgical slurries. May also be utilized as a vacuum filter by attaching a vacuum connection to the liquid underflow discharge connection.
Applications
Compact self-supporting pressure filters for multi-purpose laboratory usage. Simple design for rapid feed-filter and clean-up cycles.
Available in mild steel, rugged frame construction, stainless steel, and elastomer-lined construction for corrosive applications. Covers and yokes are accurately machined out of heavy steel plate, and cylinders are of heavy wall pipe construction.
8" diameter with 3-1/2 gallon capacity and 12" diameter with 11-1/2 gallon capacity units are standard, and represent a suitable size range for most applications.
Cover provided with gasketed groove on mild and alloy steel units to assure pressure seal on top and bottom covers. In the case of elastomer-lined units, the cylinder lining serves as the gasket seal.
Large diameter handwheel device with coarse Acme thread provides simple, safe, fast action method of opening and closing the pressure chamber. Special wrench provided for additional leverage when higher pressure ranges are desired.
Steel cylinder and covers designed for pressures to 125 psi. However, we recommend operating at a maximum of 75 to 100 psi and do not recommend operation at higher pressures as leakage will occur due to pressure flow of the elastomer gasket material. Shut-off valve is provided for gauge.
Pressure gauge and 100 psi safety relief valve are provided. Valve is factory-set at 75 psi for normal operation.
Filter cloth and one package of 100 filter papers are provided.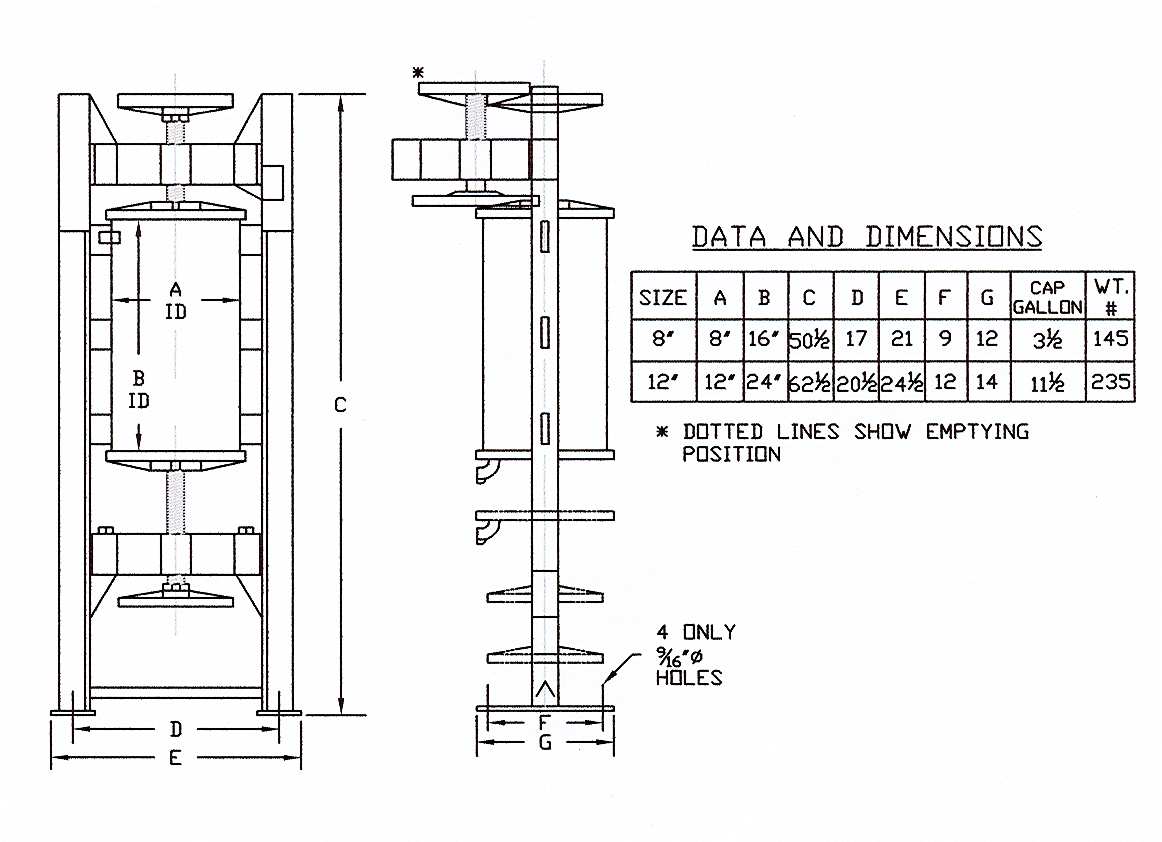 Specifications
Sizes
8" and 12" diameter.
Standard construction
Mild steel cylinder, top and bottom covers; steel yokes, Acme threaded and structural frame; aluminum handwheel; mild steel backing screen; filter cloth and package 100 filter papers. Unit includes special wrench.
Pressure gauge
Included with necessary steel piping and fittings.
Pressure relief valve
Adjustable to maximum 100 psi; factory set at 75 psi. Rustoleum primer and enamel green finish.
Assembly
Shipped fully assembled.
Optional
Wetted parts of stainless steel 304, ss 316, or other alloys; or wetted parts steel, rubber, neoprene, or other elastomer with stainless steel or other alloy backing screen.