Biometra PCR Thermal Cyclers
Ensures efficient and GMP-compliant, convenient laboratory work.

Biometra PCR Thermal Cyclers
The Biometra product family offers PCR devices ranging from standard to premium equipment – all designed in line with the common principles of being reliable, convenient, and precise.
Designed for error-free use in versatile laboratory environments: universal block design and heating lid with High-Performance Smart Lid (HPSL) technology for unrestricted use of different plastic containers and plates
Easily optimize your PCR protocols using the Linear Gradient Function (LGT) or the TOS (Temperature Optimization Step) function
Full reliability of your results: The high-precision block temperature control system provides high heating and cooling rates and excellent temperature homogeneity for constant conditions across all sample positions
Intelligent with detailed precision
Featuring top quality and detailed precision, Biometra PCR thermal cyclers make your lab workday easier and ensure excellent results.
Self-explanatory, rapid operations with graphics and table programming options
Easy to use, thanks to the protocol wizard, and GLP-compliant through the advanced user management in the Biometra TAdvanced and Biometra TRIO systems
Whisper-quiet and small footprint: optimum air flow control ensures maximum performance in any laboratory
Continual information on the device's status through the extended self-test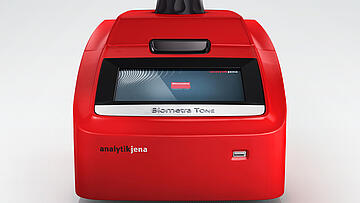 Biometra TOne
The PCR standard for your laboratory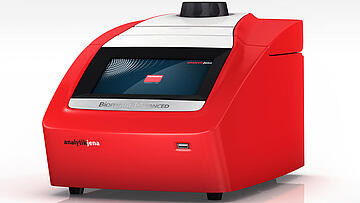 Biometra TAdvanced
State-of-the-art PCR technology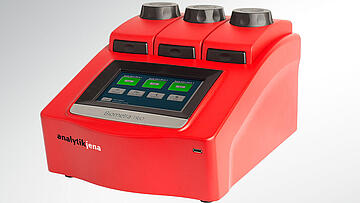 Biometra TRIO
Multi-block PCR thermal cycler – Three PCR devices in one
Essential for research – gradient function
For rapid success, it is essential to have suitable tools at hand. For polymerase chain reactions (PCR),optimization of the annealing temperatures is crucial when it comes to achieving accurate results. Depending on the device type, the Biometra thermal cyclers offer a Linear Gradient Function or a Temperature Optimization Step function (TOS) for this purpose. In the Biometra TOne and Biometra TAdvanced systems, a temperature gradient over the long side of the block is realized as linearly as possible through special block construction and precise electronics. Users only need to enter the desired temperature step size and the annealing temperature for the middle of the block. In the Biometra TRIO three-block device, the TOS function rapidly sets three different annealing temperatures in the three blocks. The programs are started simultaneously. Therefore, optimal amplification conditions can be found quickly during a PCR run.
Optimization of the PCR protocol for new primer pairs in one run
Optimal annealing temperatures lead to the best specificity and yield
Easy transfer of results thanks to largely linear temperature steps from column to column
Quality through design, innovation and experiences
Biometra thermal cyclers are designed so users can rely on their results. The data accuracy of these systems pairs exceedingly well with its easy to use design.
Sophisticated temperature control system without exceeding or falling below the target temperature ensures transparency and maximum experimental reproducibility in all block positions
The High-Performance Smart Lid (HPSL) ensures uniform temperatures and no condensation in the cover/block space, regardless of the plastic materials used
The extremely quiet operation allows for the use of a large number of cyclers in labs with office areas
Broad and versatile for sample vessels due to the universal block design and adjusting cover pressure
Well designed selection of equipment for every need, with a broad range of block materials and formats
Low space requirements thanks to an efficient air flow design
Biometra PCR Thermal Cyclers
| | | | |
| --- | --- | --- | --- |
| Unique feature | Biometra TOne | Biometra TAdvanced | Biometra TRIO |
| Fastest Ramping, Highest Accuracy, Block/Well Control | X | X | X |
| Whisper Quiet technology | X | X | X |
| High-Performance Smart Lid | X | X | X |
| Quick Block Exchange | | X | |
| Linear Gradient Tool | X | X | |
| Approximate linear temperature increment | In rows 4 to 8 | In rows 3 to 10 | |
| Temperature Optimization Step | | | X |
| Protocol Wizard | | X | X |
| Advanced User Management | | X | X |
| Software language: English, German, Chinese | X | X | X |
| Three block system | | | X |
| Twin block system | | X | |
| PCR Control App | X | X | X |
Biometra TAdvanced and TRIO – Product Animation
The Biometra TAdvanced is the high-performance thermal cycler for DNA amplification by PCR.
The Biometra TRIO is a multi-block PCR thermal cycler with three independent sample blocks that can run three different PCR reactions in parallel.
Biometra TSuite
Thanks to the Biometra TSuite software you can intuitively manage, program, and monitor multiple thermal cyclers from the comfort of your desk - regardless of how many you have or where they are located.