Caframo Petite Digital Ultra-Compact and efficient
This member of the Caframo overhead stirrer line is the ultimate in compact design. The BDC250 can be used in formulation, R&D, clinical research, education labs, anywhere a magnetic stirrer is used and much more. It fits into small spaces and can be easily transported to other labs or classrooms.

This stirrer is built in Canada with superior quality components, wich include a brushless DC motor, digital display and intuitive keypad to ensure a long, maintenance free file.

The Petite Digital comes complete with accessories, ready for use. The package includes a stand, integral clamp, power cord, and both radial and axial impellers. No tools are required for assembly. The integral clamp fits stand rods (or lab lattice) up to 5/8" (16 mm) in diameter.

The power offered by this small, full featured stirrer surpasses anything you have ever seen in a stirrer this size.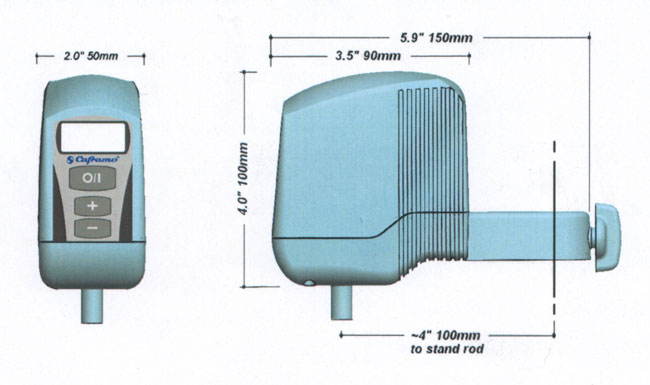 Specifications
Model
BDC250
Speed Range
50-2500 rpm
Maximum Torque
10 Ncm
Maximum Volume
2 liters, water like viscosity
Electrical Input
100 to 240 volts, 50/60 Hz, 12 Watts
Output power
7 Watts
Weight (total package)
Weight (stirrer only)
3.1 lbs (1.4 kg)
0.9 lbs (0.4 kg)
Stirrer, Stand, Integral Clamp, Power Cord, Axial and Radial Impeller included.