One Year Pediatric Care Simulator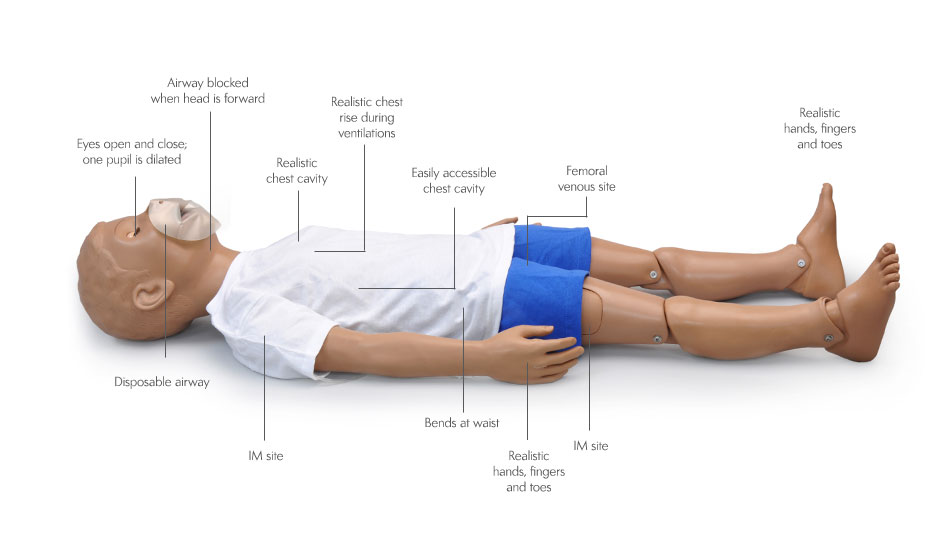 Product Description
BVM
Catheterization
Realistic eyes
Intramuscular injection
Realistc internal organs
for unparalleled CPR performance
Realistic urethral
passage and bladder for catheterization exercises.
Eyes open and close,
one pupil is dilated for ophthalmic exercises.
Practice intramuscular injections.
Interchangeable genitalia
Radial pulse
Nasal intubation
Trachea placement
Interchangeable genitalia, for male and female catheterization.
Multiple pulse points.
Nasal passage permits placement of NP tube.
Practice trachea placement.
Features
Soft, childlike faceskin
Self-molded hair
Eyes open and close in realistic eyesockets for ophthalmic procedures
Fully articulating head and jaw with teeth and tongue
Ear canal for otic drops and irrigation
NG and OG exercises
Bends at waist as in human
Jointed elbows and knees
Realistic hands, feet, fingers, and toes
Soft upper body skin over hard upper body for realistic feel
Detachable at waist for easy storage
Bathing and bandaging activity
Intramuscular injection sites in left and right upper thighs
Interchangeable genitalia
Tracheotomy placement
Male and female catheterization
Removable internal tanks
Enema administration
Neck brace
T-shirt and shorts
Soft carrying bag
Instruction manual