Ohaus Hot plate Stirrer Guardian 7000
with Superior Safety Features and Intelligent Performance
Outstanding safety features
SafetyHeat System Protects the Lab
Powerful, Consistent Stirring Performance
---
Can we help you?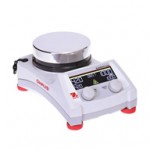 Model : e-G71HS07C
7 x 7 in / 17.8 x 17.8 cm (Square)
---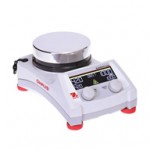 Model : e-G71HS10C
10 x 10 in / 25.4 x 25.4 cm (Square)
---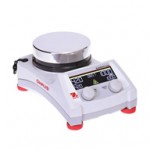 Model : e-G71HSRDM
5.3 in diameter / 13.5 cm (Round)
---
Featuring OHAUS SMART technology, the Guardian Series hotplate stirrers protect the lab with advanced safety features designed to reduce the chance of accidents.
Designed with superior heating and stirring performance, the Guardian 7000 and 5000 Series Hotplate Stirrers combine durability and affordability to reduce the high costs of doing business in science labs. Modernize your lab with OHAUS SMART technology including *SmartPresence™, *SmartLink™, *SmartRate™, *SmartHeat™, SafetyHeat™, and SmartHousing™. The bright LCD screen displays temperature, speed and *time, and a green indicator lights when the unit is heating and stirring.
OHAUS Guardian 7000 Hotplate Stirrers are designed with outstanding safety features and superior heating and mixing performance. The SmartHousing is chemical resistant with an innovative, easy-to-clean design that channels spills away from internal components and the angled glass control panel. The bright LCD display includes intuitive icons, temperature, speed and time settings - all designed to monitor performance from across the lab.

SmartPresence and SmartLink Technologies Ensure Supervised Operation
Protect your lab with patented SmartPresence and SmartLink technologies. These exclusive features automatically shut off the heater if no one is detected after a user set "time out" period has passed or the *Bluetooth® link between a paired mobile device is broken.
SafetyHeat System Protects the Lab
An industry-leading early detection system that uses two independent safety controls to continuously monitor the electronics and shut off heating before an overtemperature condition occurs.
Powerful, Consistent Stirring Performance
Precise stirring from 60 to 1600 rpm is made possible by the design of a powerful motor, strong magnet and software controlled ramp rate, ensuring secure magnetic coupling for viscous applications. Customized Performance for Precise Applications SmartHeat allows you to set the maximum temperature of the unit and SmartRate enables fast or slow temperature and speed ramp rates. The programming feature allows storage of 5 multi-step programs.

FAQ
What differentiates the Guardian 7000 Hot Plate Stirrer?
SmartLink –provides long-range user detection for improving safety when using the heating function.
SmartPresence – detects when a user is nearby and safely turns off the heating function when no one is detected.
SmartHeat – allows users to control the maximum temperature, preventing overheating of sensitive samples.
SafetyHeat – our industry leading internal protection system assures safety in heating applications with dual-monitoring of system health.
SmartRate – allows users to safeguard sensitive applications with precise control of temperature and speed ramp rates.
SmartHousing – ensures that every Guardian hotplate stirrer is consistently safe to use at high temperature settings by remaining cool to the touch. The innovative design is easy to clean and channels spills away from the internal components, as well as being constructed from a chemical resistant material for long-term use in the lab. ç
How can the Guardian 7000 Hot Plate Stirrer safeguard sensitive applications?
For precise sample control with the Guardian 7000, use the included temperature probe and enable SmartRate to select fast or slow temperature and speed ramp rates. SmartHeat allows lab users to limit the maximum temperature of the hotplate stirrer preventing overheating of sensitive samples -- keeping the user and samples safe.
What are the benefits of using the Guardian Series Hotplate Stirrers with round top plates?
The Guardian round top models are ideal for biochemistry and chemistry labs that carry out complex heating and stirring applications and increase productivity by utilizing multiple positions to perform experiments in parallel. Round top models save valuable bench space and accept a wide range of aluminum block accessories that can accommodate standard vials and test tubes.
| | | | |
| --- | --- | --- | --- |
| Features | Guardian 7000 | Guardian 5000 | OHAUS HOTPLATE STIRRER |
| SmartLink | X | - | - |
| SmartPresence | X | - | - |
| SmartHeat | X | | |
| SafetyHeat | X | X | - |
| SmartRate | X | | |
| SmartHousing | X | X | X |
| Hardened glass front panel | X | - | - |
| Polycarbonate front panel | | X | X |
| Probe connection | X | X | - |
| Easy-to-clean ceramic/aluminum tops | X | X | X |
| Built-in support rod holder | X | X | X |
| USB port | X | - | - |
| Green indicator lights | | | |
| for heating/stirring | X | X | - |
| IP21 ingress protection | X | X | - |
| Control knobs | X | X | X |
| On/Off switch for heater disconnect | X | X | X |
| Probe in use icon | X | X | - |
| Audible alarm | X | X | - |
| Temperature calibration | | | |
| feature: 3 probe/3 plate | - | X | - |
| Temperature calibration | | | |
| feature: 5 probe/5 plate | X | - | - |
| Icons for SmartRate™, SmartHeat™, | | | |
| SmartPresence™, SmartLink™ | X | - | - |
| LCD display | X | X | - |
| Timer | X | - | - |