When gases need to be measured, look no further than the accurate, rugged Gas QuikSert® meter. This meter provides long service life by offering a durable construction design composed of stainless steel and tungsten carbide shaft and bearings. The unique wafer style design allows for quick installation and easily fits between two flanges. Gas QuikSert® is fully compatible with B2800 Flow Monitors, K-Factor Scalers, Intelligent Converters, and the new B3000 series of flow monitors; pre-configured when purchased together. Gas QuikSert® is compatible with most instruments, PLC's and computers.
Features and Benefits
Consistent, reliable gas flow measurement.
Wafer mounting configuration for limited space requirements.
Light weight, balanced rotor provides instantaneous response to changes in flow.
No mating flange design allows for quick and easy install.
Superior material of construction for high performance in aggressive environments.
Installation

Certification / Compliance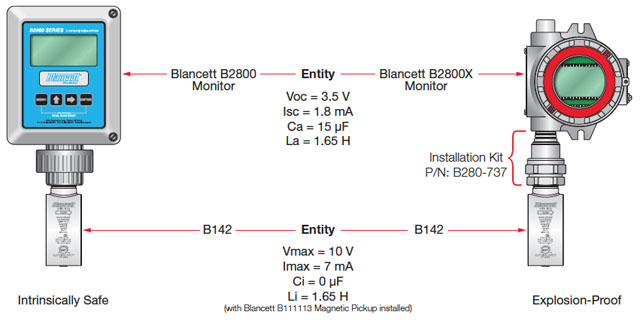 Dimensional Specifications
MECHANICAL DIMENSIONS: INCHES (MM)
Flow Meter
Repair Kit
Hardware Kit
Specifications
Installation
Mounts between two 2" ANSI raised face flanges, ideally sized for 2-inch schedule 40 or 80 pipe;
horizontal or vertical orientation
Working Pressure
Vacuum to 2,220 PSIG (15.3 MPa) maximum
Pressure Loss
3 inches of water column (7.5 mbar) maximum (dry air)
Temperature
-40 to +330 ºF (-40 to +165 ºC)
Linearity
±2% of reading over the specified measuring range (see Part Number Construction table below)
System
Uncertainty
±1% of reading when integrated with a properly configured Blancett flow monitor or signal conditioner
Repeatability
±0.5% of reading
Output Signal
100 mVpp minimum (with Blancett B111113 magnetic pickup installed)
Nominal K-Factor
See Part Number Construction table below
Materials of
Construction
316/316L, 410 and 304 grade stainless steels, tungsten carbide
Certifications
Intrinsically Safe: Class I Division 1 Groups C, D [Entity Parameters Vmax = 10V, Imax = 3 mA,
Ci = 0 μF and Li = 1.65 H with Blancett B111113 magnetic pickup installed] for US and Canada.
Complies with UL 913 and CSA 22.2 No. 157-92

Explosion-Proof: Class I Division 1 Groups C, D. Complies with UL1203 and CSA C22.2
No. 30-M1986

Single Seal: complies with ANSI/ISA 12.27.01-2003
Part Number Construction
Flow Meter*
Flow Rate
K-Factor
Repair Kit***
Hardware Kit
ACFM**
MCFD
Pulses/ft³ (Pulses/m³)
B142-20L
7 - 70
10 - 100
365 (12,900)
B142-20L-KIT
B142-20-150KIT
B142-20M
14 - 210
20 - 300
190 (6,710)
B142-20M-KIT
B142-20H
35 - 350
50 - 500
85 (3,000)
B142-20H-KIT
* Does not include magnetic pickup. Order Blancett B111113 Low Drag Pickup
** At 0 PSIG (0 Bar) and 60 ºF (15.6 ºC)
*** Compatible with Cameron/NuFlo 2" wafer gas meter