Drying and heating chambers
Temperature range: room temperature plus 5 °C to 300 °C
APT.line preheating chamber technology
Adjustable fan speed
---
Can we help you?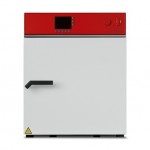 Model : M 53
Interior volume: 53 L
Housing dimensions: 635 x 780 x 575 mm

---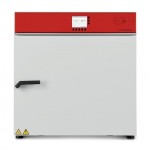 Model : M 115
Interior volume: 115 L
Housing dimensions: 835 x 865 x 645 mm

---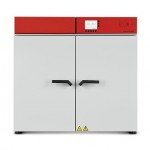 Model : M 240
Interior volume: 240 L
Housing dimensions: 1035 x 985 x 745 mm

---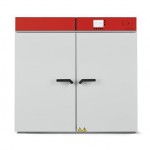 Model : M 400
Interior volume: 400 L
Housing dimensions: 1235 x 1190 x 795 mm
---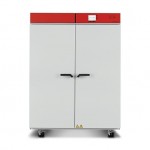 Model : M 720
Interior volume: 720 L
Housing dimensions: 1235 x 1690 x 865 mm

---
Drying and heating chambers with forced convection and advanced program functions
Features
Temperature range: room temperature plus 5 °C to 300 °C
APT.line preheating chamber technology
Adjustable fan speed
Program-controlled ventilation flap
Color LCD controller with time-segment programming
2 chrome-plated racks
Class 2 independent adjustable temperature safety device (DIN 12880) with visual alarm
Computer interface: RS 422
Advanced program functions
BINDER heating chambers in the Classic.Line M series are equipped with advanced program functions, allowing the units to be used in a wide range of applications. Whatever they are being used for, they never fall to impress with their high precision and performance. The drying and heating chambers with forced convection are ideally suited for the drying and heat treatment of solid or powdered chamber loads and bulk material with the introduction of heat. They also come highly recommended for drying processes and any tasks within the field of material and aging testing.
High performance and ease of use
Heating chambers in the M series feature an extremely powerful throughput of air and a programmable exhaust air flap that speeds up the heating up time. Testing temperatures can be maintained with precision at every level and are subject to only minimal spatial fluctuations. It is the patented APT.line™ preheating chamber technology together with the direct and streamlined air flow in the interior that guarantee the high levels of temperature accuracy in terms of space and time. These heating chambers operate within a temperature range of between 5 °C and 300 °C, with the temperature being displayed digitally to the accuracy of a tenth of a degree, and the fan speed can be adjusted on an individual basis.
BINDER heating chambers in the M series come in different sizes, and a range of optional accessories is also available. Their high performance levels are teamed with incredible ease of handling – all of the unit's functions are clearly arranged and user-friendly. The simplicity with which all of the parts in the heating chambers can be cleaned is another definite plus that reduces the risk of undesirable contamination to a minimum.
Model
Housing dimensions not incl. fittings and connections -
Internal dimension
Net weight
Interior volume
W x H x D [mm]
W x H x D [mm]
M 53
635 x 780 x 575
400 x 400 x 340
61
53
M 115
835 x 865 x 645
600 x 480 x 410
89
115
M 240
1035 x 985 x 745
800 x 600 x 510
131
240
M 400
1235 x 1190 x 795
1000 x 800 x 510
173
400
M 720
1235 x 1690 x 865
1000 x 1200 x 610
203
720