The 240-CUV4 Broadband UV Radiometer is a general-purpose instrument for applications in meteorology, for material testing, for monitoring of lamps, and for use in ageing tests in solar simulators.
High quality dome and diffuser give optimised directional response, an optical filter provides sensitivity to combined UV-A and UV-B as shown in the graph below. The photodiode generates a voltage output linearly proportional to the UV intensity.
Wavelength
A waterproof plug and socket cable connection facilitates easy installation. The snap-on sun shield covers the connector and allows viewing of the integrated bubble level. The screw-in drying cartridge can be removed by simply using a coin, for replacement of the desiccant that is supplied in convenient refill packets.CUV 4 is not suitable for the measurement of specific parts of the UV spectrum such as UV-A, UV-B, UV-E / UV-Index. For measurement of these parameters please contact NovaLynx for recommendations.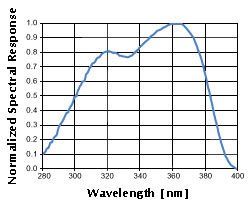 Specifications
Spectral range
305 to 385 nm
Sensitivity
1 mV / W / m²
Temperature dependence of sensitivity
+0.1%/°C
Response time (95%)
< 1%
Non-linearity
< 1%
Maximum irradiance
100 W/m²
Operating temperature
–40 to +80 °C
Directional error
< 10%
Ordering Information
| | |
| --- | --- |
| 240-CUV4 | Broadband UV Radiometer, 32' cable |
| 240-CUV4-C | Additional Cable, per meter |