Fold-Over Towers
10'' galvanized base structure
Winch stored inside the pole
Extra load capacity available with this folding tower
The MF-1333 fold over tower structure (B-BEND) is a heavier duty version of the MF-1330 and MF-1331 tilt over tower systems.
This structure offers a 10′ galvanized base structure for additional support in harsh environments for the antenna tower. Winch assembly is stored inside the pole thus protecting it better from the harsh elements. This is especially critical where roadway conditions experience high salt concentrations or deicing agents. Additional payload capacity is available with this folding tower solution.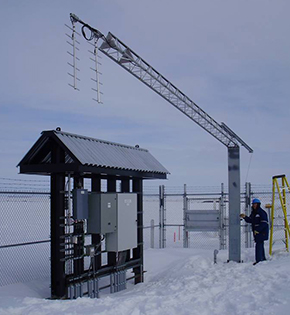 EXTRA Heavy Duty Fold-Over Tower. The first ten feet of the tower is constructed of galvanized steel.
Design specifications
Tower Height
30 feet
Mast Length over tower
3 feet
Fold-Over hinge height
10 feet
Tower side width
12 3/4"
Length of each section
10 feet
Maximum allowable vertical load on 1 siderail leg
8750 lb.
Max. allowable equipment deadweight at 33 ft. level
50 lbs
Hardware
18-8 SS
Weight per aluminum section
29 lbs.
Steel base section weight
200 lbs
Total shipping weight
500 lbs.
Meets BOCA-UBC-EIA-AASHTO Building Codes
Footing specifications
Concrete Base width
33"
Concrete base depth or below frost line
54"
Cubic yards concrete
1.05
Base Assembly for MF-1333