Advanced pH/ORP Benchtop Meter
Advanced pH/ORP Benchtop Meter
HI1131B is a glass body, double junction, refillable pH electrode with an indicating sensor made of High Temperature (HT) glass. The double junction reference and HT glass design allow the HI1131B to be used in a wide variety of applications including samples with metals and elevated temperatures.
Probe connection to the unit is secured through a galvanically isolated BNC connection. HI7662-TW stainless steel temperature probe allows the meter to automatically temperature compensate (ATC) pH measurements.
HI6221 is supplied with an electrode holder that has a flexible arm. The holder can be mounted quickly and provides secure support for electrodes while taking measurements in sample containers.
User interface
7-inch capacitive touch screen with multi-touch support
Capacitive touch back, home and system menu keys
User-friendly icons and symbols allow users to easily navigate and interpret the instrument functions
The user can select between five different views:

Basic measurement configuration
Simple GLP with calibration information
Full GLP with electrode status and calibration point details
Live updated, interactive graph
Tabulated data with date, time, and notes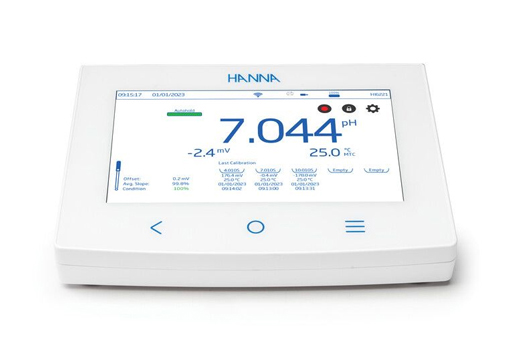 Measurement
Measure pH/mV (pH) or mV/Rel.mV (ORP) with temperature
Application-specific profiles allow quick and direct measurement without the need to update the sensor and system settings
Active log during measurement
Measurement stability indicator (using the Stability Criteria setting)
Reading modes: direct and direct/autohold
Temperature compensation can be Automatic (using temperature probe) or set manually
Audible and/or alarm messages for measurements outside of predefined limits
Galvanic isolation for pH/ORP measurement
Calibration
5-point pH calibration with automatic recognition for standard buffers (Hanna and NIST buffers)
Choice of standard or custom buffers for calibration
Non-volatile memory saves data and settings
Logging
Data log collection of at least 1,000,000 data points (with time and date stamp)
Logging types: manual, automatic, autohold
Sample ID for manual and Autohold data
Connectivity features & services
Transfer logged data to a USB thumb drive
Log files that include measurements and calibration data (as .csv file)
FTP and email for log export via Ethernet and Wi-Fi connection
USB type A for USB stick, keyboard, and printer
USB type C for USB stick and PC connection
Help section for meter guidance
Video support presentation of main functionalities
Range
pH
-2.0 to 20.0 pH; -2.00 to 20.00 pH; -2.000 to 20.000 pH
mV
±2000.0 mV
Temperature
-20.0 to 120.0 °C; -4.0 to 248.0 °F; 253.0 to 393.0 K
Resolution
pH
0.1 pH; 0.01 pH; 0.001 pH
mV
1 mV; 0.1 mV
Temperature
0.1 °C / 0.1 °F / 0.1 K
Accuracy
pH
±0.1 pH; ±0.01 pH; ±0.002 pH(±1 last significant digit)
mV
±0.2 mV ±1 last significant digit
Temperature
±0.2 °C / ±0.4 °F / ±0.2 K
Relative mV offset range
±2000.0 mV
Reading
Modes
Direct; Direct/Autohold
Stability criteria
Accurate; Medium; Fast
Isopotential
7.000 or 4.010
Sampling rate
1000 ms
pH Calibration
Calibration points
Up to 5
Type
Automatic; Semiautomatic; Manual
Standard buffers
Hanna and NIST
pH 1.68, 3.00, 4.01, 6.86, 7.01, 9.18, 10.01, 12.45
Custom buffers
Up to 5
Custom group
Up to 5
1st calibration point
Offset or Points (user setting)
Reminder
Disabled
Daily: 0 min. to 23 hours and 59 min.
Periodic: 1 min. to 500 days, 23 hours and 59 min
pH Views
Basic
Measurement (pH, mV, Rel.mV, Abs.mV)
Temperature, Stability status
Simple GLP
Basic view information
Last calibration date, electrode offset, average
slope, and electrode condition
Full GLP
Simple GLP information and calibration point details
Table
Measurements updated every second are displayed in table
Graph (Plot)
pH (or mV) and temperature versus time graph can be panned or zoomed (pinch-to-zoom technology
Temperature Compensation
Automatic or Manual
Logging
Type
Automatic, Manual, Autohold
Number of records
50000 maximum per file
Stores at least 1000000 data points per user
Automatic interval
1, 2, 5, 10, 30 seconds
1, 2, 5, 10, 15, 30, 60, 120, 150, 180 minutes
Sample ID
Incremental mode
Export option
.csv file format
Users
Up to 9 users and admin. account (default)
Connectivity
USB-A
2 ports for keyboard input or USB thumb drive
USB-C
1 port for PC connectivity and USB-C type thumb drive
Wi-Fi & Ethernet
FTP; Web server: Log transfer and download; Email
RS232
Connecting peripherals
Power supply
DC adapter 100-240AC to 24VDC 2.5A
Environment
0 - 50 °C / 32 - 122 °F / 273 - 323 K
maximum 95% RH non-condensing
Dimensions
205 x 160 x 77 mm (8.0 x 6.2 x 3.0 ")
Weight
Approximately 1.2 kg (26.5 lbs.)