Single Point Sludge Blanket Level Detector
Adjustable response time or damping
Sludge relay indicates that sludge has been detected by the probe
Advanced self-diagnostics
Markland's simple and effective single point monitoring and automatic control to maintain your preferred sludge blanket and supernatant interface level.
Single point monitoring and automatic control of the depth of settled beds
Beneficial wherever solids are separated from liquids
Well-suited for municipal and industrial applications.
An optical sensor is ideal for diverse clarification equipment
LED beam provides accurate readings, even in obstructed/constricted areas such as the inclined plates of lamella separators.
Maintain your preferred sludge blanket and supernatant interface level
Adjustable solids concentration set-point helps maintain optimum equipment performance
Help avoid process upsets such as septic sludge conditions, a carryover from clarifiers, solids wash-out through DAF unit baffles.
Optimize silt or sludge feed density for enhanced dewatering
Maximize water removal and avoid pumping large volumes of thin sludge.
Help reduce energy and haulage costs and improve outflow for reuse.
Simple installation
Compact probe design; muffler-style mounting clamps; NEMA 4X enclosure.
Adjustable damping control enables operators to modify the response-time setting
Staff is alerted when the true settled bed is detected and pumps/valves activated.
Accommodate changes in sludge density
Easily adjust for thin or thick sludge, slurries, or light flocs, using the concentration control.
Optional delay-off timer is available to help you fine-tune your control
Access the added advantage that helps reduce wear-and-tear on pumps.
Features
Simple installation
No moving parts
Compact design makes it ideal for obstructed/constricted applications, such as lamella clarifiers
Adjustable sludge concentration set-point control enables LED beam intensity to be modified to detect liquid-solids interface levels in thick or thin sludges, or in light flocs
Adjustable response time or damping
Sludge relay indicates that sludge has been detected by the probe
Advanced self-diagnostics
Optional delay-off timer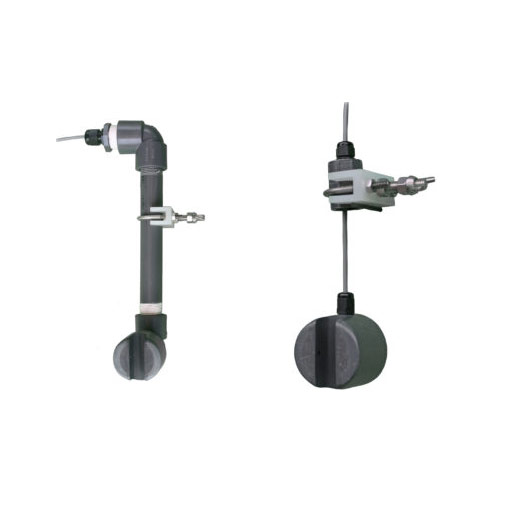 Available with the sensor on a rigid pipe mount or hanging from a cable
How it works


The optical probe of the Sludge Sleuth™ is located at the preferred sludge interface high-level point.
Every second, a LED transmits a pulse of infrared light across a gap in the probe. A phototransistor sensor on the other side of the gap receives the beam of light. If the gap contains air or clear liquid, the detector reads the suspended solids concentration as zero. When suspended solids are encountered in the gap, some beam energy is absorbed.
The Sludge Sleuth™ monitors these changes in beam intensity. When it detects that suspended solids have reached a predetermined concentration, it illuminates a LED on its controller and activates a relay that can be used to send an alert to the operator and/or turn on the desludge pumps or valves.

A concentration control allows operators to make adjustments for thick or thin silt, sludge, and slurries, or light flocs.
An adjustable damping control enables operators to modify the response time setting, customizing the period in which the predetermined solids concentration set-point must be continuously present before the meter takes action.
The Sludge Sleuth™ probe is monitored by self-diagnostics, which turn on local and remote alarms in the unlikely event of a problem with its operation.

A NEMA 4X enclosure allows the detector to be installed anywhere except hazardous locations.
Applications


Single point detection of settled bed levels in:
gravity settlers, including circular and rectangular clarifiers
sedimentation basins
inclined plate separators
decanting tanks
DAF units (dissolved air flotation tanks)
SBRs (sequential batch reactors)
batch processes
sumps and pits
This list provides a few examples of the material able to be detected by this Markland product:
silt, sludge, and biosolids in primary and secondary clarifiers
backwash sludge from sand or membrane filters
resin in water softener intake tanks
settled mud in tanks
fly-ash from scrubbers
grit in sumps and pits
Technical Specifications
Materials
Probe: PVC
Mast: 1″ PVC pipe
Clamps: Stainless steel and polypropylene
Cable: PVC jacketed
Enclosure: Polycarbonate NEMA 4X (IP68)
Dimensions
Width: 6.3″ (16 cm) Height: 6.3″ (16 cm) Depth: 3″ (7.6 cm)
Cable Length

10 Meters (33 Feet) – Different cable lengths available
Power
110/220 VAC, 50/60 Hz, 5 watts
Output
LED indication
SPST 1 Amp solid state relay for sludge indication
SPST 1 Amp solid state relay for fault indication