OHMB27-000
Moisture Analyzer
Maximum Capacity : 90 g
Readability Moisture Content : 1 mg/0.01%
Pan Size : 3.5 in (90 mm)
The Affordable High Capacity Moisture Analyzer
The OHAUS MB27 Basic Moisture Analyzer combines high quality and durable construction into a sleek, compact design. The MB27 offers dependable, accurate results for a wide variety of moisture analysis applications.
Applications
Percent Moisture Determination, Percent Solid Determination, Weighing
Display
Backlit liquid crystal display (LCD)
Operation
Power cord (included)
Communication
RS232 (included)
Construction
Halogen heat source, ABS housing, metal pan support, metal pan handler, in-use cover
Design Features
3 shut off criteria (manual, timed or auto), 1 standard heating profile, 50° to 160° C heating range (5° C increments)

The MB27 provides accurate results at 0.01% 0.001g. With a large capacity of 90g, it is ideal for food, agriculture, chemical, pharmaceutical and other applications that require measurements up to 0.01% 0.001g.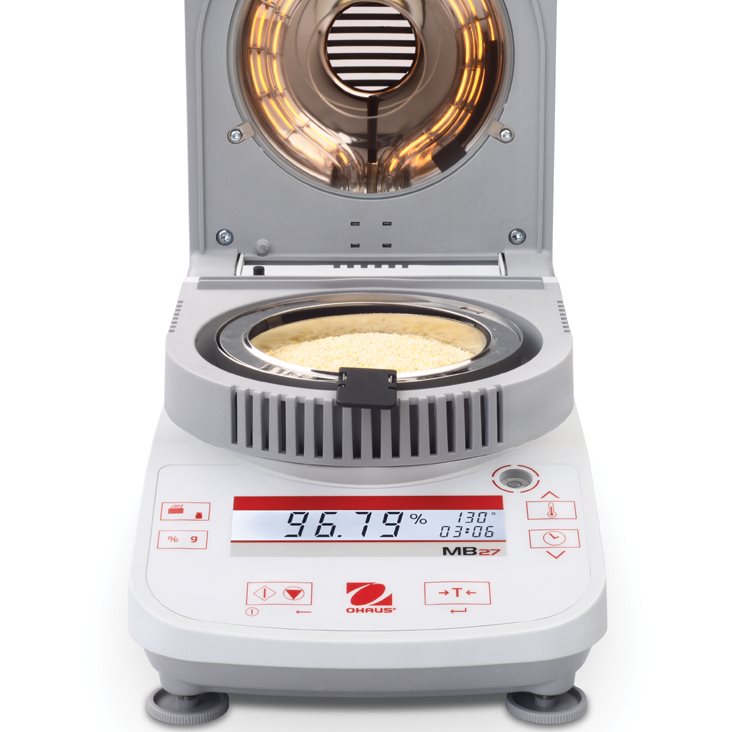 Set up and operation is extremely easy. Just press and hold the temperature or time buttons to set drying parameters. The MB27 is ideal for routine tasks performed by operators of all skill levels.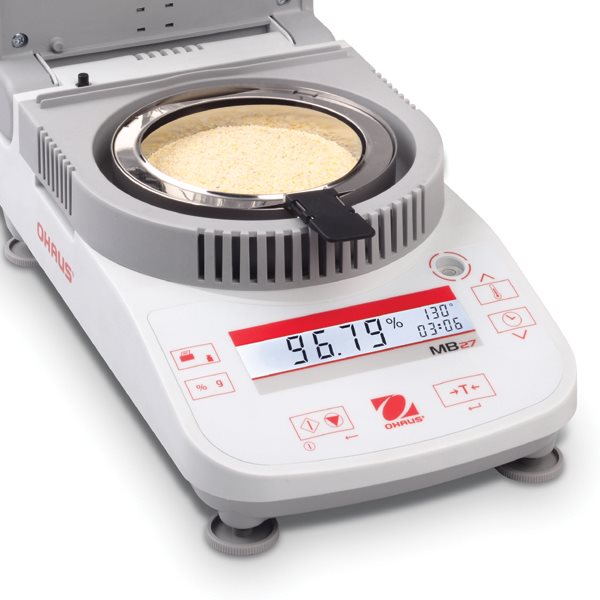 The compact footprint (17x14x28cm) of the OHAUS MB27 is designed to take up less space. The easy-to-clean heating chamber is ideal for frequent use and inexpensive maintenance.

| | |
| --- | --- |
| Maximum Capacity | 90 g |
| Readability Moisture Content | 1 mg/0.01% |
| Pan Size | 3.5 in (90 mm) |
| Heater Type | Halogen Lamp |
| Communication | RS232 |
| Dimensions (HxLxW) | 130 mm x 280 mm x 170 mm |
| Display | LCD, backlight |
| In-use cover | Included |
| Net Weight | 2.1 kg |
| Power | AC Adapter (Included) |
| Shut-Off Criteria | Automatic - Preset Weight Loss/Time; Manual; Timed |
| Temperature Range | 50 °C – 160 °C |
| Units of Measurement | %; Gram |
| Working Environment | 50°F – 104°F, 80%RH, non-condensing (10°C – 40°C, 80%RH, non-condensing) |