Classic Superior Smoke Candles quickly produce clean efficient smoke which varies in color from white to gray depending upon density and lighting.
Superior Smoke items contain no explosive materials and offer a T.O.P. (total obscuring power) of 2100. T.O.P. is the scientific method of determining the quantity of smoke generated by a given unit of smoke composition. By comparison crude oil has a T.O.P. of 200.
Smoke is created by a chemical reaction where the visible portion is mostly atmospheric moisture.
Features
High readings on treatment plant flow gauges immediately following rainfall is a positive indication of storm/surface water inflow. Smoke testing is the fastest, most economical and positive means of locating sources of inflow in sewer collection systems. Elimination of these sources as required by law, will improve treatment plant operations – and correct problems of overloading which are a major contributor to pollution of water resources.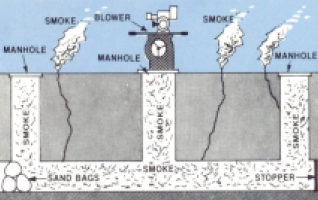 The Superior Smoke Testing technique is a fast and easy way to quickly identify...
Leaks permitting storm/surface water intrusion (inflow)
Connected roof and cellar drains
Cross connected sanitary and storm sewers
All connected lines, including abandoned and supposedly unconnected lines
Leaking manholes
Yard and foundation drains
Sump pumps
Applications
Capable of being blown and seen 1000's of feet away.
Optical density (obscuration) 10 times that of burning oil.
Most consistent smoke; Same quality from beginning of test to end.
Field adjustable cfm/static pressure option.
Meets recommendations of WEF, EPA, and NASSCO.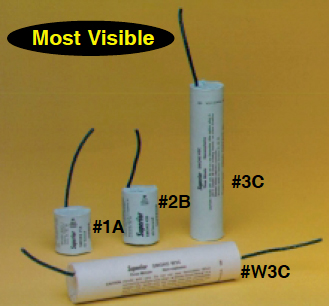 Sealpac Containers
Superior Smoke #'s 1A, 2B, 3C, and W3C can also be packaged in these unique
resealable containers which protect them from exceptionally hot and humid climates.
Versatile! Combine different items for a variety of test section lengths.
Connect two #W3C's in tandem for a 6 minute burn time, or one #W3C and one #2B for four minutes. Choose the item, or combination that's just right for the job at hand. As a guideline use two consecutive #3C for each test lasting 5 to 6 minutes; generally two sections line, 600 to 800 feet of 8" to 12" pipe.
1 Year Warranty; Gauranteed to Work!
All Superior classic smoke candles are warranted for 1 year, and are guaranteed to work within this time period. If an item should fail, simply return for free replacement. Items have been known to work several years after date of manufacture when stored cool and dry.

Procedure
As illustrated on the previous page, usually two sections of line (600-800 ft.) are tested simultaneously, with the smoke being introduced through a centrally located manhole. Blocking the far side of the upstream and downstream manholes is only necessary when isolating a section of line. The smoke under pressure will quickly fill the main plus all connected lines, and follow the path of least resistance.
It will flow through all openings to the surface, revealing the location of the faults. Invariably, the fault will be found at the site or within a few feet of it. Only enough pressure to sufficiently overcome atmospheric pressure is required.
Smoke tests are effective regardless of surface, type of soil, or depth, provided openings exist for the smoke to follow. For example, it is not uncommon to see smoke exiting from cracks in paved surfaces, showing points of surface water entry.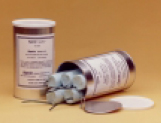 The blower should not be started over the manhole because of the possibility of igniting flammable vapors in the line. The blower should be started first and then placed over the manhole. In less than a minute, smoke will be issuing from the roof vents of buildings connected to the line. If plugs are being used, do not tighten them before the smoke has fully penetrated the line, otherwise trapped air may prevent complete penetration.
The crew should check building, grounds and streets for telltale signs of smoke. Smoke immediately backing up into the blower indicates a line blockage. If this should occur, testing should be discontinued until the line has been cleared. Smoke issuing from the ground, pavement, yards, roof drains, etc., shows sources of inflow. Record for future repair.