Levelogger Edge
Accuracy of 0.05% of full scale
Robust pressure sensor in Hastelloy
Precise temperature compensation
The Levelogger Edge Probe conducts very accurate readings of groundwater and surface water temperature and level measurements.
It combines a pressure sensor, a temperature sensor, a lithium battery with a battery life of 10 years and a recorder, all sealed in a stainless steel housing 22 x 159 mm (7/8 x 6.25 inch) with a titanium ceramic PVD coating. Levelogger Edge sensor measures the absolute pressure with a pressure sensor Hastelloy, which provides excellent durability and reliability. Combined with PVD coating ceramic titanium, the two elements provide a high corrosion resistance in harsh environments, allowing stable readings, even in conditions of pressure and temperature extremes. The Hastelloy sensor can withstand twice as much pressure without permanent damage. The Levelogger Edge probe offers a wide range of temperature compensated pressure (from 0 to 50 ° C, -10 to 50 ° C for Barologger Edge) and a fast thermal response. The Levelogger Edge probe provides high resolution and accuracy of 0.05% of the full scale. The Barologger Edge probe is very practical and provides very easy and precise barometric compensation.
Applications
Characterization of aquifers: pumping tests, well tests, etc.
Surveillance of a watershed, an evacuation basin or a charging basin
Gauging a watercourse, managing a lake or a pond
Measurement of tidal fluctuations and depth of ports
Monitoring of wetlands and runoff
Measurement of water supplies and water tanks
Management of mine and leachate water in landfills
Long-term monitoring of water levels in wells, surface water and salt water environments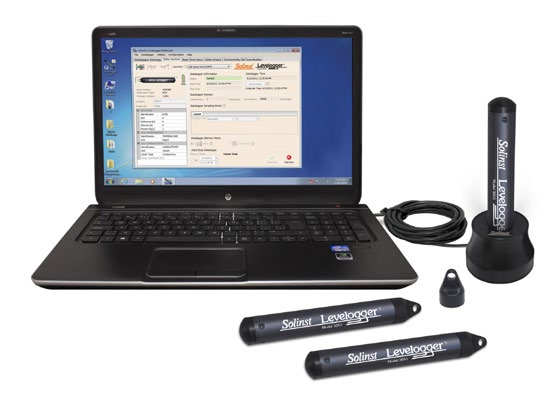 Flexibility for communications
Levelogger PC software is streamlined, making it easy to program loggers and view or offset data in the office or in the field. The software has useful programming options, including compressed and repeated sampling, and programmed start / stop. Data compensation has been simplified and allows for barometric compensation on multiple data files at once. The highly intuitive Solinst Levelogger App and the App Levelogger interface installed on your Leveloggers probes in the field, create a Bluetooth® connection between your Leveloggers probes and your smart device. Also optional, the DataGrabber is a ready-to-use data transfer device designed specifically for the Levelogger series. Remote monitoring options include the LevelSender, a simple, compact device that fits perfectly on a 5 cm (2 inch) well, STS telemetry systems and the RRL remote radio link. In addition, the Levelogger series probes are SDI-12 compatible.

| | |
| --- | --- |
| Level sensor | Piezoresistive silicon with Hastelloy sensor |
| Precision | ± 0.05% of full scale (Barologger Edge ± 0.05 kPa) |
| Stability of measurements | Excellent, low noise |
| Units of measurement | m, cm, ft, psi, kPa, bar, ° C. ºF (Barologger Edge psi, kPa, mbar, ° C, ° F) |
| Normalization | Automatic temperature compensation |
| Accuracy of comp. of time. | 0 to 50 ° C (Barologger Edge -10 to +50 ° C) |
| Temperature sensor | Platinum Resistance Thermometer (RTD) |
| Accuracy of the sensor temp. | ±0,05 °C |
| Accuracy of the temp sensor | 0,003 °C |
| Battery life | 10 years based on 1 reading per minute |
| Clock accuracy | ± 1 minute / year (at temperatures between -20 and 80 ° C) |
| Operating temperature | -20 to 80 °C |
| Maximum number of readings | 40,000 series of readings in FRAM nonvolatile memory, or up to 120,000 using the linear linear sampling option |
| Memory mode | Continuous and reserve |
| Communications | optical infrared interface. Convert to RS232, USB, SDI-12. Serial 9 600 bit / s, 38 400 bit / s with USB |
| Size | 22 x 159 mm (6.25 / 8 x 7 inches) |
| Weight | 129 grams (4.6 oz) |
| Corrosion resistance | Titanium PVD coating |
| Other wet materials | Delrin®, Viton®, 316L stainless steel, Hastelloy, titanium PVD coating |
| Sampling modes | Linear, user-programmed or event-based with repeat mode, program start, program stop, real-time display |
| Frequency of measurements | 1/8 sec to 99 hours |
| Barometric compensation | Software Assistant and a Barologger in the local area (within a radius of approximately 30 km / 20 miles) |
Models

Full Scale (FS)

Accuracy

Barologger

In air only
± 0,05 kPa

M5

5 m (16,4 ft.)

± 0,3 cm (0,010 ft.)

M10

10 m (32,8 ft.)

± 0,5 cm (0,016

ft.

)

M20

20 m (65,6 ft.)

± 1 cm (0,032 ft.)

M30

30 m (98,4 ft.)

± 1,5 cm (0,064

ft.

)

M100

100 m (328,1 ft.)

± 5 cm (0,164 ft.)

M200

200 m (656,2 ft.)

± 10 cm (0,328

ft.

)